Finally after a very long wait, Google and LG has announced Nexus 4 for India which for many users will be an exciting news if they had been  waiting for it and it had been expensive to import it from outside India.
It runs the latest version of Android and comes with Qualcomm Snapdragon™ S4 Pro processor, 3D graphics and gameplay and 2GB of RAM. The Phone comes with a 8MP camera, 1280 X 768 Display on a 4.7 inch screen. Its True HD IPS pus Display and protected against scratches as it uses the Corning Gorilla Glass 2. This version is only 16GB unlike the 32GB which comes in International version.
"LG Electronics is pleased to partner Google on the release of the Nexus 4 in India," shared Mr. Soon Kwon, Managing Director, LG Electronics India. "We added the best of our talent to our strength, and the result is a feature- packed smartphone that packs superb hardware under a slim hood. With LG Nexus 4, consumers would be delighted by the perfectly balanced combination of style, function and power. The smartphone encourages consumers to explore a world of possibilities and also helps them balance between business and entertainment"
The phone is decently priced at Rs 26,000 which IMO is a great deal if one is looking for an Android Phone at this range.  Also at IO 2013, Google did not announce any new Nexus Phone but it said they will be coming up with Google branded of Nexus 4 which will run Stock Android.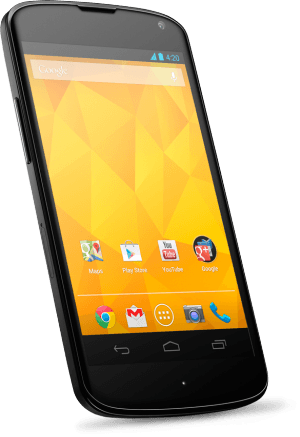 Now keeping in mind how much time it took for Nexus 4 to come to India and probably because LG wanted to, Google branded Nexus 4 might not even  see the light of day in India. This is both from business strategy and the pas track records.
This will be available at selected LG exclusive brand shops, Multi brand outlets and specialty stores ( modern trade ) across India.
Nexus 4 Specification:
CPU Qualcomm SnapdragonTM S4 Pro CPU 1.5 GHz Krait
3G & HSPA+ 42
Dimension 133.9 x 68.7 x 9.1 mm
Operating System Android 4.2 .2Weight 139g
Type LCD/True HD IPS+
Size 4.7" diagonal
Resolution WXGA (1280 x 768) pixel resolution (320ppi)
Corning® Gorilla® Glass 2
Main Camera 8MP, Flash LED 1EA and Front Camera 1.3MP HD
Capacity/Type 2,100mAh/Lipolymer
Internal RAM/ROM 2GB/16GB.