Google Plus Hangouts now are supporting making calls from the Hangout Extra so you can ask people to join your hangout even if they are not on computer and they do not have Google Plus on their phone  which obviously is using Google Voice. You can call to anybody in US and Canada for free and from anywhere in the world.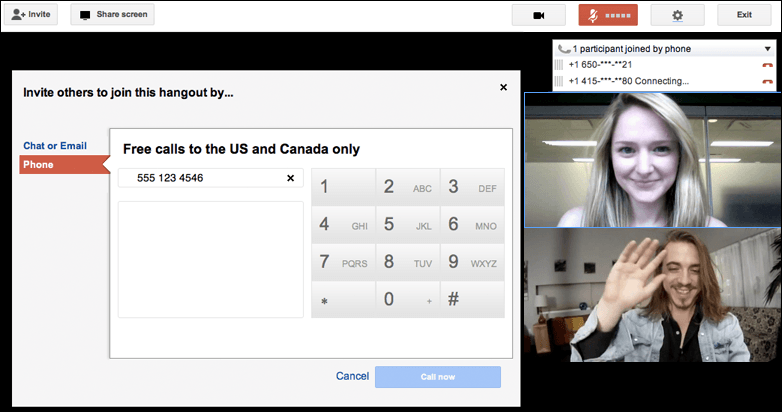 So to make phone calls from inside a hangout you need to use Hangouts with extras (plus.google.com/hangouts/extras) to find the options to call follow the steps below :
Click on the invite button and you should see a new Tab right next to Chat or Email
Select and you will get to see a dialer just like you see on Google Voice.
You can paste any number or dial in and when it connects, the person is right  inside the hangout.
A list on top left will help you find who has joined how with option to disconnect them right there
Though this is not something new, I have seen something similar in Microsoft Live Chat and in Lync where users can join the meeting by dialing in a number which is reverse here.
So the next option which I would love to have in Google Plus hangout is connected to any hangout by calling a particular number to it. However if it rolls out this should roll out to the Apps users and should be chargeable.
In case you really miss hangouts from a particular user, I will suggest you to checkout the Hangout Canopy, which can actually track any Hangout one person starts. It notifies you and gives you option to join in instantly.
This feature is not yet rolled to everybody and nor do I see it in the Android also. So hopefully you should see this later or sooner. Let us know what do you think about it. Thanks Chee Chew