Features are coming slowly into Google plus and now its turn for Photo Tagging which is also one of the most amazing and hated feature of Facebook Astricky has finally landed to Google Plus. Well honestly speaking this is not new to Google as this has been on Picasa for ages but the only drawback which I see is assigning a photo to my contacts from Google Plus or may be if Google Plus can sync it automatically.
So here is how you photo tag.
Open any of your existing album or create new if you wish for. ( Photos > Your Albums > Select Album )
Next what Google Plus does is find all faces in that particular album and if there are faces, it will give you a brand new button on top and it will say "Tag People", Click on that
This will display all the photos which have clear faces and can be tagged. Next Select all the photos  of the same person first and tag either with their Google plus profile or add their email id. If you choose email id, an email will be sent to them.
Remember you need to select all the photos of a single person and not mix them. This is a useful feature as it will help you bulk tag users.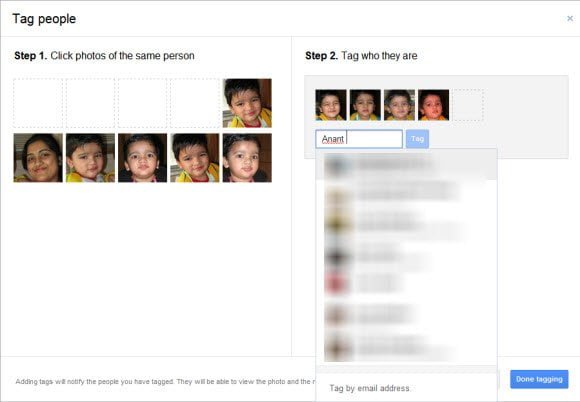 Also adding tags will notify the people you have tagged. They will be able to view the photo and the related album. So even if they are outside circle but are tagged they can see the photos on which they are tagged.
To untag, just select the person in the Tagged List and you can remove the photos which are incorrect or complete remove all of them.
How to find if somebody has tagged you ?
In case you are not receiving notifications over email, you need to go to your Google Plus Notification Settings and then check for email options for Wants to tag me in a photo, Tags me in a photo, Tags one of my photos, Comments on a photo I am tagged in, Comments on a photo I tagged.
How not anybody let you tag ?
You need to Go to Google Plus Settings and scroll down to Photos. There you would have option to choose who can tag you. If you want to disable it, just dont have anybody or any circle of yours there.  Like it says When a tag is approved, it is linked to your profile, and the photo is added to the "Photos of you" section.