Kinect Sports is one of the most popular game on Xbox now which brings Bowling, Running, Javaline, Football etc with it. If you already have it you know it all. Apart from Regular Play it also has Party Play which is best played when you have lot of people at home and you can play a match by making two teams and Mini Games for lite action.
For both of these, there is a Free Kinect Sports Party pack Add-on which adds additional challenges in them. They are pretty tough but you will enjoy playing them because it bends rules of regular sports. All these games will be marked with New when you load the Kinect Game.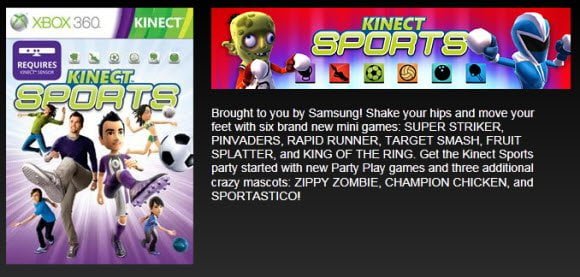 There are  five games in Party Play, In each of these
This Party Pack Adds these additional mini games :
SUPER STRIKER
PINVADERS
RAPID RUNNER,
TARGET SMASH,
FRUIT SPLATTER
and KING OF THE RING.
3 new mascots get added :
ZIPPY ZOMBIE, CHAMPION CHICKEN, and SPORTASTICO!
In total there are Fifteen Party Events and Ten Achievement. You can download this add-on from here or just access from XBox Marketplace from your Kinect.