WordPress isn't just a platform to build your blog on. You probably know that already, but amazingly we're heading into 2021 in a world where there are still people who don't know what a good WordPress website can do for their business. You might get a little more flexibility out of a bespoke website, but there's no type of business in the world that can't make its website with WordPress and do very well out of it financially. That includes the world of casinos and online slots, which is projected to reach a global revenue figure of almost one hundred billion dollars per year by the end of 2023.
Eye-catching figures like that are the reason that many people are choosing online slots websites and online casinos as their latest business venture. While there's profitability in the market, more websites spring up almost every day, encouraged by equally eyebrow-raising pieces of information like the fact that there are more adults who gamble in places like the United Kingdom than there are adults who don't. That doesn't necessarily mean that they bet every day or even every month, but it means there's a market of casual players there who you could potentially make money from.
We're not here to give you career advice, but if you've already decided that you might want to dip your toes in the online slots market as an operator or a franchisee, you're going to need a good looking, easy to use online slots website to help you stand out from the crowd. Fortunately, there are several great themes you can use to help you with that ambition – and here are the ones that have caught our eye the most.
Jackpot Theme by ThemesItem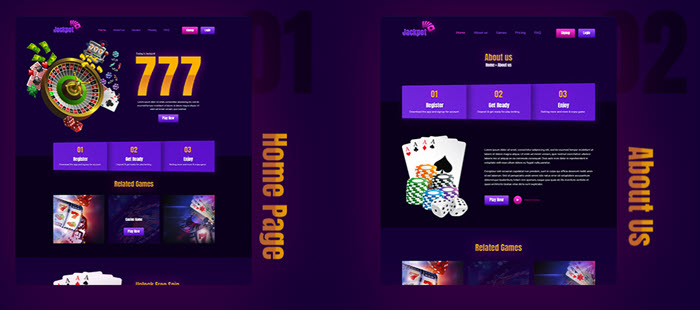 This is an excellent general-purpose theme for every kind of gambling, from poker to online slots and roulette. It doesn't dedicate itself to any particular niche but offers great customization options if you'd like to specialize in any specific area. It also comes with a number of color palettes to pick from and a number of different easy-to-read and attractive fonts. You get eight different easy-to-edit HTML pages included in this theme, including your standard 404 'not found' landing page. A dedicated page for casino games is included, along with a 'sign up' page, pricing information, 'about us,' and several more. The standout in this theme is the pricing options page, which is among the most flexible and easy to amend we've seen.
Gambling – Casino & Gambling HTML Template by Ingenious_Team
This is a strikingly simple and yet perfectly-executed HTML5 template. It might be a little too simple if you're planning to offer your customers numerous different forms of gambling, but if you're not looking to provide anything more complicated than a few online slots and maybe some card games, you shouldn't find yourself struggling to accommodate that within this theme. There's a specific page for offering and organizing tournaments contained within the theme, which is an option you might not find elsewhere. You'll also get an FAQ page and an 'about us' page included as standard, with some great graphics that are designed to capture the attention of your visitors the moment they land. The template optimizes itself for display on any device used to access the page, from old-fashioned desktops to tablets and smartphones.
Poker Dice by diadea3007
Don't let the name of this template fool you. It might say 'Poker Dice,' but it isn't limited to poker only. It's also not connected to the older Poker Dice theme, which was made by somebody else and is now considered to be obsolete. Double-check the name of the designer before you start your download to ensure that you have the correct one. There are twelve PSD pages included as standard, including space for blog posts if you use them as part of your SEO marketing campaigns. Those pages include two different homepage options as well as a 'get started' page for new customers and specific registration popups. The only downside is that it doesn't come with much in the way of graphics, and the graphics in the demo aren't included with the full download. You'll have to source your own.
Power Jackpot by ProspektDesign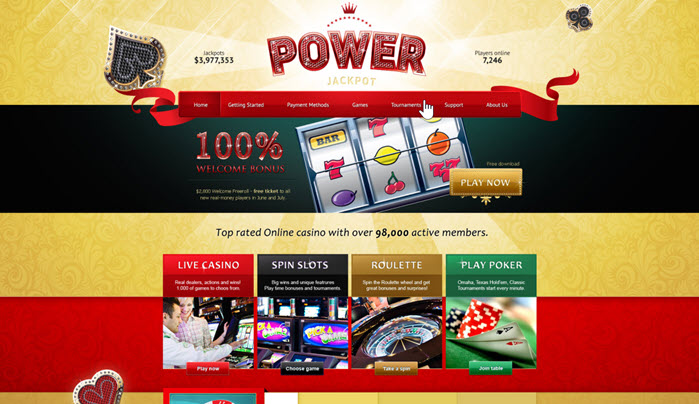 This is a theme that was designed with online slots in mind and describes itself as 'sparkly, glossy, and shiny.' The standard red and gold color scheme is beautiful, although you can switch out the red for green or all-gold if you so desire. In terms of visuals, this is probably the slickest package we've seen from all of the different casino themes. There are nine pages included, featuring a blog; a 'getting started' page, a 'price packages' page, and a 'games and product' page with a separate space for tournaments. To put it another way, it comes with everything you could possibly need to put a good-looking casino webpage together – and that's the whole point of the exercise.
Casino Website MotoCMS 3 Template by MotoCMS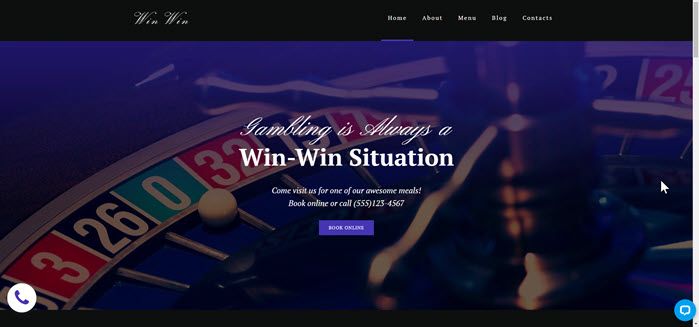 This is one of the more expensive template options, but MotoCMS would like to believe they're offering you a fair return for your money. That includes 24/7 customer support and rapid response rates that they claim to be 50% higher than the industry average. When you only have a second or two to make an impression on your visitors, that might make all the difference. It's not all about support and speed either – this theme comes with a drag-and-drop builder that makes it easy to put your ideal online slots or casino website together in a matter of minutes. Customization options are great, and if you don't feel that you have everything you need from the default package, you can choose to throw in a few add-ons for an additional cost. That can even include getting someone else to do the job of building the site for you according to your instructions! No coding knowledge whatsoever is required, which might make this a strong choice for a WordPress beginner.
We know that there are numerous other casino themes out there for WordPress, and we don't mean to insult anyone via omission. If you think we've missed a great one and our visitors ought to know about it, feel free to provide details in the comments section. Thanks for reading!