Greplin is an online search service which lets you make search files within your Dropbox without you requiring to login to your account. What makes it different from the default Dropbox search is that it is Instant i.e. Like Google gives you search result as you type your query with only drawback that you cannot search for deleted files which is an exclusive option with Dropbox Inbuilt Search.
How  Greplin Works ?
It connects with your Dropbox Account using oAuth i.e. does not need your Dropbox Password and using the Read only API, it creates an index for all your Dropbox files. You can compare it with any file indexing software you would have used on Windows.
Next when you make a search, it searches within those indexes and gives you a result. These results are directly linked to the file or folder, so if you are logged into your Dropbox Account you can view them with a click or just login to see that file.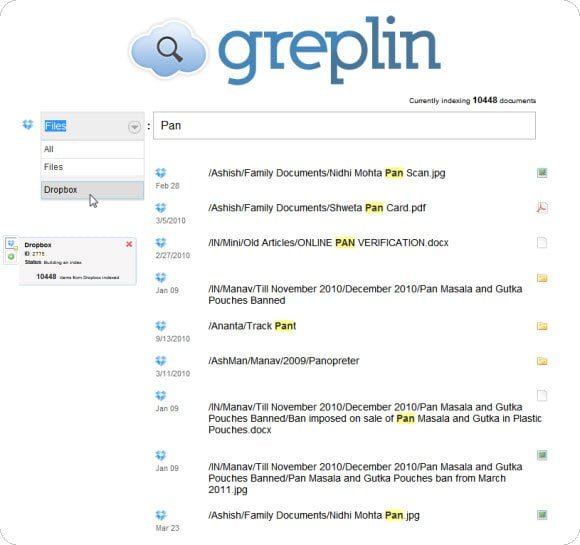 Like any other service the indexing takes a bit of time to get ready and it is updated every 20 minutes so if somebody changed a file right now or deleted a file the very moment you start searching using Greplin, the results might be staled. Also search is limited to file names and titles of the document and folder as of now.
Chrome Extension :
Greplin also comes with Chrome Extension which once installed and signed in frees you from even login every time to their website. You can just use the extension to search which sits right next to address bar.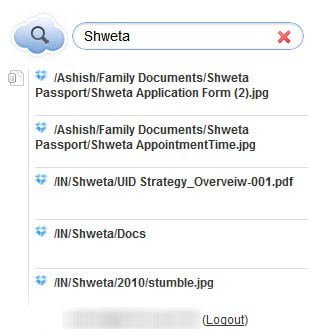 What else Greplin indexes ?
That is a very interesting question. Greplin is not just limited to Dropbox but it can also index Gmail, Calendar, Linked In, Google Docs, Twitter, Gtalk Chats which makes it very useful for any body who wants to have a global index just for their data and not for the web. You can learn the details of index here.
How much Greplin Costs ?
Zero for Gmail, Twitter, Dropbox, Facebook, LinkedIn, Google Calendar, Google Docs and 4.99$ / mo or 49.99$ / yr for Google Apps Services, Readers, EverNote, Yammer and so on.
Why would you use Greplin ?
Easy to use and Free for most of the commonly used services
Search your Email, Twitter, Facebook from anywhere without even loging to your account.
Instant Search.
The search is done over SSL which means its secure and your data is never modified.
Convinced ? Check out Greplin