Hi People , this is Kuntal Gupta , again with something about Photography to share with you , this time Presenting a "Doubt-clearing" Guide (Well Sort Of).
From a few months as my Friends Circle have grown  , I have been asked by many about whether or not to go for a DSLR or just stick to Digital Compact Camera (We will refer to as P'n'S here i.e Point and Shoot) , Well I try to solve their issues with a Series of Questions as well as Pros and Cons for each type , So today I am presenting you my thoughts about the same.
At the end of this guide you will be able to clearly decide whether to go for a Point and Shoot or a DSLR and helps others with the same doubt.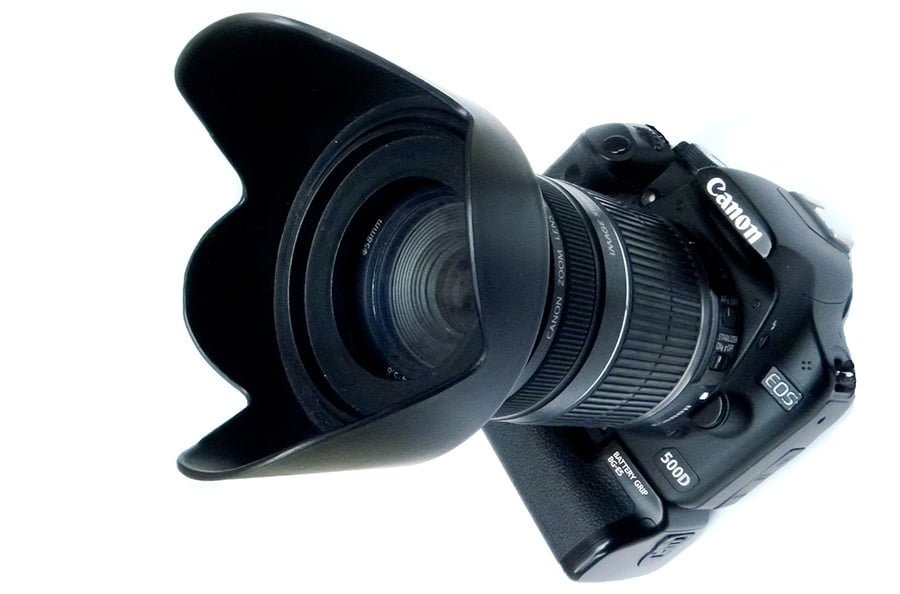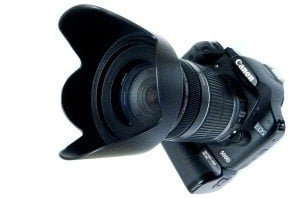 Does DSLR Means Value for Money ?
Many times I have seen people having lots of cash to waste and they end up Buying a DSLR (Maybe the best in the market) but if they don't know about basic photography concepts then they will end up with poor or mediocre Images , if they shoot in "Auto" Mode then it's just a waste of money for them.And I am going to you save you from that , just be with me , read the points through and then at the end decide. But before that you need to understand a tiny thing .
Camera is JUST a Tool !!
See Sometimes people look at my Pictures and first ask "Which Camera" , earlier I would answer straight , but these days , I laugh mildly , reason being as I Said above , "Camera Is Just a Tool" , yes a Mere tool , few of my Friends told me "Tere jaisa photo kaise lun , mere pass to tere jaisa Camera nehi hai" ( Translated : How Can I take good pictures like you , As I don't even have a fancy cam like you ).
Well first I laughed but then explained a thing , it's quite simple and hope you will understand , If you consider a Painting by a Painter as an Art , then an Image by a Photographer is also an Art , then where Camera plays its role ? Just like a Painter uses his "Brush , Colors and Palette" like that we use our Camera , It's just a Medium , its just a Tool , so no matter how fancy your camera is , you won't be able to get better pictures if you aren't creative.  But if you know your Tool well and have good imagination and Creativity level then I Believe a Picture taken by You from a Point and shoot will be very beautiful.
Why Choose ?
Ok , you can trust me for not being bias regarding any of these types of cameras , even regarding brands, I have Owned a Nikon P90 (a Prosumer) and a Canon EOS 500D ( dSLR) and have to say love them both , but each have its own use , surely both are used to take pictures , but when do we use one ? Lets find out the answer to that .
Before you proceed any further , I would like you to read Why megapixel Don't matter in Details , Seriously ! Go Through it .
If you don't have the time to read it all , then I am going to say it in short that for these days , the megapixel aren't the one to decide which one is better , but plenty of other factors are involved which I explained in the Prior Guide.

What is a DSLR ?
For the Sake of Simplicity , SLR (Single Lens Reflex) is a Camera System which is consisting of a Lens , a Mirror and a Pentaprism / Penta Mirror , the Light comes through the Lens , Reflects from the Mirror and via the Penta Mirror / Prism it forms the Image for us to see through the Viewfinder.Now we do adjustments according the Image we see in a Viewfinder and when we Press the Shutter then the Mirror Flips up allowing the Image to form on the Sensor (Show below in the diagram as "Recording Medium" ).
Due to the fact that what we see in the Viewfinder is pretty much what the Lens sees so this system becomes much more accurate to determine how our Pictures are getting recorded just the way we framed it , that's how the  Image is Recorded (The Actual Procedure is a bit lengthy and full of Technical Jargon , what I Explained here is the overall mechanism for such SLRs ).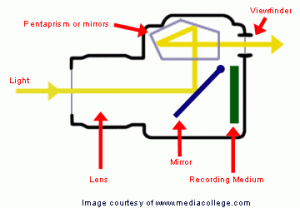 Why Choose a DSLR ?
Better Pictures :
As I said in Previous guide , the Sensor size of DSLRs are bigger than a Point and Shoot , due to which it can record Images in a way that is Faster and Produces Less Noise , the bigger the Sensor the Better .This is one of the Primary Reasons to Upgrade to an DSLR.
Customization according to needs :
Versatility and Adaptability is another feature of DSLRs we simply adore , Unlike Point and Shoots where the Lenses are Fixed (Can't be Changed) here in DSLRs it can be changed , infact we have a whole variety of Lenses from Many Brands , and this is not only Limited to Flashes (Speedlights) but  there are more stuff like Filters (Like Neutral Density , Circular Polarizer , Multi Coated UV Standard Filters and etc) , Battery Packs and many more to Enhance your Experience.
Also Standard Accessories we use in DSLRs doesn't get wasted , infact particularly we consider Lenses as a Long Term Investment , with technology changing rapidly , new Cameras come , but Such Accessories are so adaptable that the Lens will fit even on our New Cameras as well as Old ones , and that's one hell of a good thing.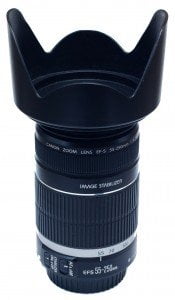 Fast :
A Specialty device  is always made in a way so as to perform better for the job Given , like a Mobile Camera isn't What we bought the Mobile for , so it's not very good at it , not very fast at it and all , but when we buy something as a Professional DSLR we get a well tuned machine which Performs fast , takes and process pictures really faster and its REALLY good at it than Point and Shoots.
Optical View Finder (Through the Lens Framing) :
As I said a few moment ago an Optical Viewfinder shows us pretty much what the Lens sees (It mayn't simulate all conditions like White Balance , Picture Style , ISO) But it helps us to frame our Image and More Clearly than Digital Viewfinders.
Usable ISO Range :
I also explained this in my Previous guide that DSLRs have a Higher ISO Range which is Usable , on the other hand on Point and Shoot although Vendors sell their Cameras with Gimmicky Labels as having 3200 or Higher ISO , but to tell you a secret , the Highest ISOs in such Cameras are just not Usable , what I mean by
Usable is at those ISOs the Sensor Become more sensitive to light and Produces more Noise (Grainy Pictures) , the Usable ISO Range in such Cams would be 100-1600 (At Max) although I prefer to stay within 100-800 , but that also depends on Sensor Size so a ISO of 800 on DLSR would produce less noise than a Point and Shoot at that Same ISO Level.
Manual Override :
Although many Point and Shoots these days comes with PSAM Settings or as we says (Program Mode , Shutter Priority , Aperture Priority and Manual ) , but they still does much of the work and won't let you customize many settings , specially in case of Full Manual Control there is infact less options to tweak , also to change the options you have to dig into the menu , so the Navigation on a Point and Shoots for such Settings are kinda hard to reach , However DLSR manufacturers assumes that you wish to tweak all the settings , so it gives an easy interface and provides you with a quick way to change it all. What I Love most about it is that how fast we can Change the Depth of Field , Ability to Freeze or Smooth / Blur a Motion etc.
Ability to Freeze a Moment and Faster Focusing :
DSLRs will give you suitable combination to capture fast Action / Sports Photographs and Keep the Focus on the Subject Steady .
Better Optics :
Yes , The Interchangeable Lenses I mentioned ? Comes with far better optics than many Point and Shoots , We have same focal Lenses (Say 70-200) with Different Optics , Fixed or Variable Apertures , Image Stabilizer and what not , there is a wide variety for us to choose from according to our budget or requirement .
Control over Depth of Field :
No Matter if it's a Portrait (Where you need to blur out the background) or doing Landscape (Where everything needs to be Sharp) a DSLR will have you have control over the Aperture (The Setting which controls the Depth of Field) .
Live View :
Many DSLRs these days come with Live View i.e. You can see what you are shooting or the shooting conditions are simulated on the Screen , for Point and Shoot Framing through the LCD is the only way (Digital Viewfinder works on the Same feed as the LCD gets so it's the same) Earlier we didn't had this feature in DSLRs .
Weather Sealing / Dust Protection :
DSLRs have Better Build to avoid / prevent Dust from getting inside the Body , so you can have less worry about getting the camera Dirty after a Shoot , also Weather sealing provides protection from things like Humidity , internal Perspiration and all , thus protecting your Dear DSLR.Point and Shoots are simply not that great in case of preventing dusts particles.
Ok , So many good reasons to go for DLSRs , why not go for it ? Here are few reasons .
High Price :
Well , lets face it , even if we want to go on a vacation and click some family photographs with it , then do you seriously need to go for a Cam at that Price ? As of today the Lowest Price for a DSLR in India is Rs. 22,100 , which is costly for someone who takes photograph very rarely .
Big Build and Heavy :
Yes , it is kinda obvious when it comes to DSLRs that its Beastly as compared to the Slim Trim Point and Shoots which you can take around in your Pocket , that Big Size of its and being heavy is a Turnoff for many casual clickers. So if you want something easy to carry around all the time (or for most of the time) It's the Point and Shoots , they are light weight , slim , small and thus easy to carry.
Hard to Learn / Complex Handling :
For a Person who have no basic knowledge of what Aperture , Shutter speed and ISO are it can be hard to start with a DSLR , although DSLRs comes with a "Auto" Mode and Preset modes like Portraits , Landscape , Macro and Sports Mode , but let's be honest , you don't go and buy a DSLR to click in Full Auto Mode do you ? So handling can get hard if you are in PSAM modes and may get unexpected Images as a result. So at start it can be a bit hard , but if you know the basics , you will get through with it (Don't worry of you don't know the Basics , we have a Guide upcoming for you to teach you're the Same).
Mechanical Shutter Noise :
It's the Least thing I care about , but in a Silent / Lone Area , In between Seminars or Functions the "Click" sound can be a bit distracting for few people. Point and Shoots doesn't make that sound (Being a Mirror less system) , what you may hear from a Point and Shoot are Digital Sounds coming outta them to give a feeling of "Shutter Click" , the Sound can be easily turned off.
Maintenance and Aftermath :
Everytime I go out on a wedding shoot or a Simple Photowalk , one of the few things I have to do after coming home is Cleaning the Camera , Clean the Optics , smaller parts etc , Even though many High Priced DLSRs comes with Weather Sealing   which prevents Dust and Small particles from getting inside but those are costly DLSRs we are talking about , so we eventually have to provide a Good amount of Maintenance after our DSLRs.
These are the Pros and Cons of DLRS According to me and Many users , not Satisfied with DLSR then ? Here are the Pros and Cons of Point and Shoots.
What are Point and Shoots
When Compared to DLSRs in Certain cases you may think of Point and Shoots as Inferior or even Useless , but if want to travel light , click rarely or engage in certain type of Photography then Point and Shoots comes in handy. Almost all the Cons of DSLRs are managed by Point and Shoots.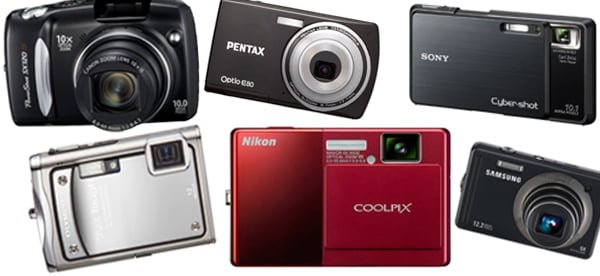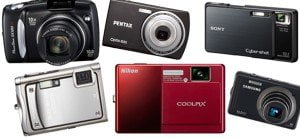 Why Buy a Point and Shoot Camera ?
Small , Slim and Trim (Compact) :
They are small , Slim , thin easier for you to carry it around in your pocket without anyone noticing it , Going out on a vacations or a night out with close friends or a Birthday party , Compact Camera are the Easiest ways to carry around and Capture your cherished Memories (Better than Mobile Cameras IMHO) .
Full Auto Operations :
Point and Shoots are made in a way so that you just need to Turn it on , Compose your Image forget about the settings and Click right away and Camera will take care of all the Technicalities and you get a Good Exposed Picture. So be it at Auto and make you worry free .
Fixed Lens :
You don't have to worry about buying Lens or changing the stock ones , those are fixed , They don't let you worry about changing them , so a worry free shooting !
Light Weight :
Such cameras are bliss to carry around due to their light weight , no sweat in carrying them inside your pockets when you are out and still able to click at the right moment.
Sssshhh ! :
Take it out , Point and Click the shutter button and people will hardly notice it , if the Shutter sound is turned off , then hardly people notices it , some won't be able to guess you bought a cam with you. Perfect for Silent Operations.
Higher / Deeper Depth of Field :
Several Point and Shoots when shot in Auto , tries to Bring all things as sharp and in Focus , so that everything looks good , except "Portrait" Preset when it Shallows the Depth of Field , but in Full Auto Camera will Increase the Depth of Field this can be for most images , look bad also.
Price :
Simple Compact Cameras are way more cheaper than DSLRs and these days with the Feature manufacturers are packing them with are making them Value for money for what they are worth.
Larger Focal Range :
Most of the Compacts come with 3x and Above Zoom , Some with upto 32x , With DSLRs achieving such focal range will cost you much , I had the Nikon P90 the Zoom was like 24x ( 4.6 – 110mm [35mm Equivalent] ) Originally the Focal range was like 26mm – 621mm , Comparing that to a Lens on DSLR will cost you like 1 Lac or something , but on Compacts the camera costed me 14k Only. I mean at 14k you get a Decent Wide Angle and An Awesome Telephoto Range , That's ? AWESOME !
Easy View LCD :
'The LCD Comes in handy while composing your Shot , shows a lot of information regarding the settings , shows grids to help you compose and no doubt you can review your Photo in them after click.
Sounds Too Good ? Here are the Disadvantages of Point and shoot , which again is maintained by the Pros of DSLR.
Image Quality :
Compact camera means , smaller sizes , smaller size means smaller Sensor , Smaller sensor leading to a "not-that-clear" photos , so not that Great Image Quality can be expected out of Point and Shoots.But here is the catch ,  the Image Quality will be good enough for personal uses , like Viewing on PC , printing on Photo Paper , but if you try to use them in Commercial Banners / Enlargements the Quality will make you suffer , so for personal usage such Compacts will do.
Less Options to Tweak :
Compacts are made in such a way to avoid you from making a wrong setting , most of the things are taken care by the Camera itself , so if you want to change a Advanced setting , you just can't ! Camera won't let you do it.
Less ISO range :
The Smaller Sensor also means that the Sensor has to be more sensitive and work on capturing the light in less area , so doesn't matter if your compact has got a ISO of 3200 , it simply won't be usable , the image will be more noisy , However Large the Range of ISOs are in Compacts , the Highest ISOs are just not usable so Useless , and the Usable range is generally Small like ( 100-800 will give you decent results) .
No Optical Viewfinder :
The Absence of Optical Viewfinder makes it a bit hard as we can't work with Precision and Always Composing via LCD Doesn't work.Although LCD Shows pretty much what we see , but still having a Optical Viewfinder is much more good.
Inability to shoot Fast Actions / Freeze Motions :
Point and Shoots doesn't let you control the Shutter speed much as much as DSLR will do , so Freezing a Moment / Motions Blur are hard to capture , so Sports / Action Photography are a bit hard on P'n'S .
Fixed Lens :
Though the Lenses are Fixed , but Manufacturer try hard to make it kinda "one-for-all" type of Lens , so you can do Wide , Macro , Telephoto , cover most of the Basic ranges. But Lets face it , specialty lens and a such a Fixed Lens will have much difference in output.
Limitations During Night Photography :
Point and Shoot are crappy in case of Night Photography , they simply chicken out during such moments (mostly) and are just no suitable for night time photos (Not mentioning Flash Photography at night)
Confused still ? I Don't blame you , but remembering these points will help you set your Priority first and let you decide what feature to go for and what feature to compromise.

Certain Points can help you decide to choose between DSLR and Point and Shoot :
Budget : Having Less Budget ? Want More Feature , then go for a Point and Shoot.
Good Image Quality : Choose DLSR , having the larger Sensor than Compacts , it will be good for you.
DSLR System Sounds Complex ? : A Good featured Compact will do for you , forget to worry about the Settings , it will take care by itself.
Control Freak ? : Go for a DSLR , lets you tweak every teensy weensy bit of setting there is if you are a control / manual lover.
Lenses Sounds Pricy ? Hard to choose from ? : Go for a Point and Shoot , as I Said they cover most of the Focal Ranges and can be used for many types of Photography and comes cheap.
Travel Lighter and Wanna always carry the Camera round ? : Point and Shoot again , comes in a tiny size , easy to carry , easy to maintain .
You have serious Interest in Photography : Without doubt go for a DSLR , if it falls in your budget then it will help you most to achieve and learn properly the concepts of photography.
Any More Queries ? Or Doubts Regarding the Same ? Comment Below and Let me know , will try to Add your Suggestions here or help you choose the Best Camera for your Budget.