Finally, Google Plus has games now which is the top thing people do in any social network, bet it Facebook and now for Google Plus. Now since we all are concerned about privacy issue and who knows what I am doing, I will put down certain things as I see in my Games section. You can find Google Plus Games here    or look for a new icon right next to your Google Plus Circles.

What happens when you play a game ?
When You play game here, your friends will know what you are playing so there is no dark corner of the room where you can hide and play. Like they say "Google games are social". Now when you click on Play button for any game, you get a popup telling you about this and probably this much required so you can play games with your friends turning it into a gigantic multiplayer pool.
Next The game will tell you what they can access, same way Android Apps tell you what they can do with your phone. So depending on that you can choose to play or to skip. Make sure you read that.
Also one thing I have noticed in couple of games that on this screen, you can find developers email address in case you want to get in touch to ask something. Thats very transparent but not sure if it is a good idea to display email id so OPEN.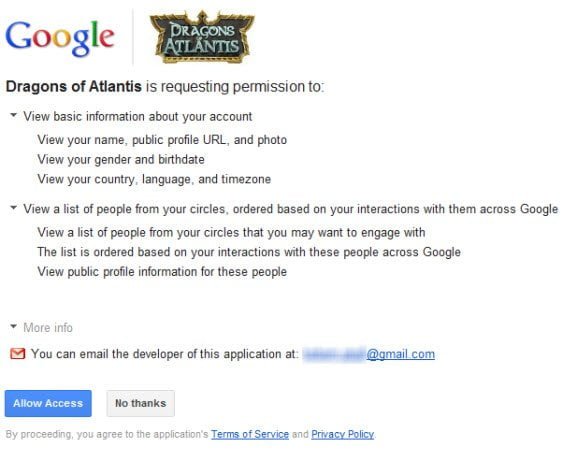 Removing Games and their permission
So games are like apps which needs permission to access your data to make it social. So the next obvious question is how do you remove them ?
Go to your Google Plus Account Settings
Look for option which says Authorizing applications & sites. Right next to it there is an edit button, click on that
Look for the game name and choose to revoke access.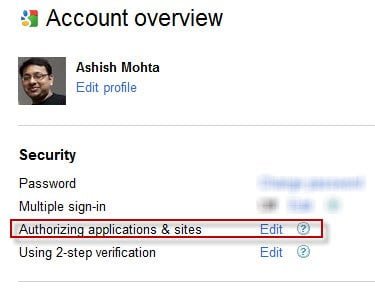 The only thing missing is the granular permission levels here. For example If I wish not to share my Birthday but everthing else you cannot do that. So the only option you are left with is using Circles.
When it comes to sharing ?
Every game will allow you to post some kind of status message to your Google+ Stream. Before posting, you can choose with who you can share which is on similar lines like any of your updates.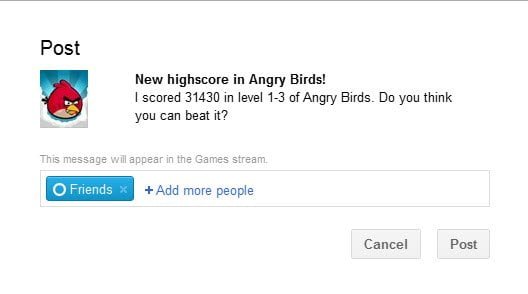 So how to find which game your Friend is playing ?
Its not directly possible but when you go to games section, right below where the games are listed you will find the Game Stream. This game stream list all updates which is from your friends and is visible to you.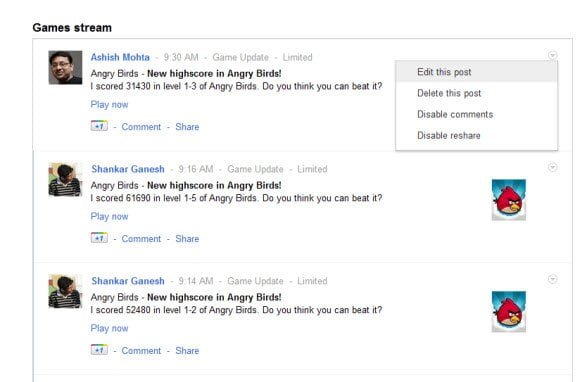 In case Games do not allow you to change what to post, like Angry Birds did not allow to me add anything extra when posting score, You can go to Game Stream and find the update you did. Here you have option to edit the update and control on Reshare and comments.
Summary :
Overall this is how games work but probably this will evolve with time. The only thing missing is granular option to control what data can flow out to the developer and games. Did you start Playing games?