Wondering which companies have headquarters in Silicon Valley ? Here is a map which tells right from location on Map to average salary people earn at Silicon Valley and how long they stay here.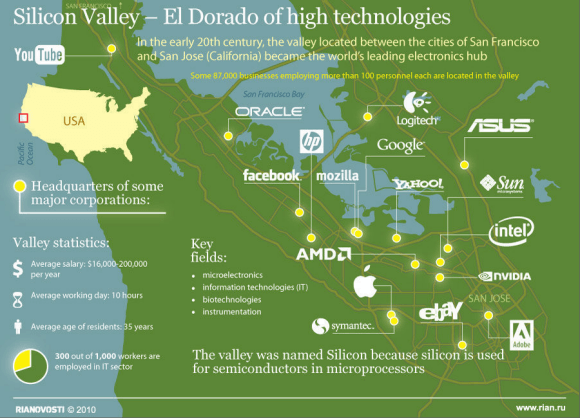 List of companies in Silicon Valley ( Major Corps )
Oracle
Facebook
HP
AMD
Symantec
Mozilla
Google
Logitech
Yahoo
Asus
Sun
Intel
Ebay
Adobe
Some statistics of Silicon Valley
Average Salary per year : $16000 to 200000 in US Dollars
Average Working Day : 10 Hours
Average Age of Residents : 35
300 out of 1000 Workers are employed in IT sector
Some 87000 business employing more than 100 personal each are located in the valley.
The valley was know as Silicon Valley because silicon is used in semiconductors in Microprocessors and IT companies do use lot of them and hence the name.
Here is another set of Map which has even more company listed.