After remaining exclusive to Windows Phone for a long time, HERE Maps, is going on board Android with licensing agreement with Samsung and will be available exclusive to Samsung Galaxy Series.
Till date Google Maps had no competition in mapping service but with HERE Maps on board its going to change a lot as it's the only service to get Offline Maps on board which Google is yet to roll out. As of now Google Maps only offer cumbersome caching of small regions making life a little challenging for travelers.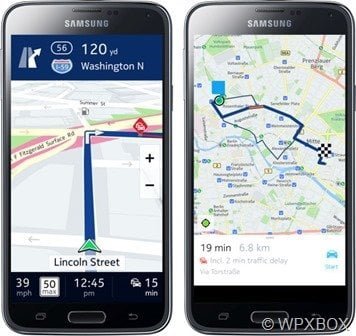 Features of HERE Maps
Completely offline maps which works without using internet data.
You can search for locations in offline mode and the app will use GPS to guide you there.
All three different mode of travel i.e. Car, Bus and Taxi is available.
When you are connected to internet for almost 200 countries with turn by turn navigation with traffic information.
HERE for Samsung's Galaxy phones can pair with Samsung Gear S to sync routes and works with Glympse and Samsung's Car Mode.
Save your favorite destinations with HERE.COM
Samsung still holds majority of Android's market share and it's a good news for everybody out for may be not for long. Never thee less, HERE is expanding and its good to see such an amazing service with high degree of accuracy going places.