Have you recently added some apps to your Windows 11/10 but couldn't find a way to remove them? The Start menu shows up all the recently added apps to your computer, and you don't want to show them to your users. In this article, we will try to solve this problem in a layman's language. Windows makes it quite an easy task for you to open any app in one click and represent all the apps in the start menu, so you don't even search for it. But what if you don't want to display all the lists to these apps? Wait, we have a solution to it in this post.
With various designs to display the app list, Windows 11 also has multiple sizes and resolutions compared to Windows 10. Hiding or removing the recently added apps will help you sort your work quickly and look more compact. Like the other users, you may find removing the extra/unwanted apps from the start menu very useful. Through this article, let's see the process of removing recently added apps to your Windows 11. Continue with us, read this post and get the solution here.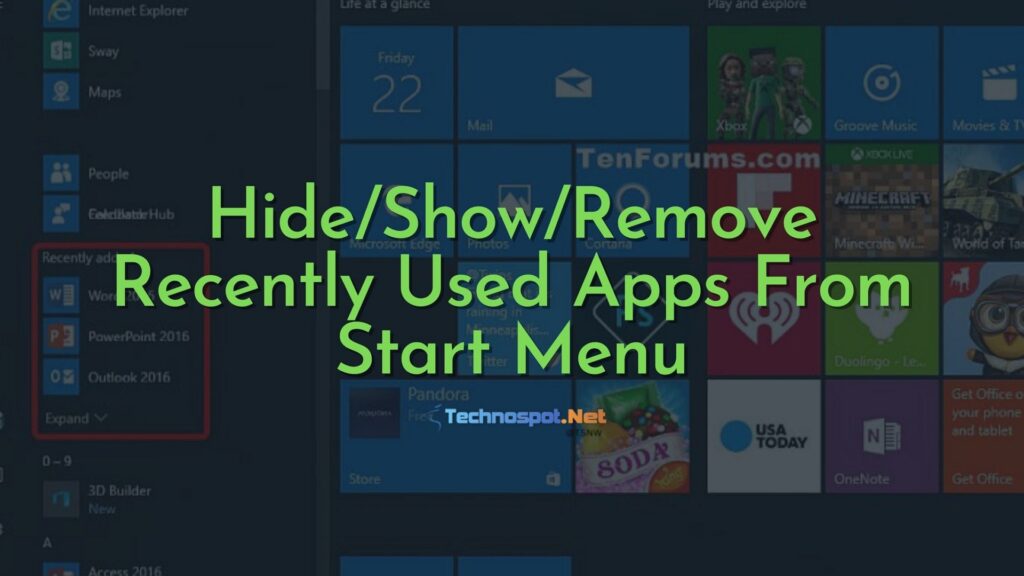 Remove Recently Added Apps from Start Menu in Windows 11/10
Get the step-wise solution if you want the Start menu to look compact for quick access to your work.
With Windows updates, you may get some extra apps in your Recently Added Apps section. We found three solutions to remove them. So we are going to discuss all three methods here. Make sure you follow all the given steps below. Here's what we are going to discuss in this article:
Registry Method
Group policy editor
Windows Settings App
Anyone can use this and customize it according to their choice.
1] Using A Reg file-Disable Recently Added Apps List
This method will help you remove recently added apps to be deleted using a reg file. We are going through a technical part of your computer to do this task, so if you are a beginner, you make sure you're not missing any step or making a typo in a command because you need to reach the correct path or create it. Yes, you may have to create the key if you do not have which we will discuss next. Also, make sure to take a backup of the Registry.
You have to use a long path to start exploring the reg file. Note it down in the notepad file to use further.
Open Notepad and paste the following registry details:

[HKEY_CURRENT_USER\Software\Policies\Microsoft\Windows\Explorer]

"HideRecentlyAddedApps"=dword:00000001

[HKEY_LOCAL_MACHINE\Software\Policies\Microsoft\Windows\Explorer]

"HideRecentlyAddedApps"=dword:00000001

Save this file by any name, but make sure you add the .reg extension to the end.
Open it and select the merge option to save the file with a local registry when creating the file. A warning will appear on the screen. You should click yes to proceed. Recently added apps will now be removed from the start menu.
If you do not find the previous one workable for you, we have the following method.
2] Using Local Group Policy Editor – Disable Recently added Apps List
We have reviewed Registry Editing already, but if you are using Windows Pro Education or Enterprise Edition, you can use the Group Policy Editor app as it is strictly available to Windows Pro.
Open Local Group Policy Editor. If you don't know how to open it frequently, try this > Open run window (Windows key + R) > type gpedit.msc > Press the Enter key. Local Policy Editor will open.
Navigate to the following path: Computer Configuration -> Administrative Templates -> Start Menu and Taskbar.
Expand Start Menu and Taskbar to Remove Recently added list from Start Menu.
Please set it to Enabled from Not configured.

Click on OK to save the changes.
Close the Group Policy Editor window and check for the Recently Added Apps in the Start Menu. You will not find any of the previously visible apps. Now it is removed permanently from the shortcut menu.
If you don't see the changes after enabling the default settings, you can go with the previous method of the registry editor.
Please note that you can use the same method to enable the recently added apps from the Start menu. Choose to disable it.
3] Using Settings App – Remove Recently Added Apps List
If you have checked both the above ways to hide/remove the recent apps but still did not find the solution, we have brought the third option for you, using the Settings App.
You must be aware of how to access it. If you are unfamiliar with this, you can continue reading the detailed explanation below, from accessing to making the changes in the Settings App.
Open the Settings menu by clicking on the gear icon from the Start or use Win + I
Then go to Personalization > Start.
You will find the top three options as Start more tiles on Start, Show app list in Start menu and Show recently added apps.
Select the toggle bar of Show Recently Added Apps and Disable it.
How To Delete Shortcut Of An App On Desktop?
To delete an app's shortcut on the Desktop, right-click on the App and select the delete option from the menu. Please note that this will only delete the shortcut to the App and not uninstall it. To Uninstall the App, you need to go through settings.
How To Hide All Icons On Windows Desktop?
Right-click on the desktop and hover the cursor over the view option. It will open another menu—Show desktop icons. Select it. If you had any icons on the Desktop, they would appear instantly.
Arranging your apps, files, and documents in the correct and most optimized way is one thing that can surely boost your productivity a lot. We hope you liked this article. Please make sure you share this with everyone who might find it helpful.