More or less every user get conscious when anybody tries to sneak into his or her screen and be it that kind of stuff or not, no body likes to get caught for anything.
Wraith is a perfect portable application which allows you to quickly hide windows on your computer that you do not want others to see with one ESC button on your computer.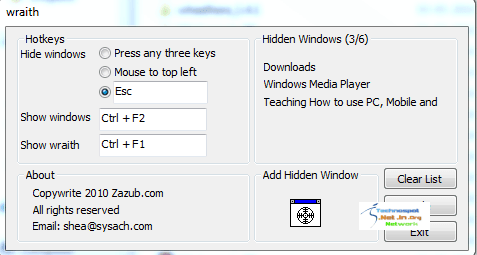 In order to select the windows use the sniper icon and point it to window you want. In case you want to hide all open windows, try Click Gone
Features :
Hides up to Six Windows. Not sure if anybody will need more than this, if yes I guess you need close your room.
This application can hide itself and be brought back with ctr + F1 which is customizable.
Also you can use mouse over to the top left or press any three or more keys at once.
Download it from here.