I often post videos (screencasts) or take a screenshot in my posts. While creating them, I try to hide the icons on the desktop, because I generally use my desktop as a dumping ground. My desktop is often found with loads of downloaded files, though I keep moving them to specific folders and even to recycle bin still it often looks messy.  In this post, I will share how to hide desktop icons in Windows 10.

Hide Desktop Icons in one click in Windows
So while making videos, I used to create a new folder, cut-paste all the files on the desktop to it, and once it is complete, I used to bring those files back to the desktop. However, now I don't need to do this anymore. There are three ways to do it:
Use the menu option
Third Party Application
Keyboard Shortut
Double Click on a space in the desktop
Hide Desktop Icons menu option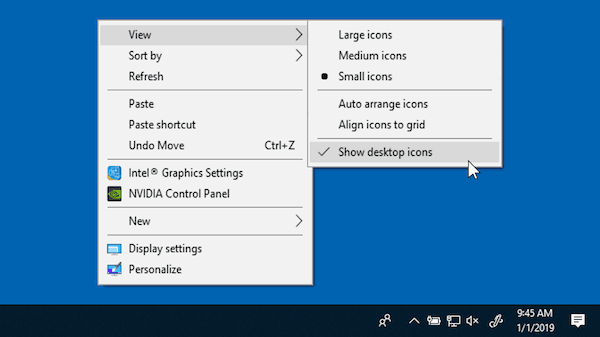 Right-click (or press and hold) the desktop, point to View and then select Show desktop icons to add or clear the check mark.
Use an Application
Here is the application which I initially found at the time of writing this post for the first time. Its called HideDesktopIcons, which can help me to hide or unhide the desktop icons in just one click. Thanks to How-To Geek for this excellent tool.
You need to download a small zip file, unzip, and run the EXE file. You immediately get this icon on your taskbar; now you can hide or unhide your desktop icon in just one click. Isn't that cool.
Have a look at this animation below.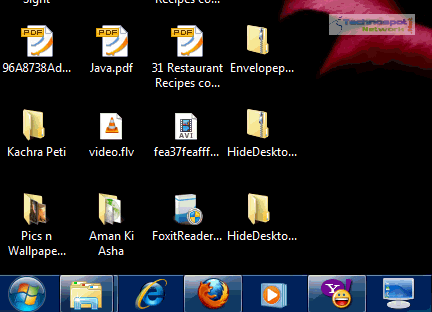 So go ahead and Download HideDesktopIcons Application and enjoy the magic of hiding and unhiding the desktop icons.
Using Keyboard Shortcut
Additionally, you can choose to assign a shortcut to the icon of the above applications.
First Pin the application to the Start Menu.
Next Right click ok the application, and choose to open Properties.
In the shortcut text area, assign a key which you can easily remember.
Double Click on the desktop
A simple Double click anywhere on a space on the desktop, and it will automatically hide all the icons instantly. Double click again on the Desktop to reveal the icons back. Its very straight forward.