Highlighting the text for better understanding is something we have been doing for a long time. In Schools, Colleges, Offices almost everywhere. It is a trend. Now imagine sending a web page to your friend and asking him to find a set of sentences. It can be done, but then it's plain boring and takes a lot of time. So instead, if you can send a webpage with highlighted text, it will save everybody's time. In this post, we will share how you can Highlight and Share web pages.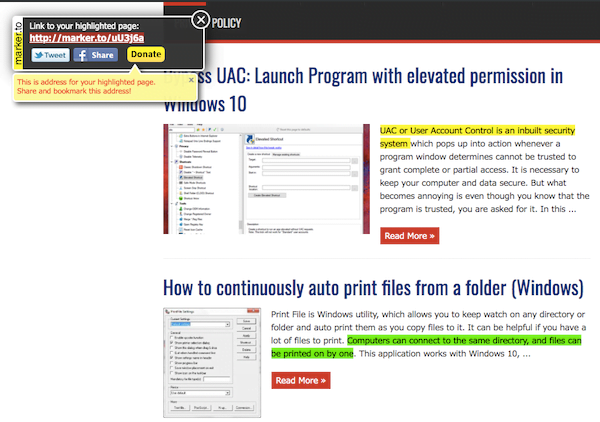 Highlight & Share the web pages with Yellow highlighter pen for web
Yellow highlighter pen for the internet by marker.to offers a chrome extension that does the job. Once you install the extension, a yellow pen will be available.
Open a website you want to highlight, and then click on the yellow pen icon. The first thing it will do is create a unique URL that can be shared with anybody and instantly posted on Facebook on Twitter.
Next, the mouse cursor will turn a little bigger, and when you can select text to highlight it. It will be highlighted in yellow color. Any highlighted text can be edited to change the color from yellow to red, blue, gree, and more.
Also, by highlighting the text, you can add two more things. One is to add location, and second to add tags. They are handy, especially the tags, if you want to categorize based on keywords or location instead of colors.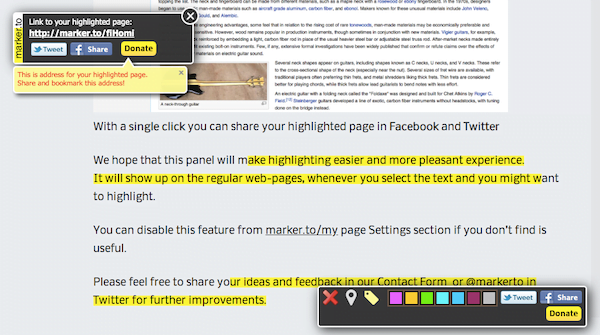 Once you share the page, the person on the other side will get to see all the highlighted text with location, colors, and tags. Once done, you can choose to delete the page.
Download the Chrome Extension. I found it very useful, to make the sender of the link very clear, without letting any confusion and wastage of time to come into the picture. What do you think about it?? Share with us.