Looks like Smartwatch area is picking up and during 2013-2014 we will be looking at many such smartwatches. Today I discovered another Kickstarter project and its called as Hot Watch which are providing something unique of their own.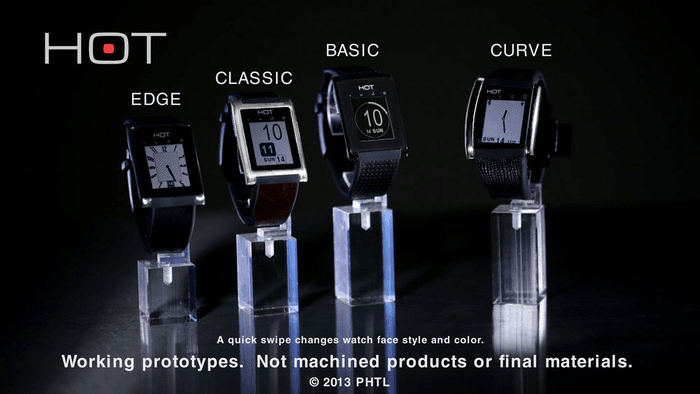 Lets check out the features:
Private Calls Made Possible:
Most of the smartphone allow you to take up calls and have the conversation over speakers which makes sure if its a private call you either will take out your phone from your pocket or reject and send a buys SMS.
Using their patent pending design, Hot Watch has a microphone & speaker right where you clip the belts. So when a call comes in your hold your palm over your ears and listen to the calls. The palm makes sure that the directional speaker reflects and amplifies to the user's ear, making private call possible.
So guess you will be looking funny when you have no phone in your hand but have your palm over your ears for calls. Human I guess!!
Gestures:
There are two types of gestures here. One that you control with your wrist movement and second that you can do on your smartwatch screen. Yup you guess it right, the screen accepts touch response.
Wrist Gestures:
Answer Call: Move hand to ear during incoming call
Dial Out Menu: Move hand to ear when there is no incoming call
Reject Call: Shake hand during incoming call
Mute Call: Drop hand during conversation
End Call: Wave goodbye during conversation
Dial Favorite Number: Knock twice
LED Backlight: Twist hand to "read" position
Fall Down: Automatically text emergency number (you can cancel within 30 seconds)
Screen Gestures:
Unlock and Menu: Write " U " on screen
Unlock and Dial: Write " D " on screen
Unlock and SMS: Write " S " on screen
Unlock and Clock: Write "C" on screen
Unlock and Apps: Write "A" on screen
Waterproof:
This is another feature which will be common to watches. We have our watches on no matter where you are, even on your bed. Well its not going to rain when you are at home but its quiet possible that you can get wet in rain. Hot Watch is water proof, but how much is still has to be answered.
Which Phone OS it will work with?
Technically it should work with every other phone which supports Bluetooth. However the makers are more inclined towards Android and iPhone and have no words on Windows Phone. This is something which we really appreciated about Kreyos.
Different Models:
Hot Watch must be the first smartwatch which is providing different type of models. They have four in place — Basic, Classic, Edge and Curve. The last model is equipped with flashlight.
Other Features:
Siri for iPhone user for Voice activated calling and other phone control.
SMS, Email, Facebook and Twitter interactions.
Music player remote control over bluetooth
Contacts sync and Caller ID support.
Alarm Support
Pedometer to record running, walking, steps climbed, calories burned
Fall detection with automatic text to emergency number. You can cancel that in 30 seconds because chances are your watch will fall more often than you.
LED illumination
Take quick notes using your handwriting on watch face.
Find your phone in case you leave it behind
It will run 3 Days standby and if you disable call features, its 7 days straight.
They come with one year warranty.
Pairs with 8 Phones. Good for users who have tones of phones for review or if you want somebody to borrow it from you.
There is no wording on apps and m any other questions.
Hardware Specifications:
Hot Watch houses an Energy Efficient Cortex M3 processor with Secondary DSP processor for Bluetooth 4.0, Call control and Audio Enhancements. It has 6-Axis Accelerometer and Gyroscope which makes sure all gestures are supported. If you look at the display its monocolor 1.26" E-paper display which is Multi-touch capacitive screen. It is also anti reflective glass with high contrast making sure its readable when you are in bright sunlight. From development perspective they have a SDK for custom 3rd party applications and there is a planned over the air firmware update.
Convinced Enough? Here are the plans for development and shipment:
August 2013: Finish final design details and package design
September 2013: Start tooling for plastic, rubber and metal parts
October 2013: Procure reserved components and molded parts, Pilot production.
November 2013: Finish certifications, volume production
December 2013: Start shipping
You can start supporting them on Kickstarter right here