In Windows 10 and Windows 8, it is possible to login to a Windows Account in three different ways. It gives the advantage to recover windows account for many users who forget their password immediately after setting up a strong password. Now, you can set up a strong password and forget about it by setting up a new PIN-based password (Numerical) and Picture Based password. Let's learn how to set it up :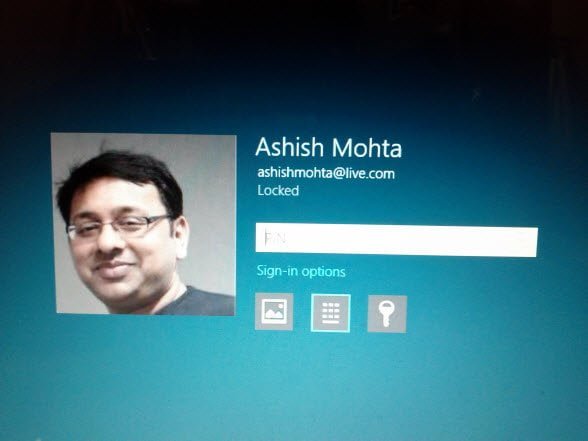 How to set Multiple Passwords for Windows 10 User Account
Use PIN to enter into account
Login Using Picture Password / Gesture Based
Login using Windows Live Account
Setup Auto Login
All the options are available under the user account. Control Panel > Users
1) Setting up PIN Based Login
Look for the option which says PIN Login and click on the button labeled as Create a PIN.
Next, you will have to authorize by providing the current password
Enter four digit password, Confirm.
Logout and Login to use.
Troubleshooting :
If you have set up your PIN before setting up with Microsoft Account, It is possible that PIN login will fail. Not sure why it happens but after you connect your Microsoft Account with user Account, Reset your PIN.
2) Setting up Picture Password or Gesture Based Password
Picture Password is useful as it will be difficult to be guessed by anyone on how you have set it up. While setting up Picture Password, you need to choose a specific area of your picture as password which can be marked by either tapping or by circling an area.
Now Circling is useful if you are using a touch-based device. I failed many a time using it with a mouse but, if you use TAP using Mouse, it works awesomely.
Under your User Account, Look for Option which says Picture Password > Create Picture Password. In this process, you will need to select a Picture from your Library or by browsing and then either use Circle or Tap to choose parts of the image, which will be your password.
3) Using a Microsoft Account
In Windows 10, you can log in using a Microsoft account. It adds another layer of security for your Windows Account but, you will not be able to use a password which you created for local account. You can go to the Settings > User's section, and convert a local account to a Microsoft account.
Troubleshooting :
In case you are not connected to the Internet at the time of login, you will be asked to use the last password that was used with your Live Account. It will at least make sure you can log in to your account.
It is also useful for many users who connect to the internet using a User Name password only after they have logged into the system.
Video demo of all the above three process 
4) How to Automatically Login to Windows 10
Windows 10 does not have "Remove Your Password" feature as Windows 7 users have in their account. So to make any account passwordless, we can use the good old netplwiz.
Type netplwiz in the run prompt, and give admin permission is required.
Once that opens, you will see the list of users of the computer. Now select any of the users for which you do not want to have a login
Uncheck the option above, which says, "Users must enter a user name and password to use this computer.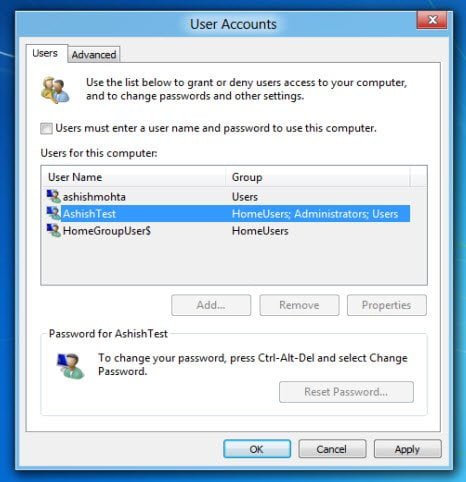 Warning: When you do this, this account becomes the default account of your computer and Windows will automatically login this without displaying options for other users. You will need to Logoff and switch user to login to any other account.
Video demo of Password Less Account in Windows 10
Password Less Account can be created in two ways: First, by following the above method for any existing account or keep the fields blank when creating a new windows account. It Works.
Let us know if these helped you to have multiple passwords for Windows 10 account.