Ever got a message on Windows saying, "The system is shutting down. Please save all your work. The system shutdown was initiated by Administrator"? I used to get this kind of message when I was in college many times though nobody initiated it, and I was not even in-network. You won't be able to terminate the program with the task manager, either. Initially, I didn't know how to avoid it, but when I typed Shutdown /? I understood what was going on. In this post, I will show how you can instantly abort Windows 10 Shutdown.
How to instantly abort Windows 10 System Shutdown
Sometimes Windows itself initiate the shutdown process of a computer due to some unknown reason. It is annoying when you are in the middle of some essential work, such as a conference or even writing an article. Now the query is how to avoid it. If you have enough privilege, you should be able to terminate it. I tried using it in the office by simulating the same and was able to end it.
Open Command Prompt
Type Shutdown -a and press the Enter key
If a Windows is showing the countdown timer, it will exit.
To know more about options for Shutdown, Type Shutdown /? on the command prompt and You will see the following result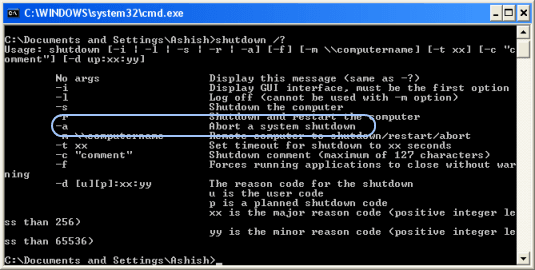 You can use this even if you have manually initiated a shutdown by typing the same in the Run prompt. Generally, you will get a minimum of 60 seconds before the system gets down. Quickly type shutdown -a this on run dialog box [ Win key + R]. This command is used to abort system auto shutdown. The shutdown process has a more advanced feature, which I will be talking about in the next post. I hope this helps.
I remember using this to shutdown Network computers when I was in college. We had four computers over LAN, and when somebody forgot to shut down his computer, well, I was the tech guy for them.