Google toolbar now allows you to access your bookmarks from any computer by providing login-based bookmarks and label support. Meaning now you can give labels to your bookmarked sites. That's very useful. I had been using labels in Gmail and find it very useful when you need to group them together which is similar to making folders in yahoo mail.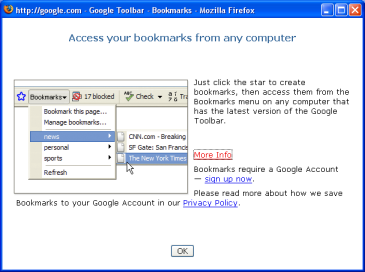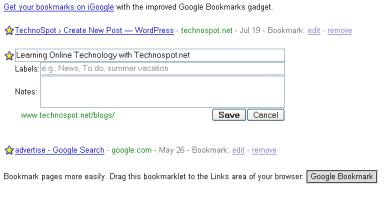 I got this pop-up as soon as I opened firefox today and it said "Access your bookmarks from anywhere". However, you will need a Gmail account to use this particular feature. You can also access it through their Google Bookmarks page.
It is also possible to use Chrome Browser and configure it with your account and get the bookmarks on a different computer.
This feature will come in handy if you work out more with bookmarks. I have very few listed but Now I am surely going to use them as they can be used anywhere. How about you? What do you think about this feature.? Also, read How to read offline feed with Google Reader?