Do you want to activate Windows 11 on your PC but are stuck because it costs too much? Then in this post, we will share an easy way to activate Windows 11 for free. Yes, you read it right. There is a way to legally activate Windows 11 for free, and we will use Microsoft documentation and other given details to achieve it. So if you have been running Windows 11 with that Activate Windows watermark, it's time to remove it.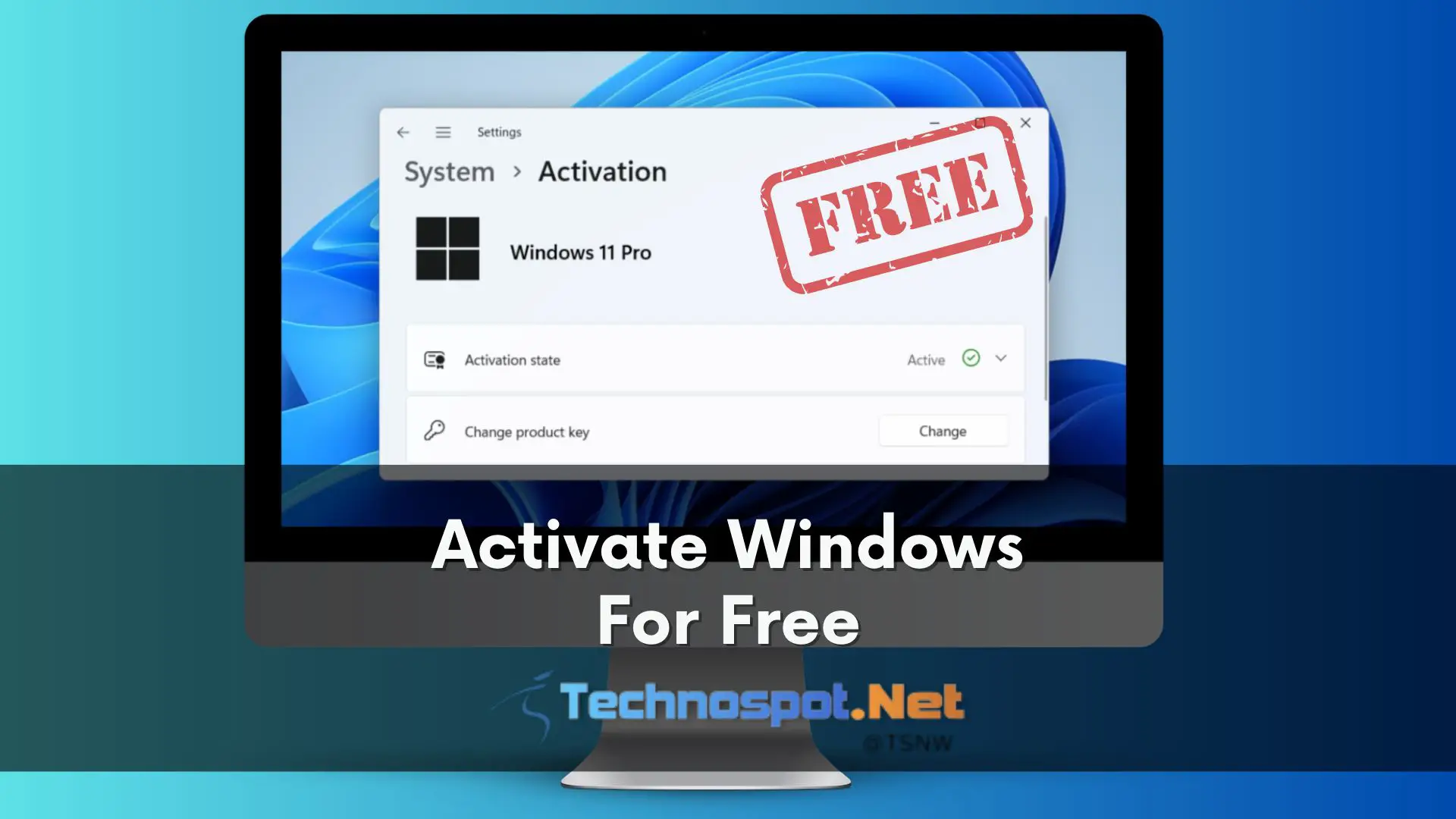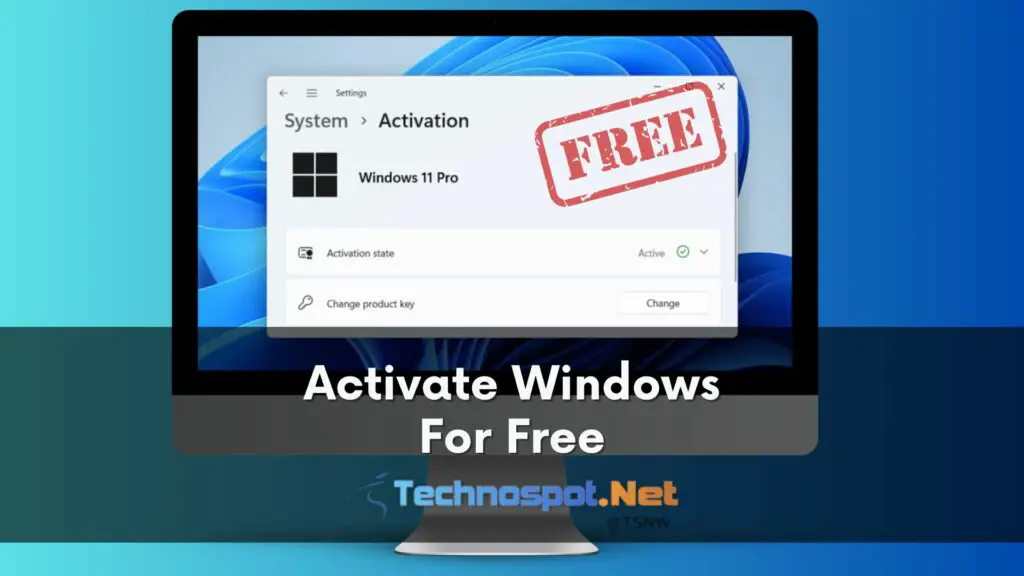 How to Activate Windows 11 for Free
While the idea of activating Windows 11 for free looks illegal in itself, it is not. This can be done using a service called KMS (Key management service), where Microsoft has pre-provided generic license keys that can be used to activate Windows. The service is provided to corporate users who have purchased volume licenses (The licenses that allow you to activate Windows and Microsoft products on multiple computers).
When a user uses KMS to activate Windows, they are required to provide a GVLK (Generic volume license key), provided by Microsoft itself, followed by the address to the server with access to the volume license.
Activate Windows 11 For Free With Windows Terminal and KMS Keys
To use KMS to activate Windows 11 for free, follow these steps:
Open Windows Terminal by right-clicking the Start icon from the Taskbar, then select Windows Terminal (Admin) from the power user menu.
In the Windows Terminal, enter the following command and press enter.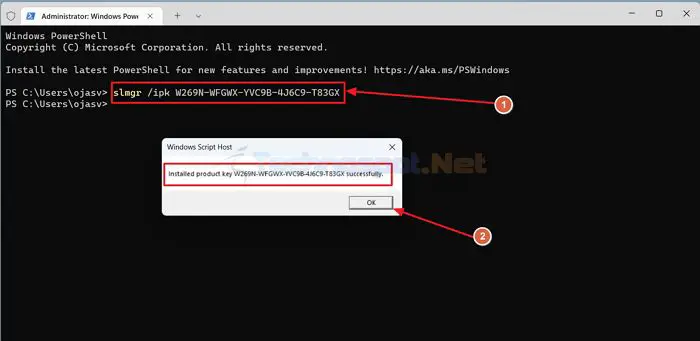 slmgr /ipk kmsclientkey
Replace kmsclientkey with any of the GVLKs (Generic volume license key) provided below, depending upon the version you wish to activate:
Home: TX9XD-98N7V-6WMQ6-BX7FG-H8Q99
Home N: 3KHY7-WNT83-DGQKR-F7HPR-844BM
Home Single Language: 7HNRX-D7KGG-3K4RQ-4WPJ4-YTDFH
Pro: W269N-WFGWX-YVC9B-4J6C9-T83GX
Pro N: MH37W-N47XK-V7XM9-C7227-GCQG9
Education: NW6C2-QMPVW-D7KKK-3GKT6-VCFB2
Education N: 2WH4N-8QGBV-H22JP-CT43Q-MDWWJ
Enterprise: NPPR9-FWDCX-D2C8J-H872K-2YT43
Enterprise N: DPH2V-TTNVB-4X9Q3-TJR4H-KHJW4
Related: How Windows Activation & Valid Key Work? Why do some Windows Keys cost so less?
Now, execute the command to connect to a KMS server on your PC.
slmgr /skms kms8.msguides.com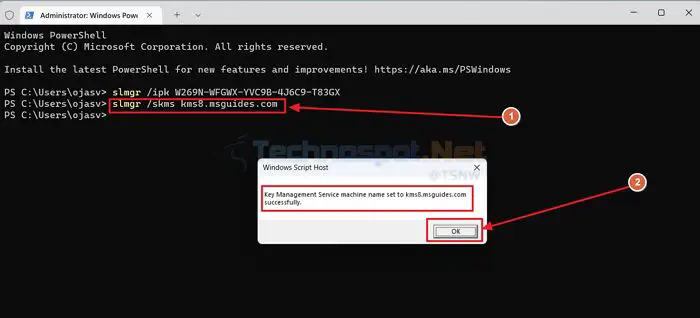 Finally, execute the following command to activate the designated Windows version.
slmgr /ato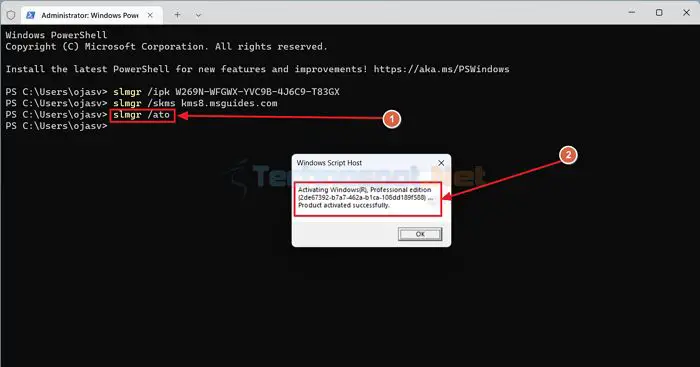 That's it. You've successfully activated Windows 11 for free using KMS with Windows Terminal. If you encounter the error 0x80070005 while executing the last command, keep trying until you receive a successfully activated prompt.
Related: How to activate Windows after reinstalling
Conclusion: 
Activating Windows is crucial for every user. You can access all the essential features and get security updates and new features on time. KMS is one of the safest and legal ways to activate Windows 11 for free and can be used by any user without compromising their PC's security.
We highly recommend you only use the Windows terminal method to activate Windows 11 for free, as using a third-party application that can also request you to turn off Windows Defender can put your PC's security at risk. If you found this article to be helpful, please make sure that you share it with everyone.
What is Microsoft Generic Volume License Key (GVLK)?
A Generic Volume License Key (GVLK) is a license key provided by Microsoft for each version of Windows to activate the version on multiple PCs for users with corporate or volume license keys. The GVLKs are used with KMS to activate Windows on multiple PCs.
What Are KMS Keys?
KMS Keys are generic keys Microsoft provides to activate Windows for users with volume or corporate licenses for Windows. KMS keys can only be used through the Windows command line interface. KMS also stands for Key Management Service.
How to Check if Windows Is Activated?
To check if Windows is activated, head to the Windows settings and open the System section from the left pane. Now, please scroll down to find the About option, open it and scroll down to find the Product key and Specifications option and open it. If you have activated Windows, you'll see the version name and activation state as active.
How to Change Windows Activation Keys?
To change Windows activation keys, open Windows settings and head to the System section from the left pane. In the system section, scroll to find the Activation options and open it. Find the Change product key option in the Activation options and click the Change button. Now, a Window will appear. Fill in the new product key and proceed.