Indexes are those sections of a book which usually contains list of words and reference page for the most commonly used or which the author assumes could be what people can look for.
The best way to create the index is as you write it ( I prefer this ). In Microsoft Office Word there is a provision to markup any phrases or words as you write it. In order to mark up this is how you need to do :
Select any word press [Alt] + [Shift] + [X]. Via PC Place
Or Go to review tab, look for Mark Entry.

Both of them opens the same pop up window which allows you add
Main Entry Name
Sub Entry
You can Cross Refer or set it to same page or even a page range.
Simple formatting option to bold and italic.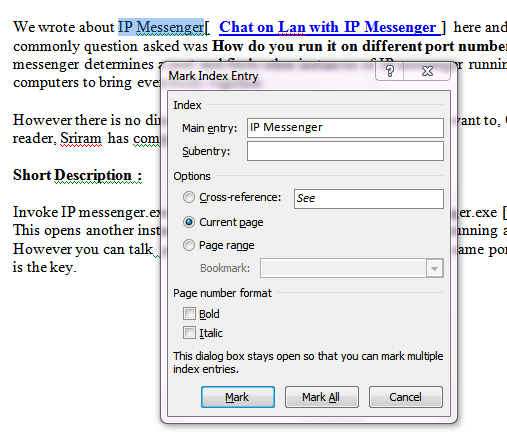 Once you are done with adding words to index, creating index is very easy. Right where you found the Mark Entry Button, look for Insert Index. When you click on this you would couple of options to format etc. Just do it and your index is ready.