When you enable the two-step authentication for your Google account, it allows you to setup a Google Authenticator App.  The app generates codes and is useful when either you are out of cell coverage network or don't want to use the SMS option. However,  if you reset your phone, setting up Google Authenticator is not that simple. In this post, I will share how you can again set up GA after phone reset or switch.
I had a two-step authentication setup for my Android phone. Recently I had to reset the phone and wanted to setup the GA App. However, I  wasn't willing because a reset will remove all the other connected accounts. But then there was not any other option.

How to again setup Google Authenticator after Phone reset or switch
So now if you are one of the 2 Auth Step user, in the same situation like me, there is a way to set up Google Authenticator(GA) again with your account without losing existing app settings or the passcode used with the apps.  Follow the steps below :
Install GA App or any app which supports authenticator feature on your phone.
Go to Google Account > Security Settings > Click on Edit button right next to 2 Step verification.
Once you are in, you should see a list of ways to receive or generate codes for Two-Step verification. It includes Google Prompt, Autneticator App, Voice or text message, backup codes, etc.
Under Autneticator App, you should be able to see when was the last time and device to set this up if you ever did.
Click on CHANGE PHONE link.
The popup screen will ask if you are switching to Android or iPhone. Choose accordingly
It will generate a barcode or QRcode which you can use to add the Google Account it to the app.
Click next, and fill in the code available on the phone on the setup screen, and click verify.
You are done.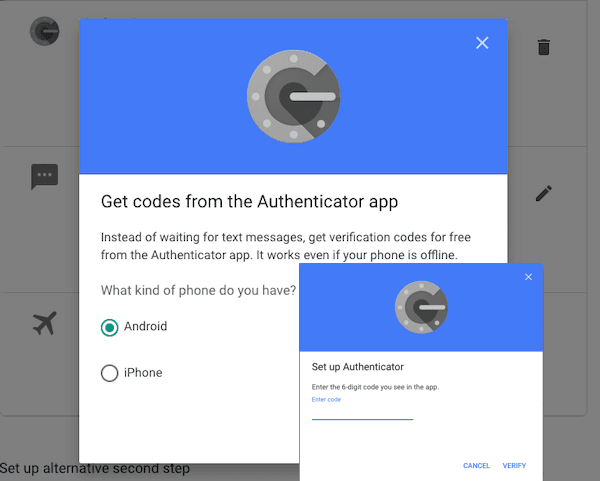 I remember that earlier when you wanted to switch; it was a little complex. The security settings used to un-enroll you from 2-step verification and then allowed you to configure the Google Authenticator app on your new phone. It did not invalidate any of your existing application-specific passwords or backup codes. Thats, not the case anymore now.
Related: Get SMS Notification for Google account on Sign-in
The good thing about this step is that it does not remove or invalidate any of the application-specific or backup codes. That's helpful if you have a lot of apps using the account, as it saved a lot of time for you.
In case you have removed your account from the GA Application, you need to follow the same steps to bring it back.
Along with the official Authenticator app from Google, there are a lot of third-party apps, including one from Microsoft. The most significant advantage of these apps is saving time. When you switch phone, all you need to do is download the app again, and sign-in again. It will recover all the accounts you added to the app. It is as good as cloning the Autneticator app to another phone.