Windows Firewall program allows you to add Programs and Port numbers that you trust to be added to the Firewall settings so they can pass through it. While Windows allows most of the programs to pass through but if your application is not able to access the internet or local network, you will have to will enable them to manually  In this post, we will share how you can allow programs and ports to pass through Windows Firewall.
It is appliable to Windows 10 and all the earlier versions of Windows.
How to allow Programs to pass through Windows Firewall
Type Windows Security in the Start Menu, and click to launch the program when it appears
Click on Allow an app through a firewall link.
It will open the Windows Classic Allows apps section of the Firewall in the control panel.
Click on the Change Settings button, and click on Yes for the UAC prompt.
Then click on Add another app button, and click on the browse button app, and select the program exe file which you want to allow through Firewall
Lastly, click on Network types and choose if you want to allow the app when connected to private and public networks.
Advanced Firewall Settings: Ports, programs, Action, and more.
You can go to Control Panel\System and Security\Windows Defender Firewall and click on Advanced Settings. Here you can fine-tune how and when applications have access to the internet and pass through the Firewall.
If you want to set up a sophisticated Firewall setting, then you need to use this part of the program, which allows you to create Inbound and Outbound Rules. It will enable you to create rules type, which can be a modification of existing rule or a new one.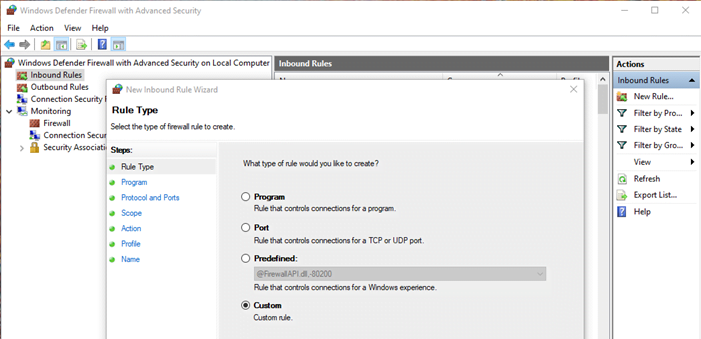 Click on New Rule, and select a program or port or predefined or custom. Depending on what you choose, you get to select
Actions, trigger, scope, protocols, ports, and more
Local IP addresses and remote IP addresses
All connection or secure
Domain, Private or Public Profile
Name
It's an advanced Firewall configuration where you can micro-manage everything. The advanced security also offers you to monitor the Firewall, security association, and connection security rules from one central place.
Read our detailed guide on how to configure the Windows Firewall in detail.
As a summary: You can add programs and port number which passes through the Firewall. However, make sure you need to make sure which network profile you choose if you have any doubts about this, feel free to ask.
I hope the post was easy to understand, and you were able to allow Programs and Ports to pass through Windows Firewall