Windows 8 is all about Metro, Apps Settings and even Browser. Like always, Windows 8 comes IE 10 as the default browser which here comes in two avatar. One that is purely a Metro App and has all metro gestures, settings etc available, while the second one is close to how you use Internet explorer currently i.e. Opens in Desktop Mode.
Now the question here is that how to open links from any app or help page in Desktop mode, because by default, links open in IE 10 Metro Mode.  One easy way to do is, click on the Settings of Metro IE and look for an option which says "View in Desktop" but you will have to repeat this every time and second its like doing it twice.
So to change this, follow the instructions as below :
Go to Desktop and Launch IE.
Open Settings using the control panel like icon on top right.
Now choose Programs tab and select "Always in Internet Explorer on Desktop"
This makes sure any links which is clicked, opens in Desktop IE.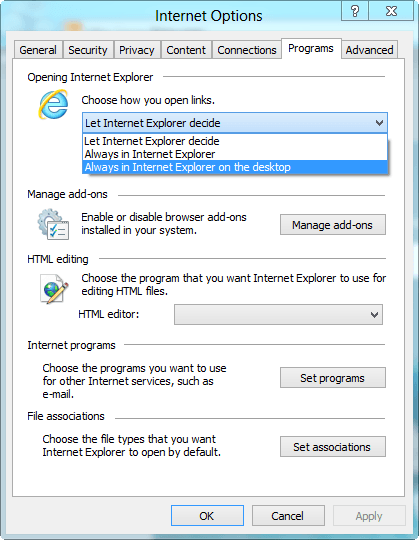 One to notice here is the first option which says Let Internet explorer decide. This means that it is possible that depending on how a request is made to IE, links can open in Metro IE or Desktop IE. I am not sure if there is any way to do it using simple HTML tags or probably Metro Apps request will open in Metro IE and Desktop App request will open in Desktop IE but hopefully as we dig into this, we will get to know.
Make IE Tile to launch on Desktop
Now if you do not want to use the Metro IE at all, you can select the check box right under the above option which says "Open Internet Explorer Tiles on the Desktop". This will make sure that when you click on Live tile of IE, it launches in Desktop mode.
Now if prior to changing this option, you have couple of tabs and websites already open in Metro IE, you will have to use Alt Tab to switch to Metro IE but if you close it once, there is no way to find them again.