Many a time, programs like Office, Skype, Winamp, and others, in Windows, get hanged or Not Responding. Clicking on the close button doesn't work, and instead, it freezes and asks you to wait. The alternate way is the Task Manager. When you choose to End program from there, it fails or takes too much time. Here is a small trick which you can use to Auto Kill the programs which it gets hanged or goes into the status of Not Responding in Windows 10/8/7.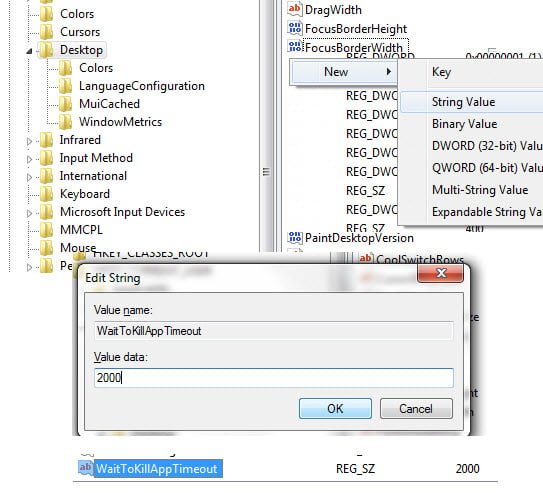 How to auto terminate or kill the hanged program in Windows 10/8/7
In this tutorial, we will use the registry editor to change how Windows treats these programs, which do not respond appropriately. Once you make the change, Windows will automatically terminate the hanged program. Make sure to create a restore point before moving ahead.
Open the Run prompt (Win + R), and type Regedit followed by the Enter Key
Navigate to HKEY_CURRENT_USER\Control Panel\Desktop
We need to add the following values to the following String. If they are not available, then we can create it with the exact name.

WaitToKillAppTimeout=2000
AutoEndTasks=1
HungAppTimeout=1000
LowLevelHooksTimeout =1000

Right click on the left Select New > String value.
The string name should be one of the above.
Now double click and add the value and click ok. Repeat this for all.
Once done, exit and restart the computer.
Next time any program gets into not responding stage, the OS will automatically kill it. Now let's learn what each of these string means.
AutoEndTasks:  It will automatically close any application instead of showing you a close application button.  When you use this, there is no chance of recovery of the application, and you may lose your work.
WaitToKillAppTimeout: This is valid during the Windows 10 Shutdown. The default time is 20 seconds, which is so you can save your work if you want it to be instant choose lesser time.
HungAppTimeout: Any application which does not respond for 5 seconds is considered as hung. Using this string, you can increase it. Many times, apps take a little more time to come back to the working stage.
Related: How to kill or terminate program in Windows from the command line.
Configure time out for Killing Apps in Windows XP
At the same registry location, you will find a string called "Auto End Task." Set its value to "1" by double-clicking it. It means any hung program will be killed instantaneously.
Now suppose if you want to give some time, as some programs come back to normal in a few minutes. Find a key called "WaitToKillAppTimeout." Change the value to the value you want. You have to enter a value in milliseconds, though.
If anything goes wrong, use can restore using the Restore point we created before starting the process.
Configure Background Services Kill Timeout in Windows 10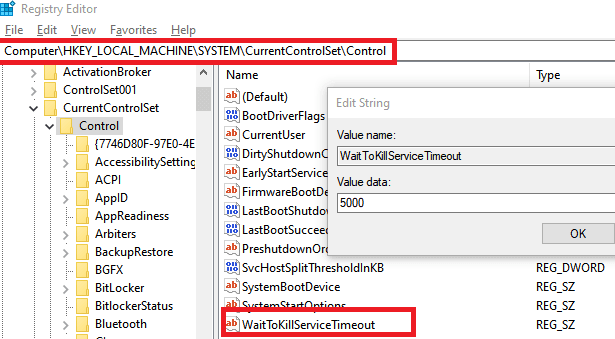 Along with applications, Windows also kills Services during shutdown or when they don't respond. The string that you need to modify is WaitToKillServiceTimeout.
Usually, Windows waits for 5 seconds for background service to complete whatever is left and release the resources. You can change this, so instead of forcing a shutdown in five seconds, Windows waits longer. Again, this should be changed if you have a service that takes longer than usual.
In the Registry Editor navigate to HKEY_LOCAL_MACHINE\SYSTEM\CurrentControlSet\Control
Locate the WaitToKillServiceTimeout string in the right pane
Double click to open and edit it
The value inside it is in milliseconds. So 5 seconds is 5000. Change accordingly.
Click on Ok to save the value and exit
I hope the tutorial was easy to follow, and you were to change how long Windows waits before killing applications during shutdown or when they stop responding.