Many a times, programs like Office, Winamp and others, in Windows , get hung / Not Responding and clicking on close button just doesn't work. Even the task manager "End program" feature fails or takes too much of time. Here is a small trick which you can use to Auto Kill the programs which it gets hung or goes into status of "Not Responding".
Steps to set auto kill not responding programs
Backup your registry first.
Go to Run and enter "Regedit".
Browse to HKEY_CURRENT_USERControl PanelDesktop
Windows 7  / Windows Vista
In Windows 7 we will need to add the following values :
WaitToKillAppTimeout=2000
AutoEndTasks=1
HungAppTimeout=1000
LowLevelHooksTimeout =1000

To add a value follow the steps below :
Right click on the left panel as seen in the image
Select New > String value.
String name should be one of the above.
Now double click and add the value and click ok. Repeat this for all.
Windows XP
Here you will find a string called as "Auto End Task", set its value to "1" by double clicking it. This means any hung program will be killed instantaneously.
Now suppose if you want to give some time, as some programs come back to normal in few minutes, Find a key called as "WaitToKillAppTimeout", change the value to the value you want. You have to enter value in milliseconds though.
See the image for a clear view of what you are going to do.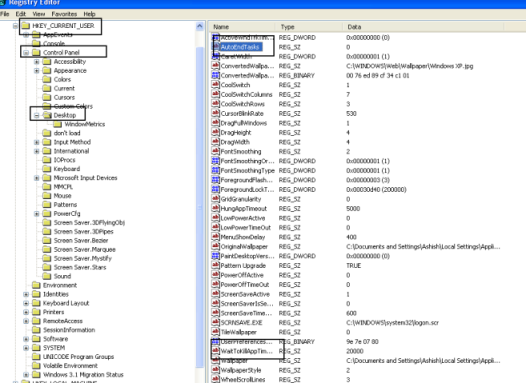 If anything goes wrong, use your backed up registry to get back to normal.!!!