Do you use the Google Authenticator App for that extra layer of security? The Google Authenticator App is an excellent TOTP or time-based one-time password app. It is one of the most popular 2FA apps. While many use the, the majority have no idea how to back up and restore the Google Authenticator app when they switch or reset the phone
Why Backup Google Authenticator App?
If you are wondering why you need to backup up, there are multiple reasons. Earlier, the GA app was not tied to the Google account, which has changed. So if you, by any chance, lose your phone, everything present on that app is lost. However, multiple backup solutions, including linking to your Google account, make recovery easy.
How to Back Up and Restore the Google Authenticator App?
Follow the suggested process to take a backup which will help you restore at a later stage. It's a bit cumbersome, but since there is no built-in method, there is no other way.
Exporting and Import Existing Accounts
Save the QR Codes
Back up on Hard Drives or Pen Drives
Back up on Apps (Google Authenticator or Others)
Let's follow the process and be worry-free about losing Google Authenticator data.
1] Exporting and Import Existing Accounts
The best part of restoring to the new phone is that if you are signed into the same google account at both places, the codes will automatically be backed up and restored on any new device you use.
If you do not want to do that, here is how to manually transfer accounts.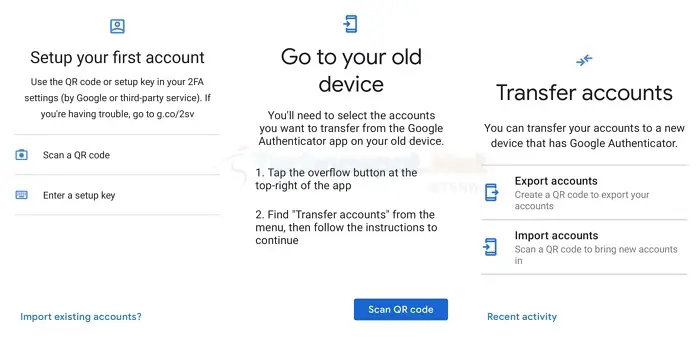 Export Accounts
Tap on the menu, and then select Export accounts. Next, select the accounts you want to transfer to your new device and tap the Next button. When transferring multiple accounts, your old phone will keep creating a new QR code for each account. On the new phone, you need to use the import function and then scan the QR code for the process to start.
Import Accounts
When you have switched to a new phone, install the GA app, and during the initial setup, it will prompt you with the—Import existing accounts—and it will prompt you with the transfer process.
The way it works right now is you need to open the GA app on your old device, then tap the overflow button at the top-right of the app. Then find the Transfer accounts from the menu, and follow the instructions. You will need to scan the QR code for the process to begin.
2] Save the QR Codes
One of the best ways to back up the Google Authenticator App is to save the QR Code. It is the key that enables users to add an account to the app.
Once you enter the Google Authenticator App, you will find the export QR Code. Remember that multiple QR codes will be saved if numerous items are saved. In that case, you need to save all of them (as a precaution).
Follow the steps below to help you simultaneously find the QR codes for all accounts. Have a look!
Open Google Authenticator App on your iOS device.
Tap on the three dots in the upper right-hand corner of the screen.
A drop-down will appear; tap on Export Accounts.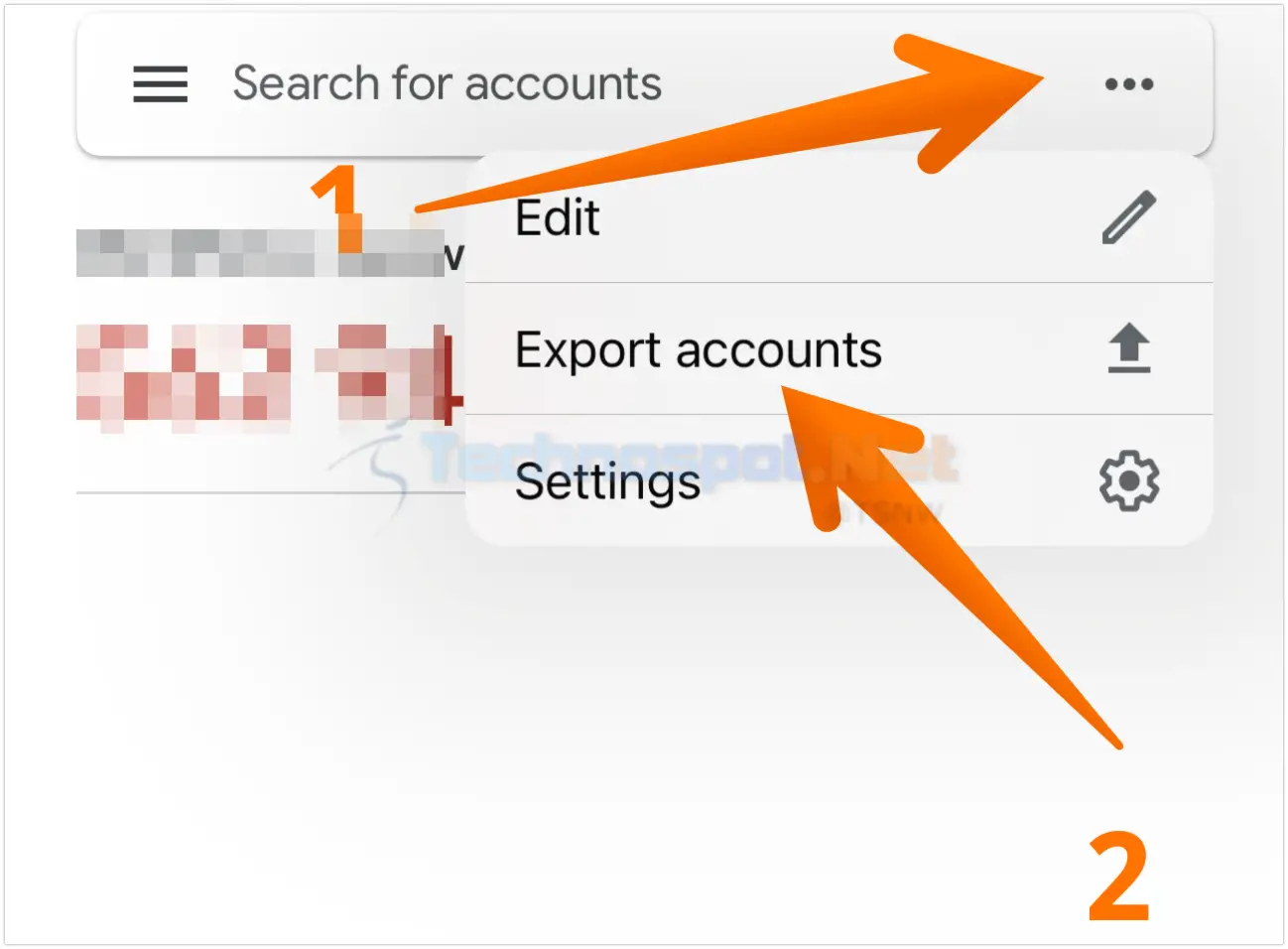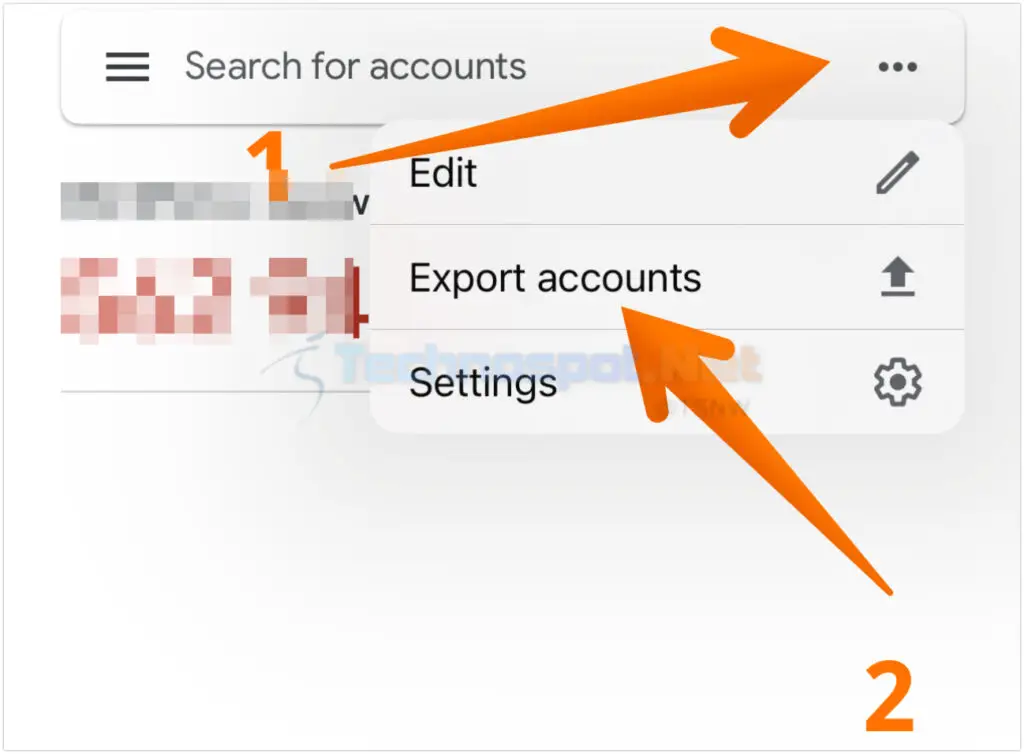 On the next page, tap Continue in the bottom right-hand corner.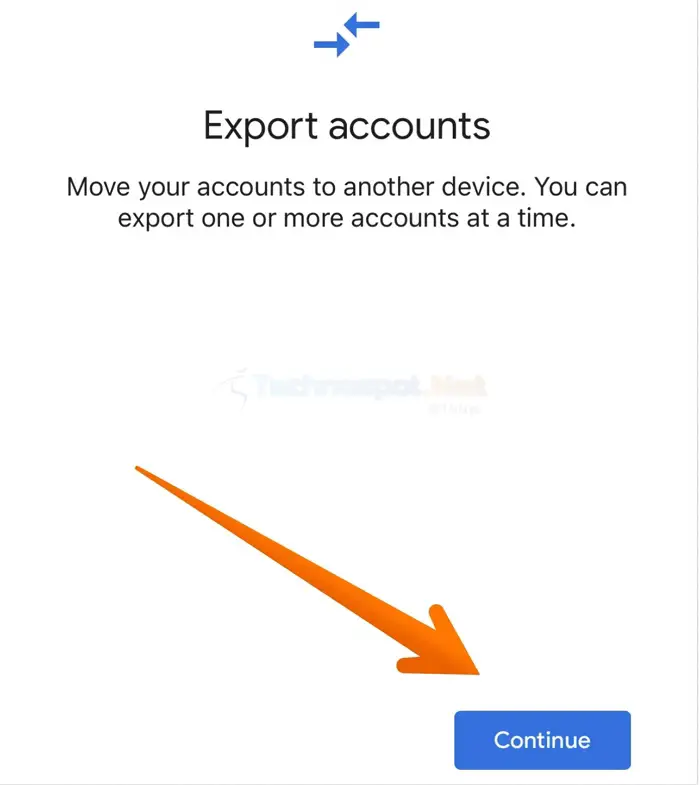 You will see a QR code. The ideal solution is to take a picture of the QR code and save it. While iOS allows taking a screenshot of the QR Code, it's not allowed on Android platforms. For that, you need to use another phone's camera and save the image.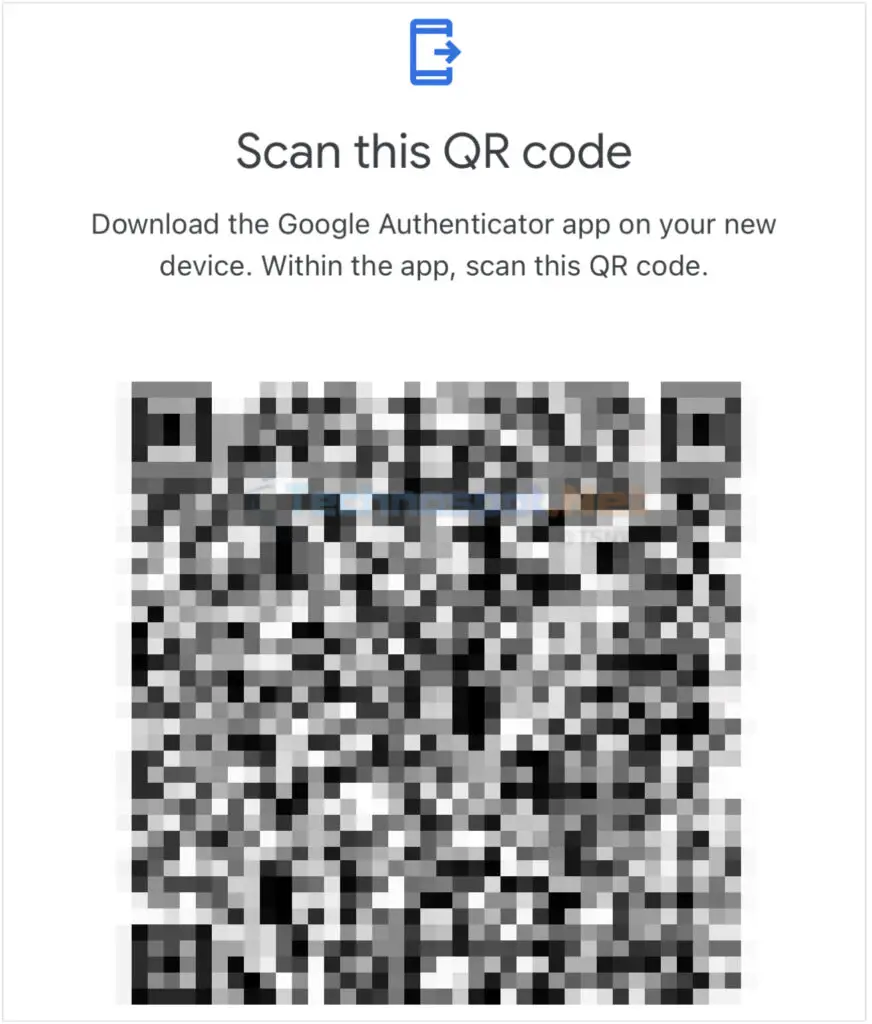 After the pictures of the QR Codes are taken, you must take a printout. It is not advisable to keep them within the phone itself. If the image is saved in your gallery or device itself, it is likely lost (if your phone is damaged or stolen).
3] Restore on Google Authenticator or Other Apps (Online Method)
Do you want to know how to back up or restore the QR code on the Google Authenticator app you find in the above step? Here's what you can do –
Download and install the Google Authenticator App on another phone.
Tap on the 'Plus' sign in the right-hand bottom corner.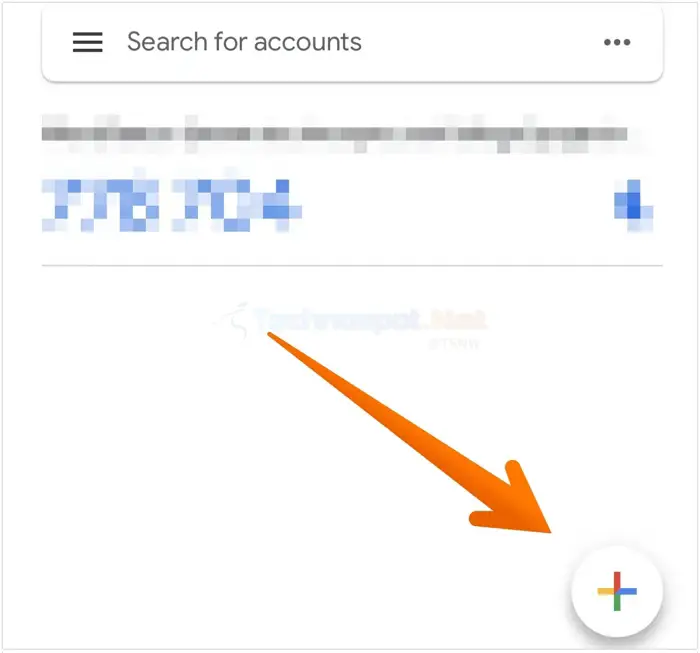 You will find two options; tap the Scan a QR Code option. Scan the QR code with the Google Authenticator App on the new device.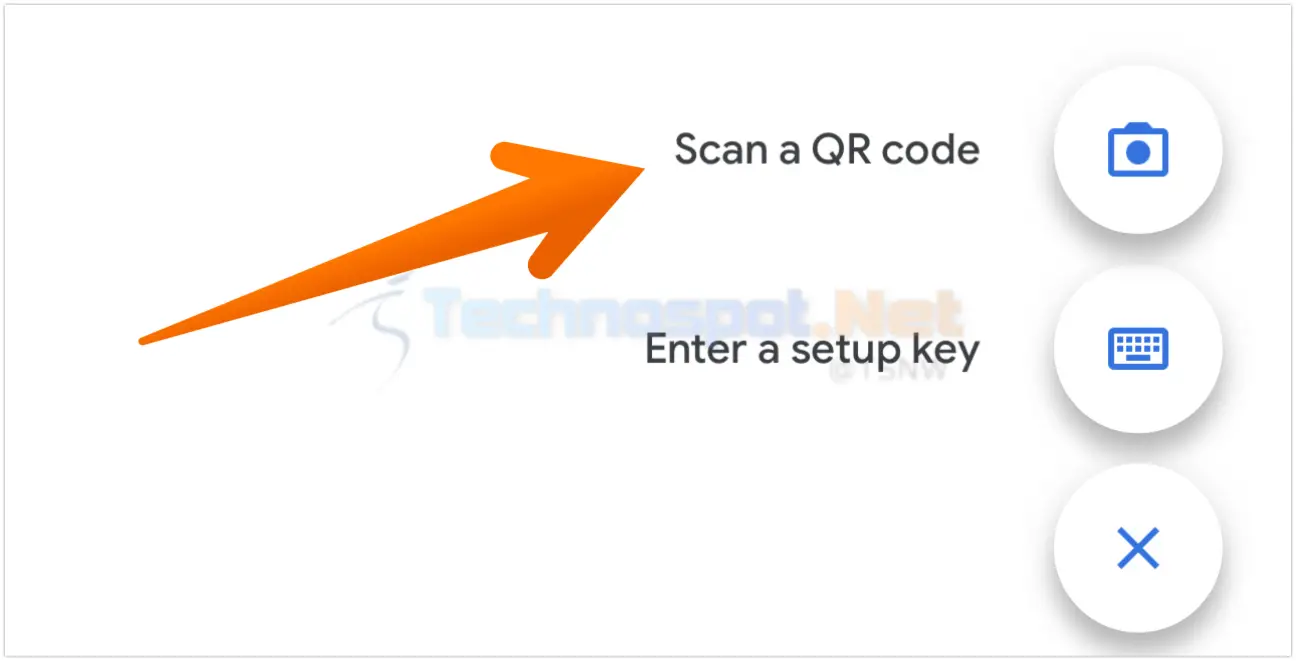 Selected accounts will be transferred.
You might be surprised, but there are other TOTP apps besides Google Authenticator. We recommend you use these apps because these apps are packed with more powerful features. These apps are better in terms of usability and functionality as well.
Let's look at some of them listed here with the features they provide.
Authy
Authy is one of the best 2FA apps available. It is free and offers a wide range of exciting features. For starters, it syncs with multiple devices automatically, and that too, without an internet connection. Moreover, it is compatible with Apple Watch and boasts a user-friendly interface. If you are into crypto, Authy is the best choice for you.
The security aspect of Authy is simply impressive. It allows users to get encrypted backups at no cost. You can now store the account data in cloud storage and sync it with other devices. Besides, the app offers a recovery system in case data is not backed up.
Microsoft Authenticator
Opting for Microsoft Authenticator is a great idea if you want something simple. It is compatible with every service provider that offers TOTP. It is available for free and generates codes irrespective of the presence of an internet connection.
Microsoft Authenticator provides passwordless authentication for different Microsoft applications. It also supports cloud backup. Another exciting aspect is that the app offers certificate-based authentication. Here, you can use the certificate for login authentication instead of the OTP.
Microsoft Authenticator is considered one of the best TOTP apps. It is straightforward to use and offers stiff competition to Google Authenticator.
Check out Microsoft Authenticator 
4] Back up Locally (On Hard Drives or Pen Drives)
Another excellent way to back up QR codes is to use external devices. For instance, you can use flash drives, pen drives, etc. However, it is vital to maintain caution while doing so. 
You can transfer the image of the QR code to a pen drive. Keep in mind that this must not be a drive you use regularly. To maintain the security of the 2FA, use a device that is not generally used. You can also keep it safe on another phone or computer. 
Keeping a backup of the codes is essential to ensure nothing is lost. That way, you won't have to worry about not accessing the Google Authenticator App. 
Related: How to again setup Google Authenticator after the Phone reset or switch
Some Backup Tips to Make the Process Easier
To protect your personal information and boost security, take a look at these backup tips that will help you–
Take a screenshot of the QR Code of the Google Authenticator App
Ensure there is a printout of the QR Code kept safely at home
Keep in mind that there is no expiration date when it comes to QR Code
In case your phone gets damaged or stolen, use external devices for backup
If you see a 16-digit code next to the QR Code, jot it down
This code is called the secret key and is very crucial for the QR Code
Write down that 16-digit code and keep it safe+
What To Do If Google Autntiactor Codes are not Working?
It is possible that the time isn't correctly synced with the app. Since all 2FA app use time as one of the factors, incorrect time leads to incorrect code. Go to More > Settings >  Time correction for codes > Sync now.
The app will confirm the sync, and you should be able to get the correct code and also sign in with your account. The sync will only affect the internal time of your Google Authenticator app and will not change your device's Date & Time settings.
Conclusion
2FA or two-factor authentication is an excellent way to safeguard your data. However, a lack of backup can easily lead to frustration. You need to be extra cautious and take proper precautions to back up the Google Authenticator App.
For that, you can take a screenshot or use external media. You can also use other apps, such as Authy or Microsoft Authenticator, as alternative solutions. Protect your information proactively, and you can shield yourself from fraudsters!