Online Office does not have any feature of backing up your data or have version support but using the Desktop Office and few features inbuilt you can make do both backup and version your files on your computer.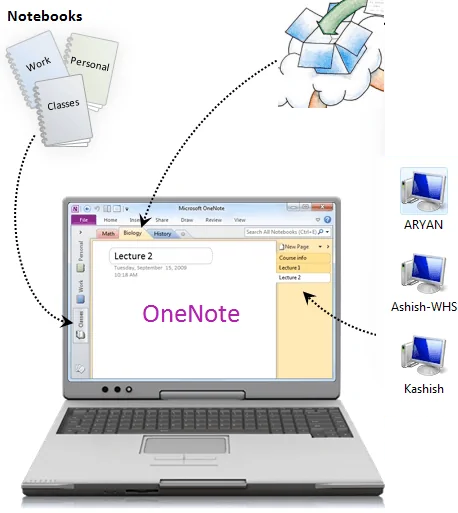 Facts :
It is possible to edit the online document in your desktop  and sync with Online Document.
Office OneNote App has an inbuilt feature to Save Files Automatically to another folder
You can create any number of backups of the OneNote Document. So every 15 minutes there is a new backup created which in turn means you have previous version of the document you are editing.
Choose the backup and save location in a Dropbox folder and you can have the same file available on any number of machine you want.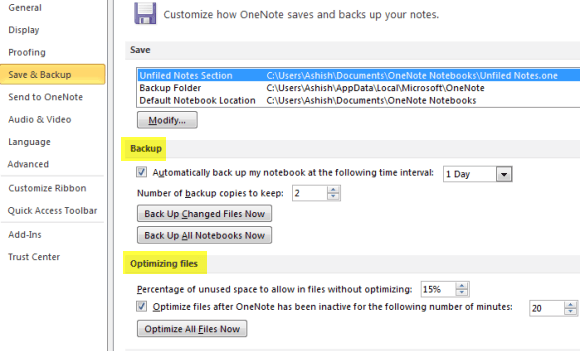 Steps to Backup :
First open your Online OneNote app in your desktop. You can do that by First opening the OneNote file in browser and then use the OneNote icon to launch in the desktop.
Once this opens in your desktop, Go to File Menu > Options > Save and Backup
Configure your backup to run every few minutes.
Configure to keep at least 10 Backup ( Version Support )
Since we are planning to set it across the network, make sure you set the OneNote to optimize as well. This way you can save bandwidth.
This way your files be saved in your computer. Now like you can see you can have any number of backup which indirectly is kind of versioning for the file.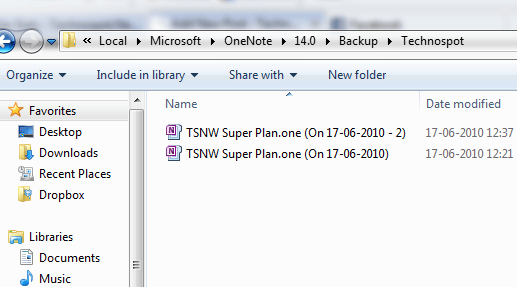 Any time you want to revert backup go to Menu > and you will see Open Backups button right beside the Big Green Sync button.