We saw how Google Chrome has already introduced support for creating multiple profiles which allows you to connect them to their  personal account and hence keeping all your data synced across computer. This is very obvious that you sync on a shared computer only when you trust each other.
Now recently it so happened that all these profiles were lost because of new installation or possible corruption in user profile and hence everything on that computer was lost and there was no way to recover it.
So the question is how to you get your data back during this situation ?  A plain simple answer is you cannot the same way you cannot get your mobile back once you have lost it.  So in this post we will learn how you can take precautions, backup so you never lose your data again.
Using Google Account to recover all your data :
If you read in carefully, the data was lost only on that computer and not completely. So if it was synced with a Google account, you can get all your data back on a new installation. The data includes what you chose to back up. To do this Go to :
Chrome Options  > Personal Stuff  > Sync
Here you can choose what to sync which includes even your extensions and themes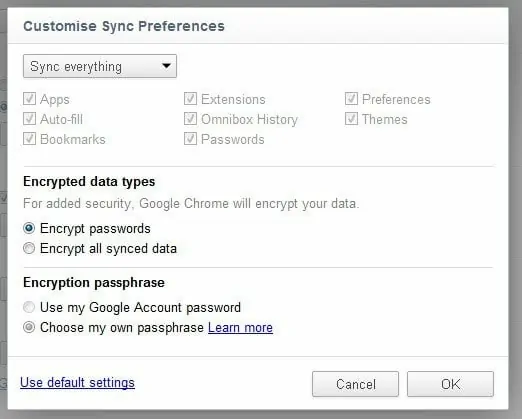 This is a secure process as you have option to encrypt all synced data and add a pass phrase which will be asked after you have provided your correct password.
So if you have lost your profile but have used this sync option before, Just do it again in the new installation and you can have your profile data back.
Using Third Party Software : GCB or Google Chrome Backup
Though I don't rely on third-party software unless you don't have option left and since Google Chrome does not have an offline solution to recover Chrome Profiles, GCB is a big help here.
Features of GCB :
Create New profile on the Fly with options to set location of where data is stored.  This means if you place it in a sync folder of Dropbox and use the same location in your second computer, you can span across multiple computer. This is not necessary though, I would prefer inbuilt sync rather.
Advance option let you add switches which enables extra feature. This is highly recommended for users who know about it.
Password Protect your profile data. This is missing when it comes to current version of Chrome. There is no management feature either.
You can back up and restore with just a right-click.
You can also create new profile using this instantly.