In Windows 10, having a microphone as a part of your device enables the user to do online chatting, voice recording, computer gaming, and more. When you connect more than one microphone or another recording device to your PC, you can select which device you want to use by default. This guide will show you different ways to change the default microphone in Windows 10.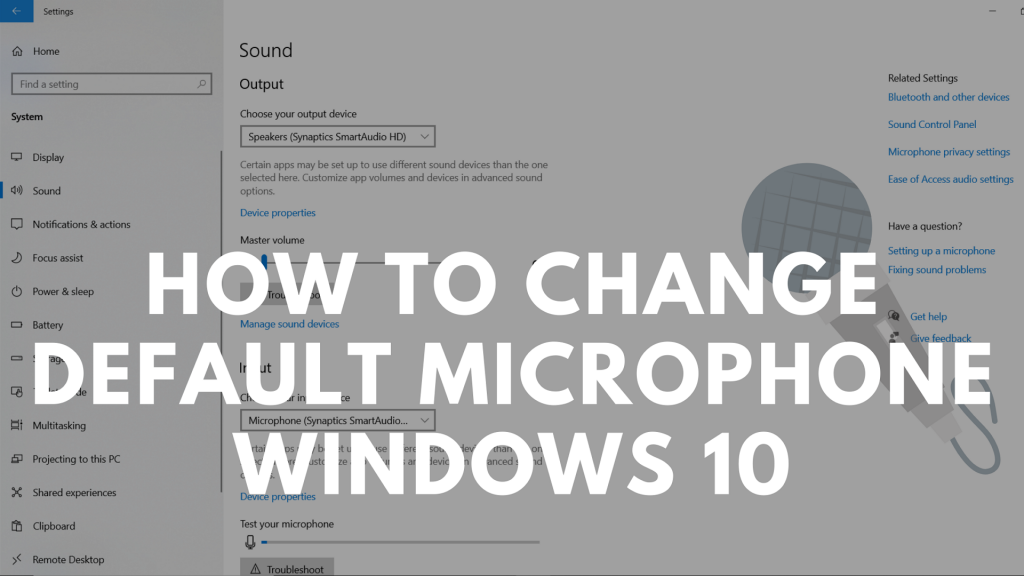 How to change default microphone Windows 10
Your computer may have multiple different microphone inputs. For example, if you have a laptop with a built-in mic and plug in a headphone with a built-in mic, your laptop now has at least two separate microphones.  However, if you always want to use a particular microphone, then you need have two ways to set it as the default microphone in Windows 10:
Change Default Microphone Device from Settings

Change Default Microphone from Control Panel

Troubleshoot Microphone
Once done, make sure to set up the Microphone.
1] Using Windows Settings
If you have a multi-microphone setup, such as one external mic and one built into the webcam, you can specify which one should be the system default using these steps:
Click on Start > Settings.
Alternatively, you can also right-click the speaker icon in the system tray at the right side of your taskbar and select Open Sound Settings to open the Sound Settings screen.
Click on System > Sound.
Under the Input section, in the drop-down menu labeled Choose your input device, select the microphone that you want to use as the system default.
Once you complete these steps, Windows 10 will use the microphone you selected as the new default.
2] Using Control Panel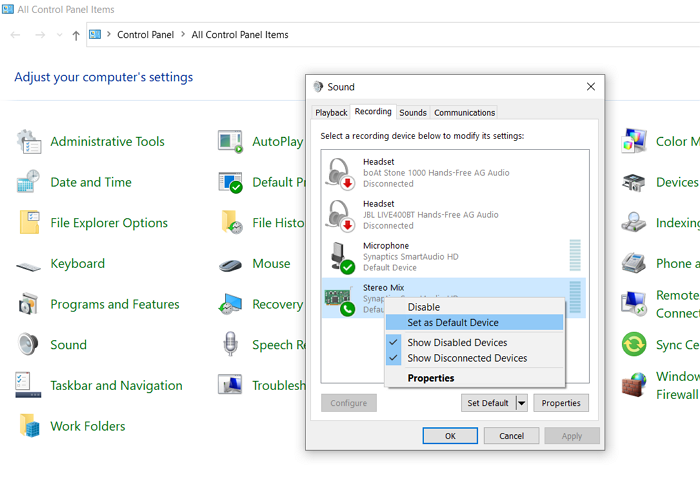 You can also set your default microphone using the classic Control Panel. Perform the task mentioned below to set Microphone as default device and then enable it:
Right-click on the Start > Click on Control Panel > Sound.
You can also access it by using the speaker icon in your system tray, located on the far side of your taskbar opposite the Start menu.
Right-click the speaker icon in the system tray and select Sounds from the menu that pops up.
In the new windows opened, click on the Recording tab.
A list of recording devices will appear recognized by your system, which includes microphones. Select the microphone you'd like to use as default from the list and click the Set Default button.
Click OK and enable the device.
3] Troubleshoot Microphone
If you are still not able to switch, we recommend following the post where we have explained how you can use the troubleshooter to change the default device. We have also written an exhaustive guide on how you can troubleshoot the Microphone in different ways to fix the problem around it.
Doing this will set it as the default Microphone, so you don't have to change it every time. As an example, while I use headphones to hear audio, I use my Webcam's microphone. I hope this post will help you change the default microphone in Windows 10.