If you are planning to hand over your computer with installed Windows 7 to somebody else and want to change the Registered Owner and Organization name to of that person, Here is an easy way to do it.
Type Regedit in your run windows and enter
Go to HKEY_LOCAL_MACHINE\SOFTWARE\Microsoft\Windows NT\CurrentVersion
Look for two keys RegisteredOrganization and RegisteredOwner
Add whatever values you want to enter here.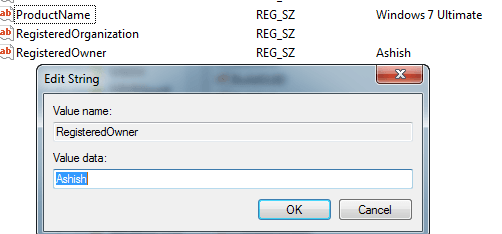 You can even change the Windows 7 product name to whatever you feel like but I am not sure if that's ok but do it for fun only.