While creating movies using Windows Live Movie Maker, many of us love to add background music to our video. For example, a precious moment of your kid talking for the first time, and you want to add soothing music in the background to make it even more emotional. However, the volume of the music is so loud that you can barely hear the audio in the video.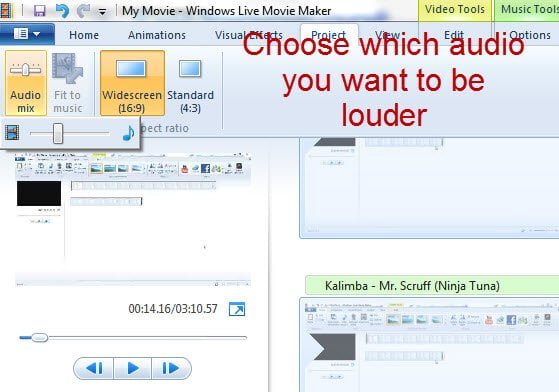 How to change the volume level of music you add in Windows Live Movie Maker
Movie Maker comes with a feature called Audio Mix, which lets you control the loudness of the music you add and the video. So you can choose which should have higher loudness or have equal settings for both.
After you have added the music, Switch to Project Tab.
Click on the button which says, Audio Mix.
This gives you a bar that can slide towards music or video. Moving towards any of them will set the loudness of it higher.