Many users are not comfortable if someone else plugs in a USB drive. It is one of the sources of viruses getting into your system or data going out. Many users also disable their USB ports and only enable them when in use. If you cannot control it and want to check if the USB drive was plugged into Windows PC, then follow this easy guide.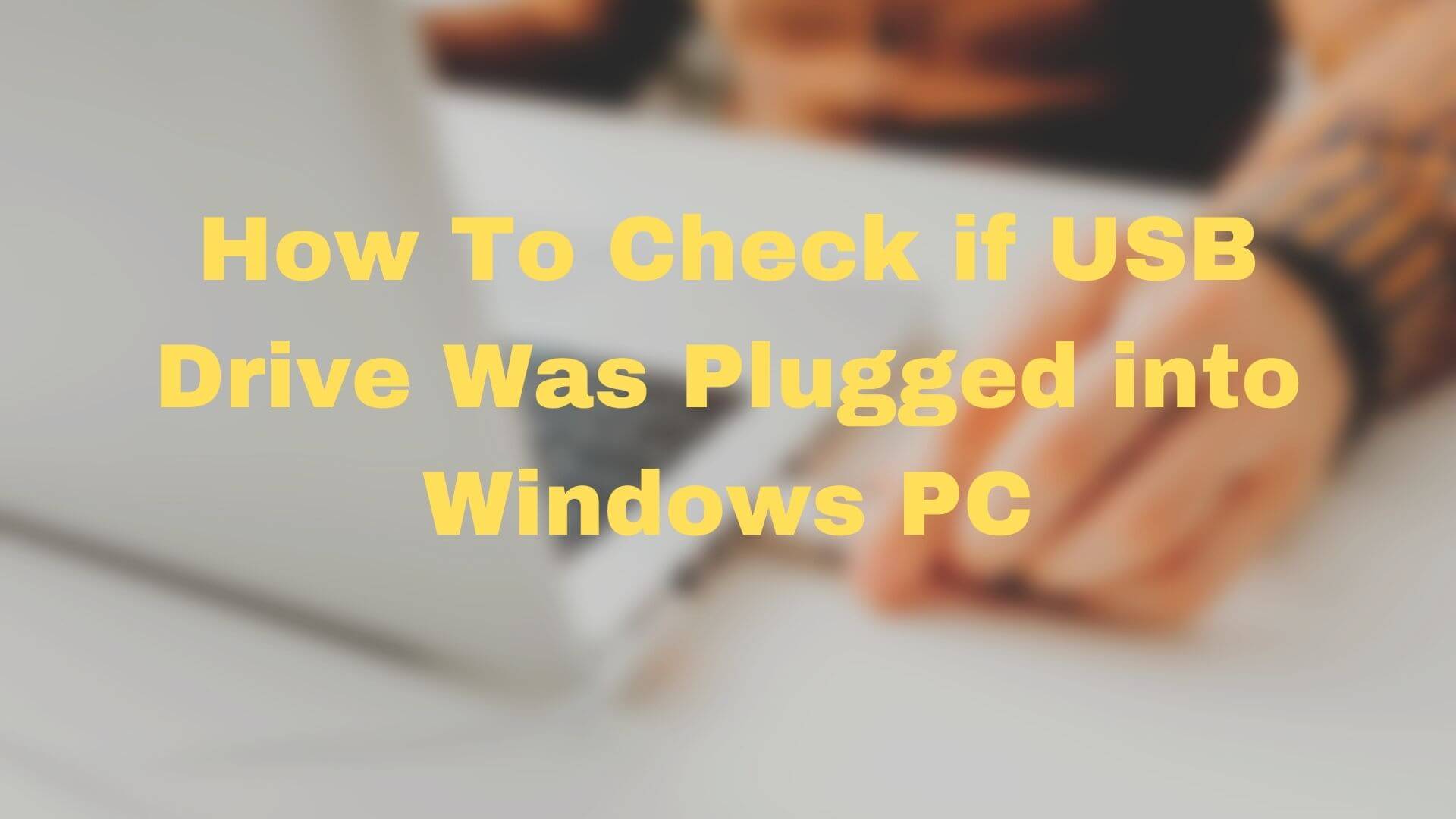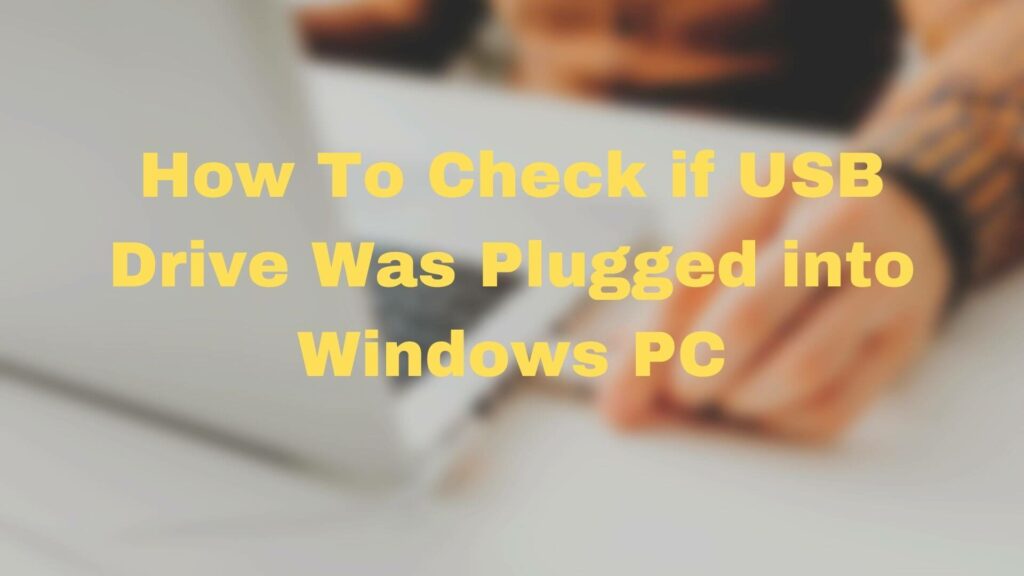 How To Check if USB Drive Was Plugged into Windows PC
If you are currently facing some issues while accessing your USB drives and are looking forward to checking whether they are perfectly plugged in or not into Windows, we are with different solutions that will ease up the things for you.
Using USBDriveLog
Using USBDeview
Find USB Attachment History Using Registry Editor
You will need admin permission for some of these.
1] Using USBDriveLog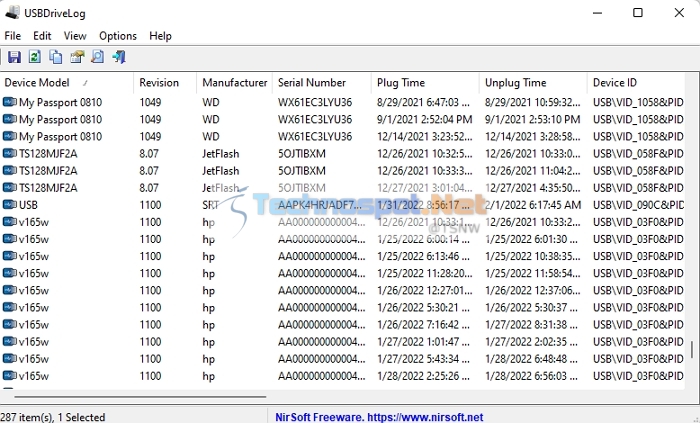 USBDriveLog is another amazing tool specially designed for Windows 10 and Windows 11 that helps users get the history of the USB drives plugged into their computer system. This tool is quite effective in retrieving information from different sources such as the local computer system, the remote computer system on your network, and the external hard drive.
It is a handy tool that helps you review the complete details of all of the USB devices connected to your computer system perfectly. The best thing about this tool is that it doesn't require any installation process to access unlimited services. The information that this provides users is:
Device Model
Revision
Manufacture
Serial Number
Plug Time
Unplug Time
Device ID
Device Capacity
2] Using USBDeview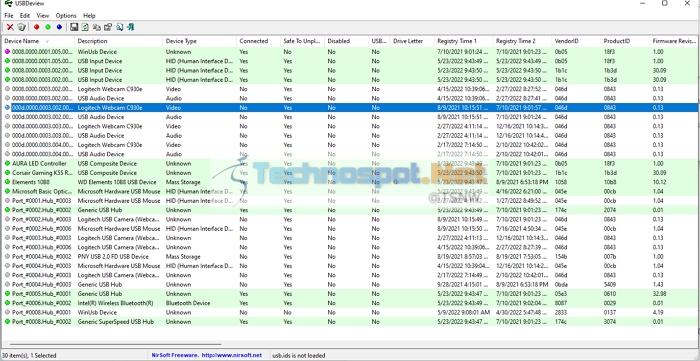 USBDeview is a small utility tool specially designed for Windows hers that helps acquire the complete list of all of the USB devices connected to a computer system. The tool also conveniently provides information regarding the different USB devices being previously used.
This tool provides comprehensive information about all of the USB drives connected to it, such as its device name, description, device type, date and time that device was being attached, its serial number, VendorID, Product ID, and much more.
It is a feature-loaded application that offers users several features to enjoy, such as:
It offers users the freedom of uninstalling the US devices being previously used.
It offers users the freedom to disconnect USB devices that are being used and connected to their computers.
It offers sixers the freedom of disabling and enabling USB devices conveniently.
You can conveniently use the USBDeview option on a remote computer system while logging in to the same as an admin user.
3] Find USB Attachment History Using Registry Editor
Windows Registry Editor is an excellent graphical tool present in the Windows operating system that offers authorized users the freedom of viewing the Windows registry successfully and making changes to that. The tool is only available for advanced users and administrators and offers them the freedom to create a registry backup before making the final changes.
This Registry Editor offers users the option of finding USB attachment history conveniently. It is a feature-loaded tool that resolves all of your issues within a few clicks.
Make sure to create a system restore or take a backup of the PC as you will be opening the registry, and any accidental deletion can result in a problem.
The things you have to do here are: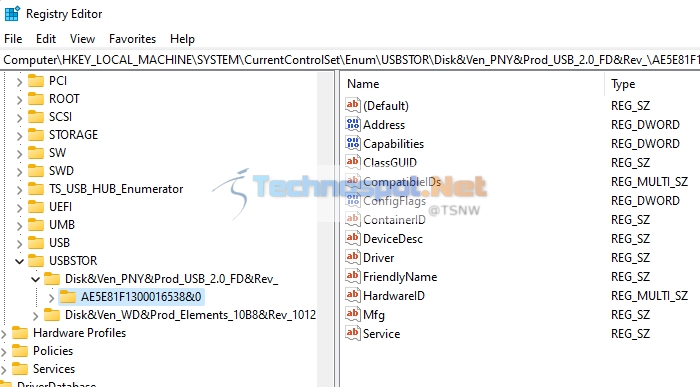 Tap on the Start button and then on the Run option.
Input regedit into the Run text box.
Press Enter to go further with the process.
Navigate to the following path in the registry.
Computer\HKEY_LOCAL_MACHINE\SYSTEM\CurrentControlSet\Enum\USBSTOR
You will find a registry key with the same name, "USBSTOR" here.
Tap on the USBSTOR key, and once you are done, you will get the list of all of the USB devices connected to your computer system previously.
Tap on any of your preferable devices from the given list, and once you are done with it, tap on the subkey option on the right side,
An entry with a name showing a friendly name will appear there. You can check it to see what type of USB device was connected to your computer.
What is a USB Drive?
A USB flash drive is a small and removable hard drive that we usually plug into the USB port on our computer system. It is one of the most convenient ways to bring your files with us. The best thing about USB flash drives is that we can conveniently carry and open the different files on another computer.
Is It Safe To Use USB Drives Without Antivirus Software on My Computer?
The previous windows operating systems need to have antivirus software on My Computer for using USB drivers efficiently. The same is utmost required for security concerns and, if not being done correctly, may make you prominent to different malware infections or virus attacks.
Now with Windows 10 and Windows 11, you have a built-in security software aka Microsoft Security. So if you are using that, you do need to have another one. However, if you use something else, then you need to understand.
Can I Eject USBs From My Computer Without Unmounting Them From My Computer?
Ejecting a USB from My Computer without unmounting them from My Computer may lead you to different issues. If you eject it before cached information is written or written, the chances are pretty higher that you may face corrupted file issues in the future. It may also affect the working, performance, and overall loading speed of your computer system and may cause you serious glitches.
So, it is highly recommended to unmount the USBs from the My Computer before ejecting them. It will help USB clear the cache and the remaining data efficiently and further stop any processes going there in the background.