If you have a piece of code that you quickly want to check for any compilation error, then an online compiler can come in handy. In this post, I will share a list of Online Compliers and debugger tools which can help check your programming codes online.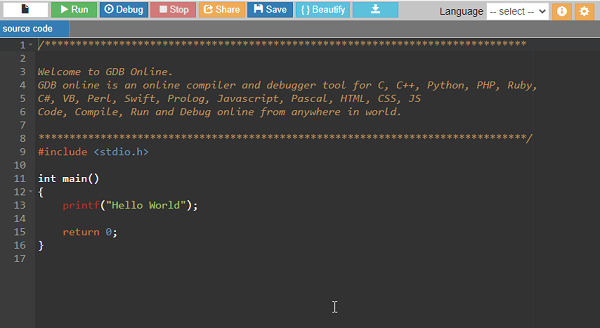 How to check your codes online (Online Compiler)
Here is the list of some of the best Online Complier to check your codes online.
GDB Online
Codepad
Codechef
Repl.it
There are tons of online tools like this available, so if you have any suggestion, let us know.
Related: Find the difference between similar text file.
1] GDB Online
It offers a modern interface with syntax highlighting and prediction based features. If you want to write code or test it, copy-paste it here, and run it. GDB Online supports C, C++, Python, PHP, Ruby, C#, VB, Perl, Swift, Prolog, Javascript, Pascal, HTML, CSS, JS programming languages.
It restricts the size limit of source code, stdin, stdout, stderr to 64 KB. It also supports third-party libraries for C\C++ which includes ncurses, lapack and boost.
2] Codepad
Codepad is an online service that allows you to check the codes written by you, without installing any compiler. You need to paste your code as shown below, choose the programming language via the radio button, and soon you will come across the output or the errors in the code.
The service is quite simple to use, can be a handy tool at times when you want to run the code on a machine that doesn't have the required compiler. Codes written in the following languages can be tested, just with a mouse click.
C
C++
D
Haskell
OCaml
Perl
Python
Ruby
Scheme
Tcl.
Paste the code you have in the editor and hit the run button. If you do not want your code to be listed in public, make sure you have checked the private checkbox.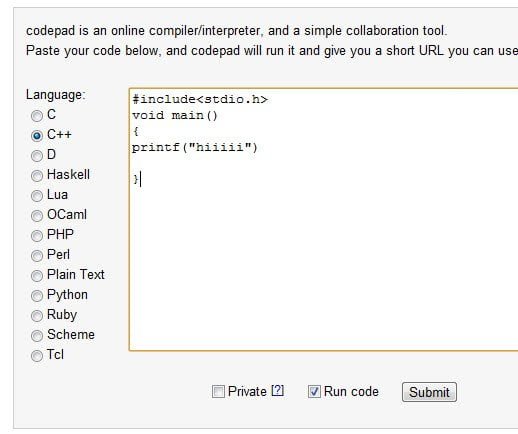 Once the code is compiled and executed, you get three things:
A url where anybody can see the output. Useful if you want to share it with others.
Correctly formatted and colour highlighter code
Output with Error details and mention of the line number.
The Editor again if you want to change language and re-run the code.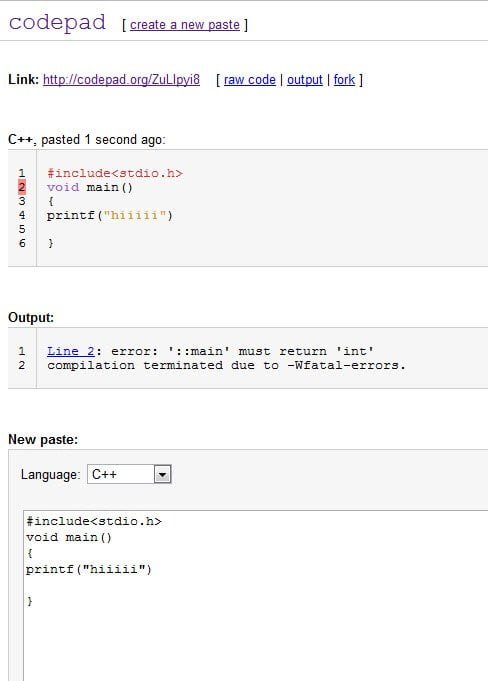 You can also have a look at the codes people are trying on Codepad, with the help of a link on the top-right position of the page.
3] Codechef
It is similar to the website mentioned above but what makes it stand out is an option to run multiple codes. It offers TAB support where each tab can have different programming language support.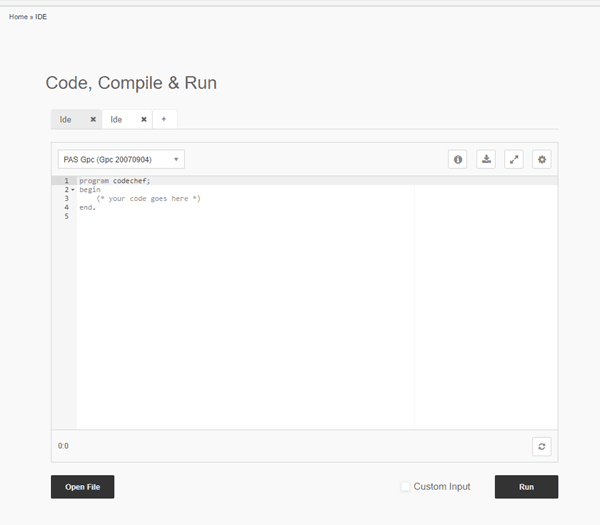 4] Repl.it
If you are looking for a terminal experience along with the online compiler, then this is it. You can create projects on it, separate module files support syntax highltiing, debugging, auto-complete and more.

You can also share the code with anyone to get help. More at Repl.it
Which of these online compilers did you like the most? For me, its the GDB Online which offers an excellent interface.