Sometimes when you install or update the printer driver, it does not work correctly for some reason, and the only way is to remove printer driver which was installed before and install fresh. To do that there are one or two ways, depending on which works for you nicely.
Now before I get into details of it lets us understand one thing. Windows 7 gives you a straightforward option to delete a printer by just selecting and choose Remove printer when you right click. Though it removes the printer from the list, the drives stay back. Though I wish that an option was given to me that helped me in removing the driver also, that's not that case.
How to completely remove printer driver from Windows 10/8/7
Using the Uninstall Program
Via the MMC or Microsoft Management Console
1] Using the Uninstall Program
In the Start Menu, type Control Panel, and open when it appears.
Then go to Programs and Features.
It will list down all the programs installed on your computer.
Now if you know your printer name, type in the name in the search box on the top right.
If you find that in the list, select and uninstall with a right click.
Apart from uninstalling the Printer Software, it will also remove the printer driver. Make sure to keep the printer disconnected. Next time when you connect the printer again, Windows update will download it or will use a generic print driver.
2] Using the MMC (Microsoft Management Console)
The first method works for every version of Windows. However, if you cannot find your driver/printer software on the list, MMC is the only option with which you are left. You need an admin account to use this. In case your account is not an admin account, take help of someone.
MMC  can also be used to create a customized control panel where you can choose which control panel item should be available. Learn How.
Type MMC in Windows Start Menu. You should see mmc.exe listed. Click to launch.
Choose File > Add / Remove Snap-in.
Select Printer Management from left and click on Add.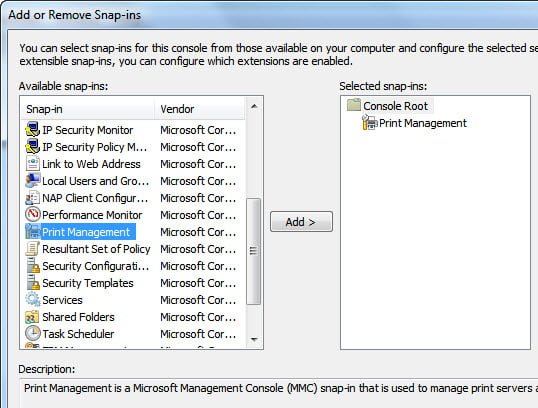 As soon as you click on Add, a pop-up window will open. Here you get the option to add printer servers but for this situation click on Add the Local Server.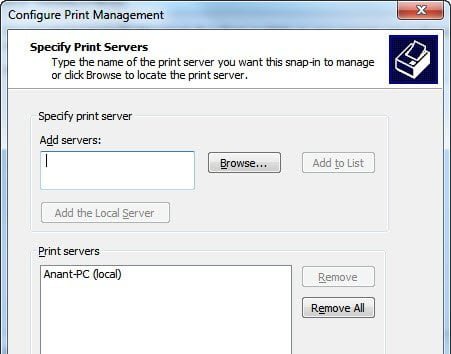 You should now see your computer name listed under Print Servers. Click on Finish to complete.
You will also see the Printer Management Item listed on the right-hand pane. Now click on, OK.
Now go back to MMC Console, Expand the Print Management Tree on the left and go to Printer Servers > Your Computer Name > Drivers.
Here you will see all the drivers listed.
To remove any of the driver, select, right click and delete.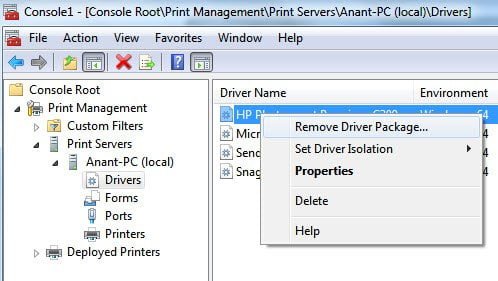 Once done this, your driver is completely removed. You might like to reboot your computer once to make sure.
After reboot is complete, it's a good idea to come back and check if the printer driver is removed or not. To make it easy, click on File and save it. When you log in to your computer again, double-click to open and confirm.
Learn more about Windows Print Management Tool, How to delete and repair stalled jobs, and how you can migrate a print server from one machine to another.