Many a times you don't feel like reading and wished that an article on website can be narrated to you like your mom used to tell your stories as kid. Though there are many text to speech software available but they are pricy and not every software works with RSS Feeds directly. So today we found an application, Blog Radio, which can read any feed and then convert it into audio for you which you can listen any time on demand.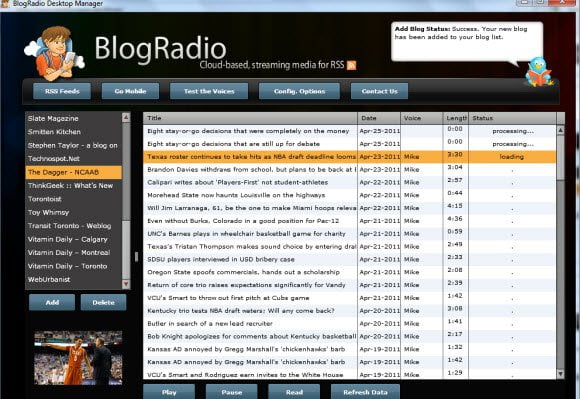 This application is AIR based app which means, it can be installed on any Operating system i.e. MAC, PC etc.  Once you install the app, register using an email id to start. The next step is to add a feed of a website by clicking the Add Button under RSS feeds.
You will see the feed gets added and when you select the website, you will see Processing under status for all the titles.  Since this is the first time you are using this software and that's a new website, the conversion from text to voice takes sometime which can be max of 8 hours. In the mean time you can select some other website and listen to their feeds to get an experience of how this will hear like.
You can also change the speakers voice under Test the Voices where a range of options depending on accents are available. For example of you are from India you get a speaker named Anjali but if you Spanish you get Alberto. You can test before making a final choice.

Apart from Desktop, Blog Radio is also availble for Nokia Phones : Nokia N97, N97 mini, 5800 XM, 5530 XM and can be downloaded from Ovi Store at INR 25.
You can download Blog Radio from here