ASCII art or art made by arranging texts or zeros and ones or any ASCII compliant character sets to give it the same look like a real image. Early printers were not enhanced enough to support even basic graphics ability and thus characters were used in place of graphic marks. They were mainly used for making banners and ASCII art is also very commonly used amongst software piracy groups to display group logos inside text (*.nfo) files. Let's figure out how to convert image into ASCII art (Online Tool).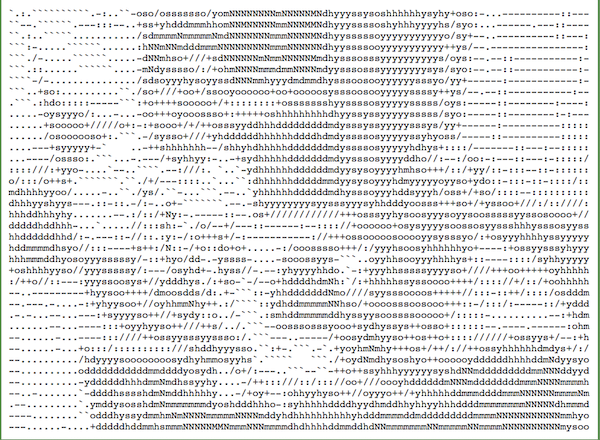 How to convert image into ASCII art
1] Text Image
Its simple, You have to just go to Text to Image and upload your picture. The application automatically converts it into ASCII based image and its ready for download after you give it a name. Before converting you can choose the Text color,  background, invert the image, Extra contrast for the final image.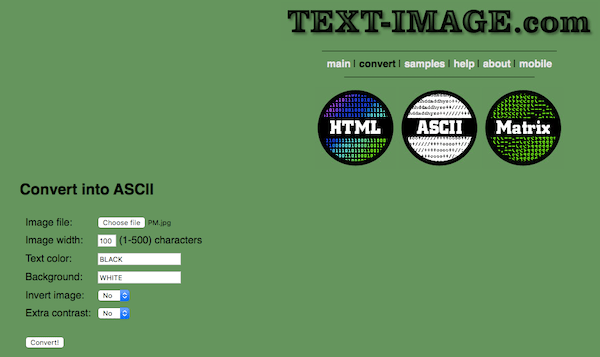 2] Ascgen
If you want desktop software because you are not comfortable uploading them on a server, then you need to download Ascgen. Once you launch the software go to  File > Load Image. Then browse to give the path of the photo, as soon as you are done with this, the ASCII art will appear in front of you as shown below.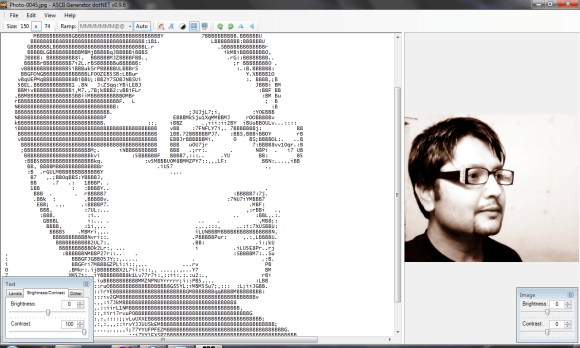 In this software, you have option to change brightness, contrast, density, and other things. That way you can create sharper and better images. The software allows you to zoom into a part of the image, change font, and size of the font to experiment which font looks better. When saving the image, you can choose multiple formats which include text, RTF and image. Read more about it here.
Which one will you use to convert your image to ASCII format?