Do you want to share your OneNote notes with someone who doesn't have OneNote, or are you wanting to prevent accidental editing of your notes and convert them to a PDF file? This article will tell you how to convert OneNote to Word or PDF in Windows 11/10.
OneNote has a feature that allows you to share a whole notebook or just parts of it as a PDF. It is also possible to convert it into a docx file and store it on OneDrive. It is an excellent tool for organizing notes, conducting research, and taking notes.
You can export the OneNote notebook into various formats, including Microsoft Word and PDF. A couple of different applications are available for OneNote. You can download one from the Microsoft Store and another directly from the OneNote website. Here is how you can export these apps until the apps are merged.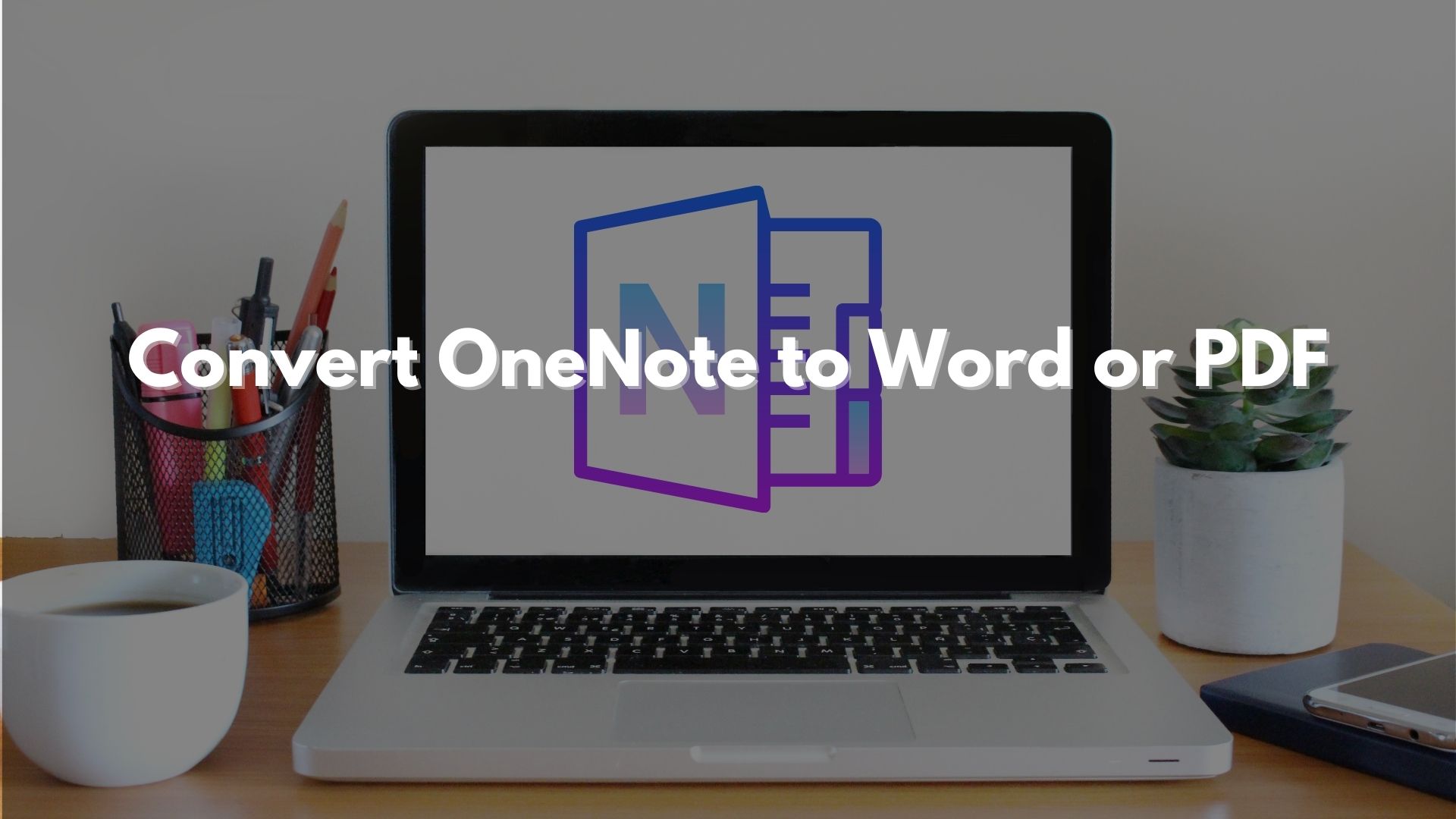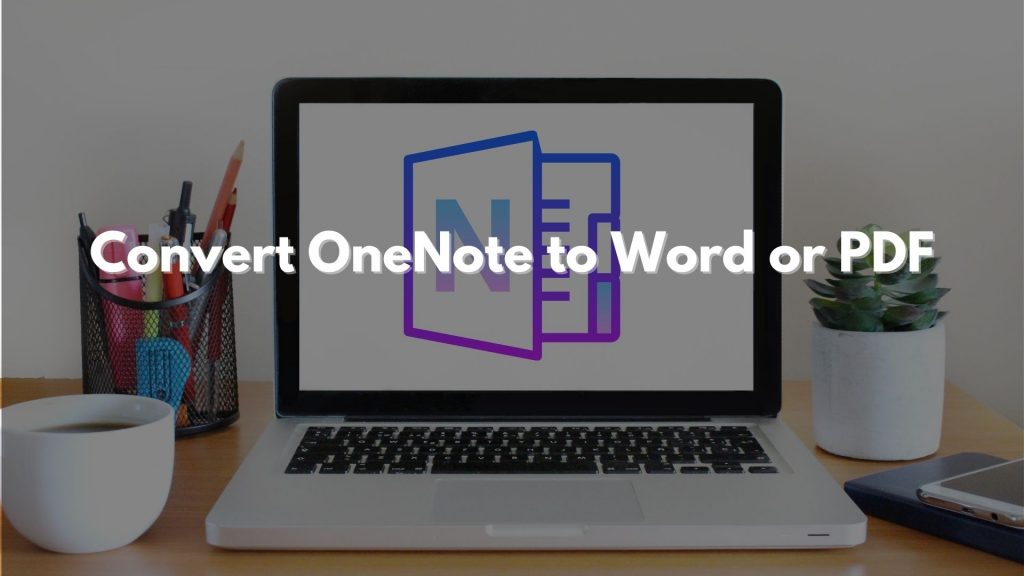 Why Do We Need To Convert OneNote to Word or PDF File?
You can add more than just text to OneNote pages – you can add images, documents, doodles, and even videos. If you need to refer back to your notes, you can further divide each notebook into sections and pages to find what you are looking for quickly.
But, since not every colleague has Microsoft OneNote, you might need to convert the OneNote Notebook to another format such as Word or PDF file before sharing it with them.
How to Convert OneNote to a Word or PDF in Windows 11/10
You can only export documents into a PDF file for documents you intend to convert. OneNote does not provide the option to convert entire documents into Word. Follow these steps to convert or export a OneNote file to a Word or PDF document on your PC: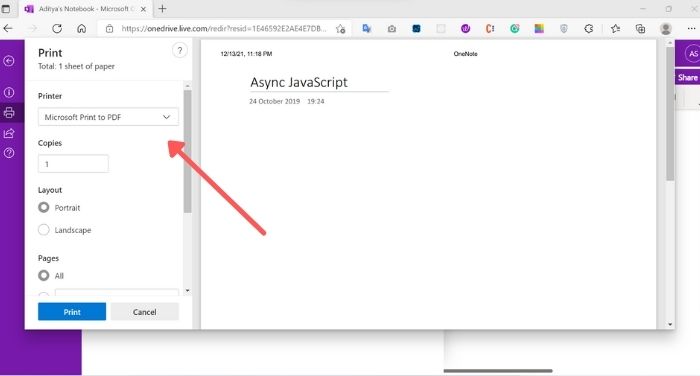 Go to Start > Launch OneNote to open your Notebook.
Select a file or the entire notebook you want to convert into a PDF.
Click the File tab located in the upper-left corner of your OneNote screen.
Select the Export option in the left navigation pane.
There will now be three new options available when you click on Export Current. You can choose from exporting the current Page, Section, or Notebook.
Then, under the Select Format column > Choose the PDF option > Click on the Export button.
The File Explorer will open > Choose the location where you would like to save your file > Name it > Click Save to save the OneNote file as a PDF.
In the same way, select the Word Document (*.docx) under Select Format options to convert a OneNote file into a Word (.docx) file.
It is now ready for you to download as a PDF file. You can open it with a web browser or the PDF viewer of your choice.
Sometimes you may need to share a handout with a friend or colleague who does not have OneNote. If this is the case, saving notes as PDFs can help. However, the drawback of this method is that it requires a lot of space. You save a static snapshot of your notes when saving a OneNote Notebook or a PDF file. As a result, you won't be able to change your PDF later in OneNote.
Export OneNote to PDF Using a Web Browser on Windows
When using OneNote for the web, you can export a page to PDF (portable data format), printed later. Follow these steps to export OneNote to PDF using a web browser on Windows:
Go to the OneNote for the web page you want to export as a PDF from your web browser.
Click or tap File > Print > Click or tap Print again.
Select Microsoft Print to PDF in the Printer list to export to PDF.
OneNote will save the PDF to your Documents folder.
Open the PDF file from your Documents folder to print it.
Does the OneNote Export File Automatically Reflect Changes Made to the Document?
It is important to remember that any modifications you make to a notebook will not appear in the PDF. Instead, a new PDF must be generated by going through the whole process again.
Do You Have the Ability to Convert a Single Page or the Entire Notebook?
The OneNote application now allows users to convert either a single page, a section, or the entire notebook. Users can access this feature under the Export tab.
Can you Export from OneNote for Windows?
OneNote for Windows is capable of exporting data. On the other hand, you can print the document on paper or export it as a PDF. Unfortunately, Word and many other formats are not available for export. Its capabilities, such as collaborative work, automatic cloud synchronization, and write-anywhere note-taking, make Microsoft OneNote famous for taking notes for classes and taking minutes at work.
I hope this post will help you convert OneNote to Word or PDF in Windows 11/10.