While many of you know how to extract images from a PPT file, what if you want to export individual slides as images, the photos will look like you took a screenshot of each slide. The good thing is that Microsoft Office PowerPoint offers an inbuilt way to convert any PowerPoint Slide or Slides into images.
Note: Depending on which version of Office you are using, it may slightly differ.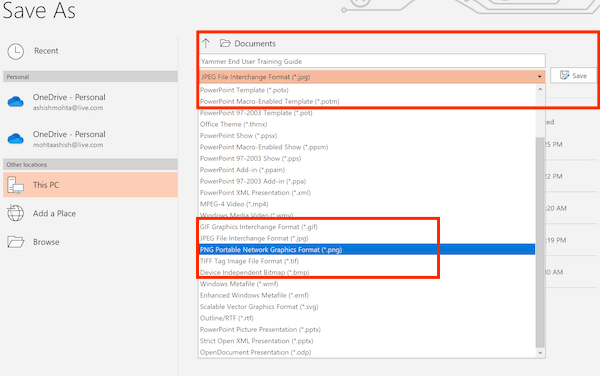 How to convert PowerPoint slides into images
Open PowerPoint file, and then click on File
Click on Save As. It will open a screen full of options on how you can save the file.
On the right, look for a dropdown which is next to the Save button.
Click on the dropdown and select either PNG or JPEG or TIFF or any other image format.
Next, click on the Save button, and it will instantly prompt if you want to export all the slides or the one which is selected.
Select the destination, and your slide will be available as images.
It also means, if you select a few slides before coming to Save as Prompt, you will be able to save only selected slides as images.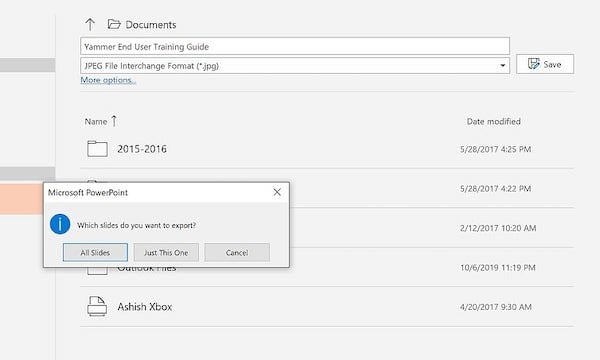 Here is how you can do it in the previous version of Office.
Office PowerPoint 2010
Go to Back Stage >Save and Send > Change File Type
Select PNG or JPEG as File Types
You can opt if you want to save them as single or one for each slide.

Office PowerPoint 2007
Open the PowerPoint presentation (PPT or PPS).
Go to File > Save As > Other formats
Now you will see a lot of options for in the combo box. Select the JPEG format and save it.
It will save all your files into a folder with the same name as your PPT or PPS name.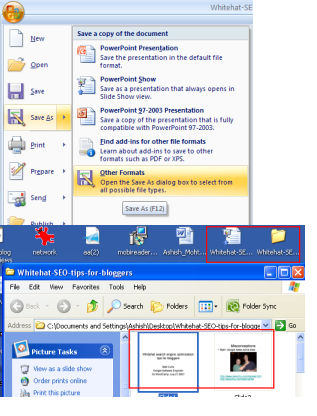 We hope the tutorial was easy to understand, and you were able to convert PowerPoint slides into images using Office.
Related:  15 Essential tips for power points