Converting the Tabs to Spaces in text file is something which you don't need pretty often, but still if you ever wanted it, here is a small app which can help you to convert tabs to spaces for the text on clipboard, single text file, and even multiple text files in one go.
Tabs2spaces is a free utility, damn simple and light weight as well. Setup can be downloaded as a 740KBs zip file, unzip and install it. Once you launch the setup you can see the window as shown below.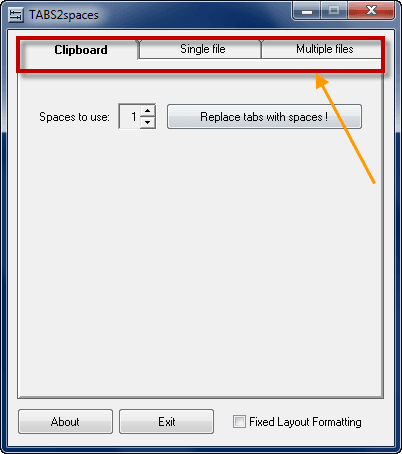 Now here you can convert the tabs to spaces, for the text on clipboard (after conversion text is available on clipboard itself), or do the conversion for one text file (conversion done is saved in a new file at the specified location), or you can choose all the text files in one folder and save it saves all the new files again in some other specified folder.
By default Tabs2spaces uses 8 spaces for every tab, if required you can use any number of spaces for every tab, uncheck 'Fixed Layout Formatting' and insert the number of spaces you want.
Tabs2spaces works perfectly fine, if you are looking for such app, go ahead and get it.