When upgrading to Windows 10 from Windows 8/7/XP, you must have noticed that it first downloads the OS on your computer and then actually upgrades it. Now, what if you did not want to upgrade right now or kept failing during the upgrade process. A DVD or a bootable ISO file of Windows 10 would have helped. In this post, we will show how you can create Windows 10 Bootable DVD / USB/ ISO
Steps to create Windows 10 Bootable USB
Microsoft calls it the media creation tool and Windows 10 installation media (ISO files) are available for customers to install Windows 10. If you're installing Windows 10 for the first time, you'll need to enter a valid Windows 10 product key or buy a full version of Windows 10 during setup for this tool to work.
Go to this page, and download the media creation tool.
Directly Install Windows
Install by Creating Media
Install later from your computer.
Since we want to create a bootable media, i.e., DVD or USB, choose the second option from above, and you will have the respective option. I would instead suggest you use a USB over DVD.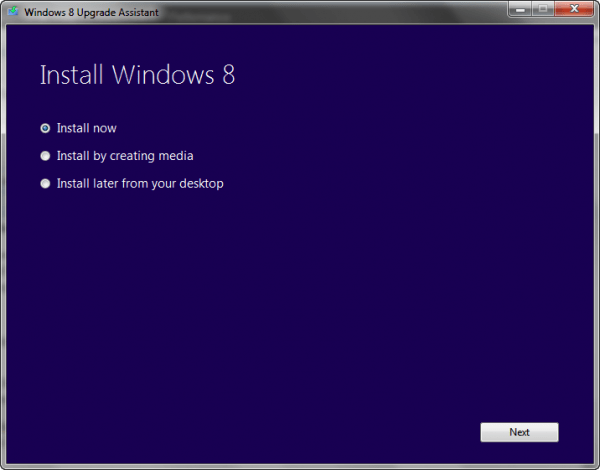 When you click next, it will ask you to select between DVD or USB. Select the connected USB drive. Make sure to take a backup of the existing data on the USB. The process will completely wipe the USB and copy the installation file.
During the process, the files will be download on your computer and then copied to the USB drive. The process has its drawback. You need to update the machines to the latest version after upgrading using the bootable USB drive.
What if Upgrade gets stuck in between?
It may so happen that this upgrade might have stopped for some reason or your media screen reason gets auto skipped ( if you stay at this option for over a minute, it automatically skips the screen and continues for installation. That's what happened with me)
In this case, you should better quit the installation. Really? Yes because after the setup is downloaded on your computer,  Windows Upgrade Assistant creates a shortcut on your desktop, which allows you to get back to the choose media option or start the installation process right away.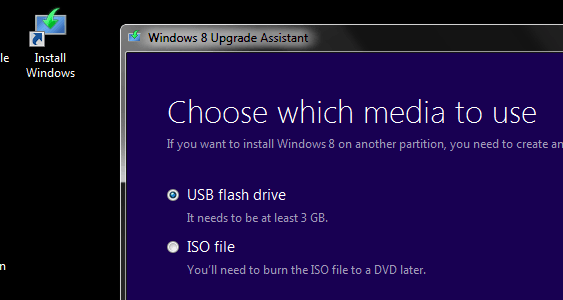 Done this you are all good to skip the downloading next time you need to upgrade Windows ana d save a lot of time if not bandwidth.  For first time upgrades, you will have this option right after the download is complete, so if you are reading this, make sure to create a bootable installation and then upgrade.
If you've previously installed Windows 10 on your device, you should have a digital license, and Windows 10 will automatically activate without entering a product key.