Google Alerts is one of the services that always needed a Gmail account to receive it. But let's say your primary email id is not on Gmail but instead on Yahoo or Outlook or Hotmail or any other service.  How do you get those alerts to Non-Gmail accounts? In this post, I will share a handy trick which allows you to create and transfer Google Alerts to Non-Gmail Email Address.
Google Alerts Requirements for us
Allow you to transfer or route selected or all of the alerts to any of your secondary email accounts (which should be non-Gmail) which you had added to your Google Accounts.
Also, you can create Google Alerts to directly for non-Google/Gmail account, which is added as secondary email id.
Its simple, and it seems one of the updates made by Google. I noticed when I decided to unsubscribe for Some alerts.
How to create and transfer Google Alerts To Non-Gmail Email Address
There are two ways of doing this. One is adding a non-Gmail account to an existing account. Second is creating a Google account just for the alerts. Follow whichever method works for you.
1] Steps to set up alerts for a non-Google account or non-Gmail accounts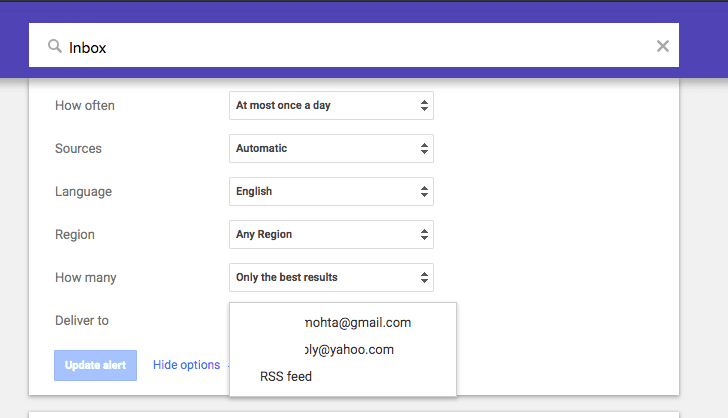 Add secondary email id (Could be more than one). Skip this if you have already added one. If you cannot add, skip to next method.
Now open Google Alerts.
Add the end of the list of alerts you have a look for Delete Button (No we are not going to use that !!)
Right beside that You would see Send To Dropdown box available for you.
Click on Send to, and You will see your secondary email if which you had added in the first step is available there.
Select any or all of the alerts and move it to any of the secondary accounts.
You can also create alerts for secondary email accounts.
2] If you cannot create or add a non-Gmail account to Google Alerts
It seems Google Alerts doesn't allow you to add another anymore. In that case, follow these steps
First, you would need to create a
Google account
with a non-google email address. Once done, you need to login to alerts.google.com using that account. Then whatever alert you create will be sent to your non-Gmail account.
Go to the Google Account creation page.
Follow the steps on the screen to set up your account.
Now click on "Use my current email address instead" option.
Enter your non-google email address and set the password to create the Google account.
Once you've created the Google account, sign in to alerts.google.com using your non-google email address to receive alerts on it.
Thats it. All the Google alerts you decided to move will be redirected to your Secondary accounts instead of Gmail account.