Website designing is definitely a very tough job, especially if you are not trained or have not gone through some course in this field, without proper knowledge it takes loads of hit and trial to get what you actually want.
Recently I came across this tool Fresh Generator, this awesome online tool allows us to create different types of boxes, which can be used in various kind of works like making the website more attractive, making them more interactive and functional etc.
Here is a small animation, which can give you an idea about working of FreshGenerator, have a look.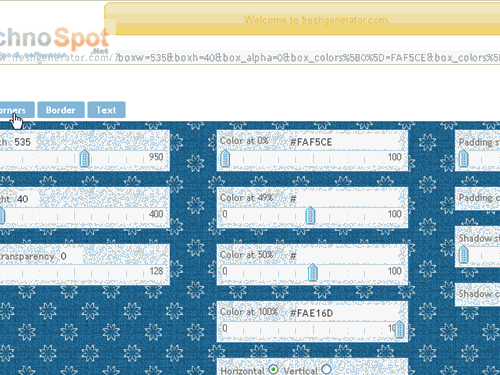 As shown above the tool provides you simple interface which has different tabs, and each tab has several other attributes for box, which can easily be changed as per your needs. Some examples of the Boxes and their styles can be seen here.
Once done with designing, you can save the file you've just created, right-click on the image and select "Save image as", also you can save the link as shown below for your future references or to access the same design at any point of time.

So, go ahead and create some boxes, hope you like this awesome tool for creating different types of boxes for your websites. Have your say. Try FreshGenerator
Related :  How to make your own badge button with your own image / pictures