We all love to have beautiful wallpapers as our Desktop Background and we always love to change it depending on our mood. So starting with Windows 7, there is an inbuilt option which allows you to Add Folders but not let you really control many aspects like how you want to view it, or organize it.
So today we are introducing you to Desktop Background Tuner which will let you do lot of stuff other than what you get to see in the Personalization  > Desktop background. This application works in both Windows 7 and Windows 8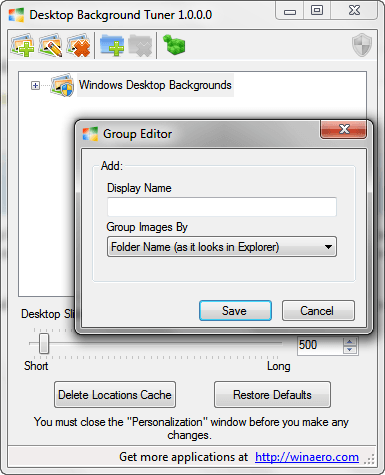 Features :
First it lets you create groups and add folder inside it. This is different from the default method where it picks up the name automatically. Second you can set how the images will be grouped which either can be the regular file name or according to author name. This is useful when you get pictures from different authors and you want to view by them.
You can also setup a transition time i.e. fade away transitions in Windows 7 but not in Windows 8 as there is no option available with that.
Add multiple groups and sub groups where each of the groups can have their own set of folders. This is useful when you have a pretty organized collection of images.
You can remove the default desktop backgrounds folder from Desktop background.
It also allows you to delete locations cache which will remove wallpapers locations history etc so you don't see it ever in your list.
Video Demo :
Warnings :
Make sure not to use both desktop background personalization and this application together. Since the app changes things in regsitry which the default app has access to, its best to keep one close when using the other.
Also the application comes with a restore default settings which can restore to all those settings prior using this app. Make sure to use it if you think its too messed up.
You will need to have admin privileges to use this application.
Download :
Download from WinAero. When using on Windows 8, look for a folder named as Windows 8 which contains the application specific for that OS.