When you are attending events, covering it live makes a lot of sense for your users. Essential part of running a live post is you don't have to hit the publish button all the time as it wastes lot of time and your readers don't have to refresh your page for new updates.
Now there are lot of third party plugins available which you can embed in your blog post and keep updating. Some of them are CoverItLive, ScribbleLive. Now what if you don't want to use any of them but use the WordPress Functionality. Idea here is to have just the basic functionally which allows add new updates, images quickly  without any fuss.
Live Blog ( Automatic )
Automatic (WordPress Creators) last year released a plugin, LiveBlog which allows you to do just that. This plugin lets you post right from the Post URL instead of using the Admin section. It keeps refreshing after every few seconds so the readers keep reading without any page load.
Here is the list of features :
You use the front end of your blog.
The Post is Ajaxified i.e. Your visitors get to see the new update instantly.
Multiple Authors can update the same post if they have Editing Power. Each entry is served as per the Authors but the post remains entitled to one who created this initially.
Drag and Drop Images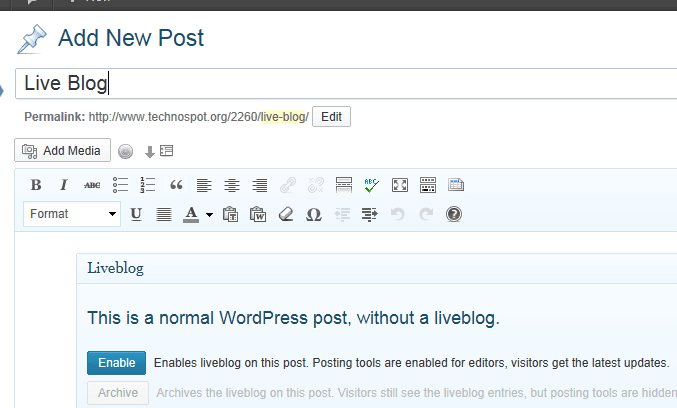 The best part, You can turn any post into Live Blog Post with just a checkbox. Once you want to stop live blogging, you can set the post to archive and you are done.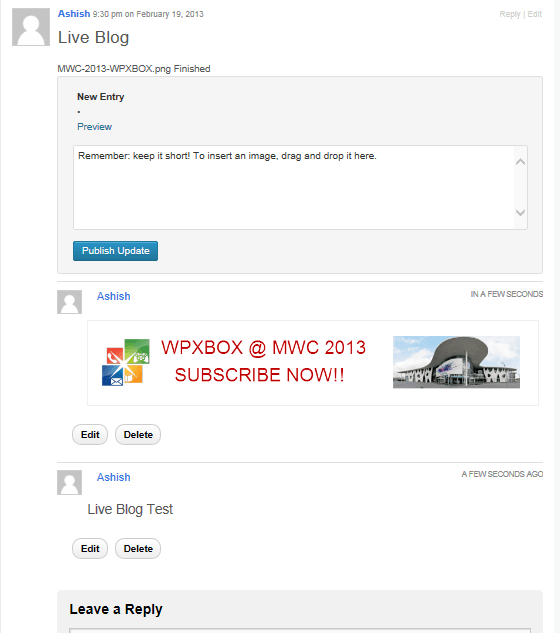 The real advantage of using this plugin is you don't have to configure anything. Its install and start posting from front end. There is no need of creating custom post types etc.  However the simplicity has its disadvantage of it. You will have to manually add header image, social network integration etc.
Nevertheless, the plugin is just awesome and works perfectly. Download from here.