After getting the Nokia N72 phone, I was curious to put some themes to make it looks better than the default theme. Though the default theme is pretty good, I want some different themes and more customized ones. My search found the site OwnSkin, which allows registered users to download or make their themes. It's an online theme creator that supports Nokia Symbian S60, S40 and Sony Ericsson, and many other models. You can download the theme for the phone and install it on your phone from the computer or use the Internet on the Phone.
Create and Download Nokia Themes
Go to OwnSkin, Select Nokia and SE Theme.
Create a username for you — signup and then login.
Then select Create Theme, which should be on the top left, and then Select Mobile Theme.
On the next page, scroll down to Nokia Section and Select your Model.
OwnSkin Allows you to create themes in three ways: Using EXP+PRO Theme Creator 2.0 (Beta), Professional Theme Creator, and Express Theme Creator. If you want extra customization, select Exp + Pro; else, create Express Theme Creator.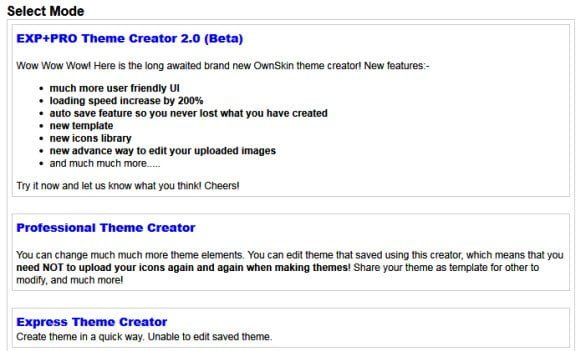 EXP+PRO Theme Creator
Once this mode starts, click on the More button, which is left bottom. Then Click on Pro Mode.
This mode lets you customize every part of the theme, like Navigation Pane, Battery Strength, Change Clock, and more.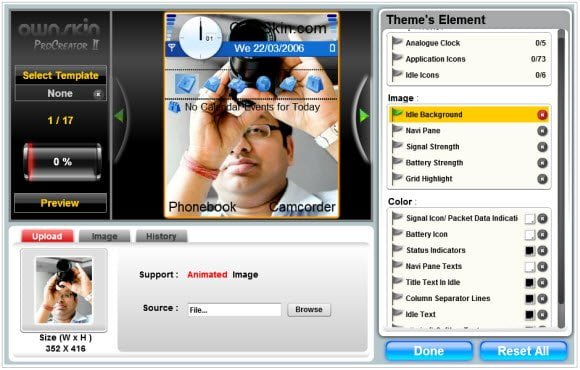 This theme creator also allows you to edit the images online. When you select a model to upload, hit the edit button once you have uploaded the picture. It will open a basic editor allowing you to crop, resize, change angles, add effects, and more.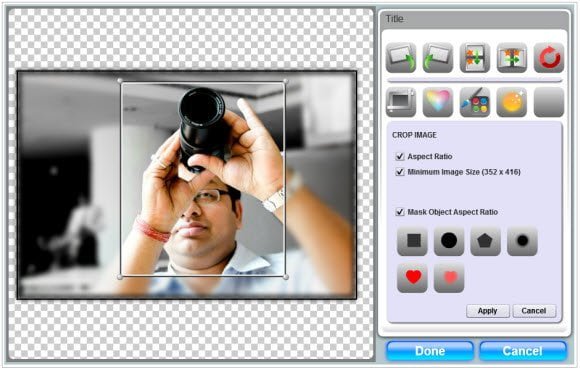 Once all customization is complete, click on done to get a preview.  Preview for all possible screens; for N80, I have seen 18 Preview Screens. Once you are satisfied with the theme, click to generate it and give it a name. If you want, you can share themes with other members of OwnSkin or keep them private if you have used any personal images. You will get a download option at the end of your PC or a WAP url for direct download to your phone.
Professional Theme Creator:
This theme creator is the same as above, except you do not have advanced image editor support. Simple Upload images for each section and save them to download.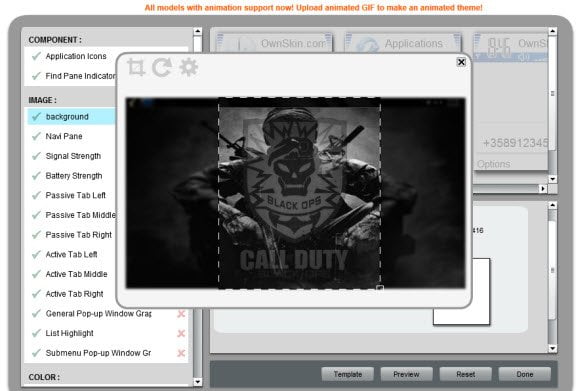 Express Theme Creator
Select the type of skin, which will be according to the kind of Nokia Phone you have.
Please select an Image and crop it to a particular size.
Select an image for the active background, which will show in the menu item.
Go to advanced settings to change the contrast of the background, and choose another image for the clock and battery.
Enter the information about the skin and choose if you want to share it or keep it private.
Download and Install the skin.
If you want to create flash-animated videos for Nokia phones, click here.
Here are the images which I took to develop my theme.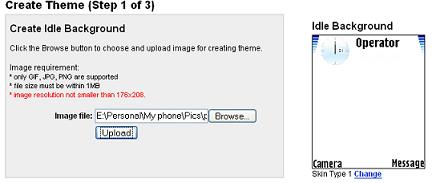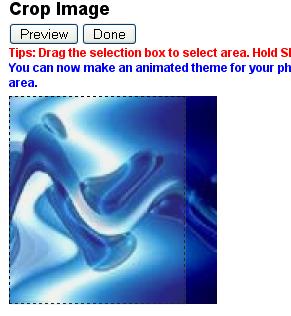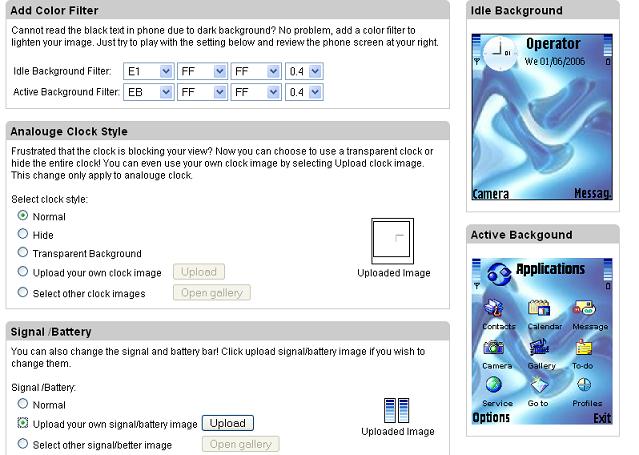 It's three steps process where you can even use gif images. I will try to make some more themes and use them for myself if you like to try this. The created themes do not create any problems. I tried three times, and it worked well.
Prerequisite of the Nokia Theme Installation
Here is the requirement for the Nokia Theme Installation. It would help if you had the driver and the software.
Install the Nokia Driver that came along with the phone. From the CD.
Download Nokia PC Suite and install it.
Connect your data cable, and your phone should be detected by the Nokia PC Suite software. Else, check the Connection Manager of Nokia PC Suite.
Now Download the themes you like and Double click on them to install. When you double-click on the theme, it will open the Nokia PC Suite application Itself and ask you to install it.
So go to OwnSkin and try to Create and Download Nokia Themes that suit your mood and your phone.