Lets say you have a lot of pictures from your last tour and you want to show it your friends coming down and you don't want to waste time on some album creating tools. All you want is quick and easy stuff. but still a bit professional. Well if you have Office installed on your machine, PowerPoint has a handy feature you can use.
Follow the steps below :
Open a new PowerPoint slide and go to Insert Tab.
Select Photo Album > New Photo Album
This will open a pop-up window which helps you in importing images from your computer.
You can change the order, add a text box for welcome message, Add captions to all pictures.
Also you can do basic image editing like turning them all black and white for those vintage looks, rotate, change brightness, colour contrast etc.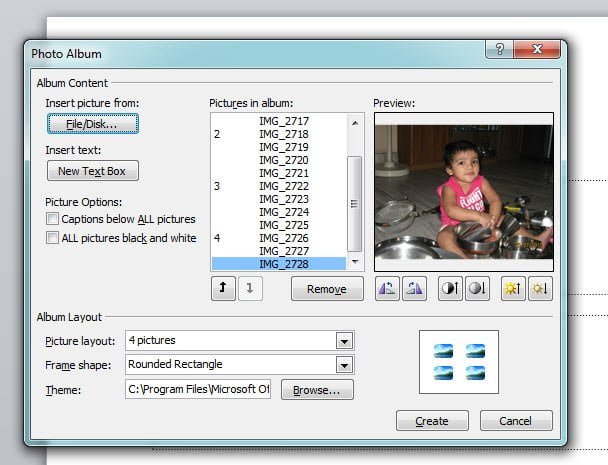 Now to make it look professional make use of Theme, Frame Shape option and how many picture you want in the slide.
Hit Create when done and you will see a beautiful side is ready for you in seconds.
Now depending on how and where you want to present it, you can either create a standalone slide show to run it on a computer or create a video from PowerPoint or even create a CD package to showcase on TV. This feature is available bot in office 2007 and 2010 but you will difference in themes.