iWebAlbum 2.02, is a Free Web Photo Album Generator. This application allows you to create a Web Album with your favorite pictures for your website and same can be used as an off line album as well if you want to share it with your family and friends on any media like CD, USB Stick or even in their computer.
To start using this application you need to download and install it. Now you are ready to create your album, yet iWebAlbum is quite simple and easy to use, as such no explanation is required, it's a simple 3 step process.
Add Photos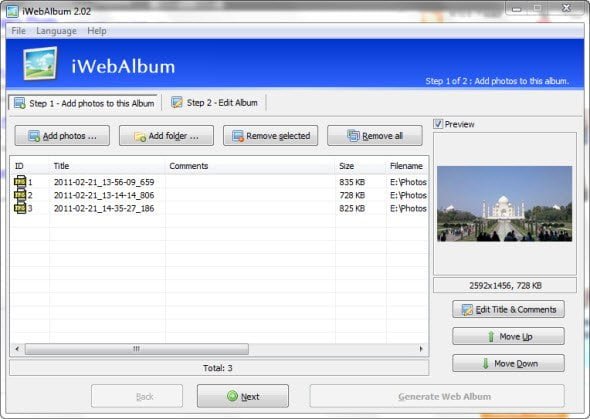 Edit Album and setting up options
This simply refers to choosing album settings, like, Album Skin, Style, Photo Size etc. Finally choose the output folder.
Generate Web Album
Now you can check the folder to get the album in HTML format. You can keep it off line on your hard disk or any other storage media, and you can also upload it to your website. To publish a web album you need a web host. You can upload the complete folder to your website.
My Experience with iWebAlbum
Very Easy to use.
Fast, but speed depends a lot on number of pictures you are using in album, and the size of photos you wish to use in output.
Uploading the Album to web is no tedious job, as you get all the files in one place.
The way album appears, is very attractive (quite like Photoshop Express)
IE users may face an issue in viewing the album, simply click on information bar on top, and "Allow Blocked Content", to view the album.
Now you have seen how this works with our demo, hope you like the application, its an awesome way to show off your taste. This is one of the easiest and simplest ways to create Web Albums on the go, go ahead and try it out and share your views with us about this awesome tool.
Resources:
Download Installer from here