When you have huge number of files to handle every day and your archive is getting too messy deleting some older files is a good option. When I say older it can be of a specific date or a date range like first and last of February. I found an application which helps in doing  and the same can be done using Windows Search Feature which we will take a look later.
Deleting by Date Application :
This application is very straight forward. Once you launch it the query panel gives you option to :
Search for all files or any particular file type
Select a date range or a particular date.
Modifier access : Created Date / Accessed Date and Modified Date.
Size check to the exact but no range here.
Add Multiple folders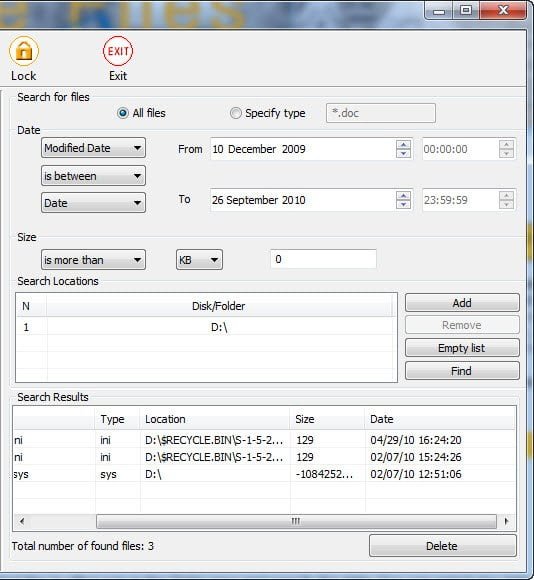 Another advantage of using this interface is you can lock the application with a password making sure nobody else gets to delete files.  However the only disadvantage of using this application is you cannot save the search parameters like you do it in Windows.  I am discussing that below. Mean time you can download the Delete by Date Application from here.
Deleting Files using Windows Search Feature :
Since Windows Vista and now in Windows 7 , You can create search folders which keeps you off from repeating a search everyday and always fresh. You can even share these search folders with other users like any other folder in windows.
Launch Windows Explorer.
Navigate to the destination folder or drive where you want to make a search.
Use advance search query to search what you are looking for.
Here we will take example to delete files by date. You can use operators like dateaccessed, modifeddate and createddate as operators and combine with size ranging from zero KB files to huge files.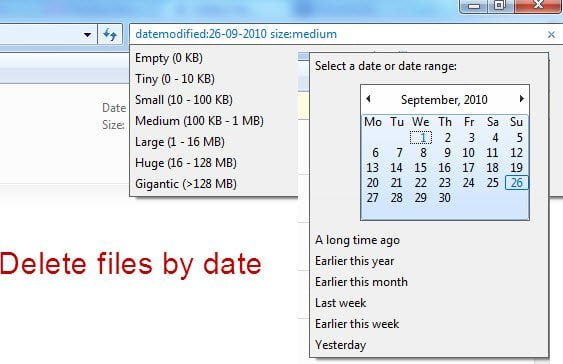 Once you either save it as search folder or just do it when you want, it will list down all the files and folders and you can delete it.
The disadvantage of this system is you need to learn the operators which is not very difficult though but if you are looking for straight options the application we discussed first is best to use. However I will strongly ask you to learn the search operators as they very handy when you make search to find any file even if you are not planning to delete them. Learn to create search folders
Related : How to recover deleted files or Securely delete them permanently