If you have loads of images in your albums in iPad / iPhone or iPod, it's a pain to delete multiple photos at once and deleting images one by one is time-consuming. Below I am explaining how you can batch delete images from iPad and second method helps you to copy multiple images from iPad to your computer ( Windows or MAC )
The Direct Way :
iOS has an inbuilt option to delete multiple images, it just not that visible.
For Saved Photos :
Go to Saved Photos
Select the arrow out icon on top right.
This will bring a menu bar which has option of Email, Copy, Print and Delete. The Delete button will be in red.
Now you can select multiple photos by just touching. A tick mark appears for the selected photos.
Touching them again will deselect it.
Once you are done with selection, hit the delete button and all the selected images will be deleted.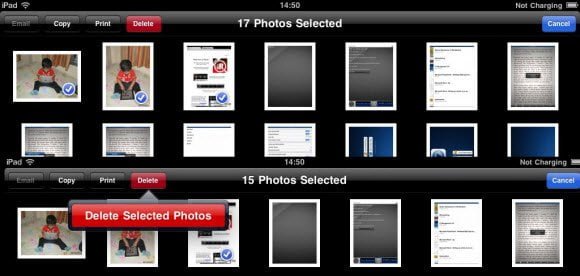 For Albums :
You cannot delete them as you did for saved photos.
So switch to Photos Mode instead of Album mode.

Now you can select the images and delete them.
Not sure why iOS doesn't have option of delete in the Albums synced using iTunes.
Drawbacks :
You cannot delete all the images in one shot unless you have selected all of them.
Process of selection takes very long when album is huge.
The Indirect Way :
iPhone Explorer ( Windows and Mac ) is a free application which opens up your iPad in an explorer mode and displays the file structure of the device, something which we don't see normally. This folder structure is similar to what you see when you connect your camera to your machine. Follow the steps below : ( and yeah, you don't need to Jailbreak your device for this )
Image Folder Location ( Includes Video Tutorial )
For Saved Albums : Go to Media > DCIM > 100Apple
For Albums synced using iTunes : Go to Media > Photos > Thumbs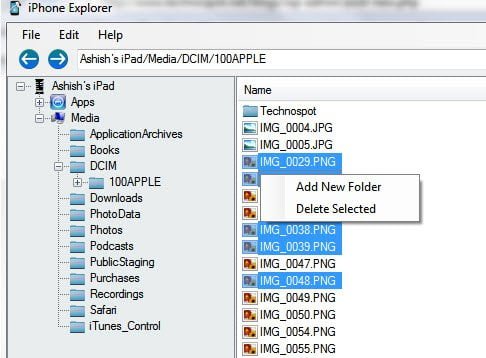 How to delete :
Select multiple photos and right-click. Choose Delete.
You have option to create new folder but that doesn't work. It creates but doesn't show in your iPad.
How to copy  multiple images to your computer :

Select multiple images. Applicable to both Albums and Saved Images.
For Albums synced with iTunes, you will see lot of folders named as F00, F01 and so on.
Drag to your desktop or any open folder.  See more in the video below.
Video Tutorial ( Direct Link ) | App Download