This feature of Microsoft Office PowerPoint can be very handy if you want to deliver a presentation to a group of people in another room and you are in some other place. This way you not only will be able to control your slideshow effectively but also use other applications or browse if you need handy information at that time. Like we did for setting the resolution at run time, we follow the same method. In this post, we will share how you can deliver a presentation on two monitors with PowerPoint. It will work for Office 365, 2019, 2016 and 2007.
Settings for using two monitors for PowerPoint presentation
Presenter View is a great way to view your presentation with speaker notes on one monitor while your audience views the notes-free presentation on a different monitor. That way you dont have to add all the points on the presentation, and you can use the keynotes to get reminded about the points.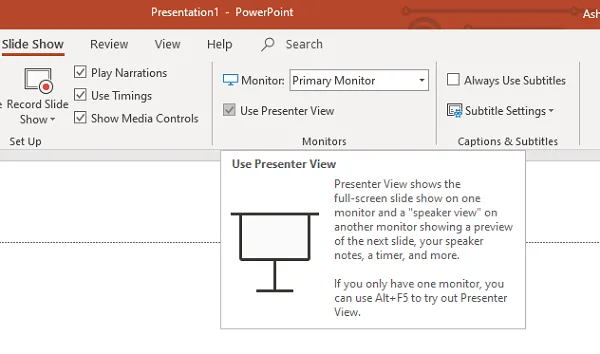 Make a new slide show or open an existing one
In the Ribbon menu, switch to SlideShow section
Then under the Monitors section, you have two options

Select Monitor
A checkbox option to Presenter View

Check that and it will ask you to check for both monitors and configure it.
Make sure you have two monitors connected from the same computer. If you have only one monitor, you can use ALT + F5 to try out the presenter view.
Select the monitor icon for the second monitor—the one the audience will watch, and then select the Extend my Windows Desktop onto this monitor check box.
Setup Slide Show for the second monitor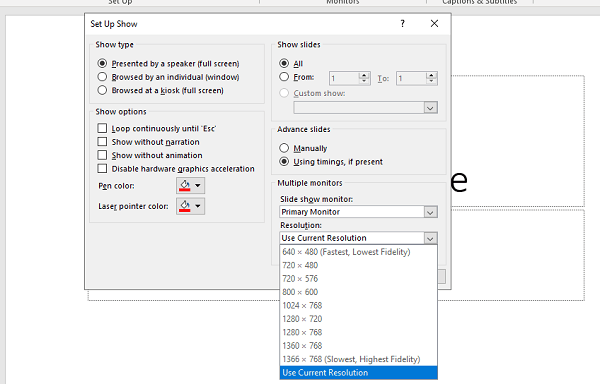 The second monitor might not have the same resolution as your primary. So its a good idea that you configure the slideshow so it looks in place during the presentation.
On the Slide Show tab, in the Set Up group, click Set Up Slide Show.
In the Set Up Show dialogue box, under Multiple monitors, select the monitor and set up the resolution
To see your speaker notes on your primary monitor. select your secondary monitor from the Display slide show on the list.
Select the monitor on which the slide show will run.
Apart from this, you can configure Show Type, which slides to show and which one you can hide, how you want to advance the slides, and pointer colors.
When PowerPoint ends, the extend option will change to duplicate meaning everyone gets to see what's on your screen.