By default, any image included in a PPT created using Microsoft Office PowerPoint is compressed. It results in loss of quality of the photos inside it, i.e. High-quality images are reduced to low quality. Though for most of the cases, this is ok as it saves time, especially when you want to run it on a website. However, if you are preparing a slideshow where the quality of images matter and putting a high-quality image is a necessity, it becomes a problem. In this post, I will show how you can disable image compression in Microsoft Office PowerPoint. It works for Office 365, Office 2019, Office 2016, and more.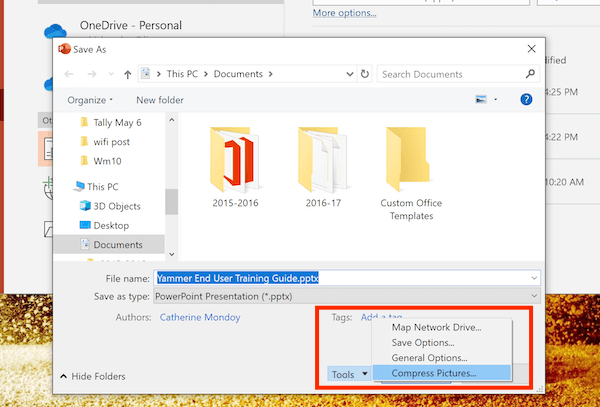 How to disable image compression in Microsoft Office PowerPoint
The good news is that there are two ways. The first one allows you to disable the compression feature permanently. The second one lets you make a choice every time you do it.
1) Disable image compression while saving presentations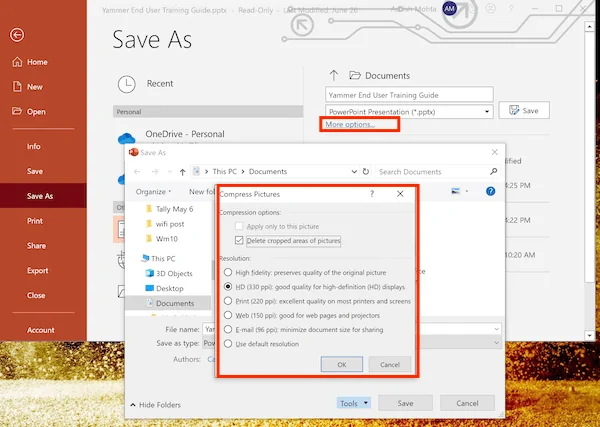 Open the PPT file, and then click on File > Save As.
Here you can edit the name, and choose in which format the file will be saved. Along with this, you have a link that says More Options. Click on it
It will open the File explorer box where you can do the same, but also offers Tools menu.
Click on Tools and then click on the Compress Pictures menu. It will open a dedicated section where you can choose the level of compressions

High Fidelity allows you to keep the quality of the original picture.
HD 330 PPI which is excellent quality for HD displays
Print 220 PPI which is excellent for Printers and screens
Web 150 PPi which is suitable for web pages and projectors
Email 96PP which is when you share documents over email
Use Default resolutions.
You can choose the first option, and it will keep quality as the source when you change here. It will apply to all. Next time you save anything, it will remember the last settings.
2) Disable Image Compression in PowerPoint for a particular file
Click File > Options

>

Advanced
Locate the Image Size and Quality section. You have two options here:

Discard editing data
Do not compress images in the file
Set default resolution

Check the box which says do not compress images.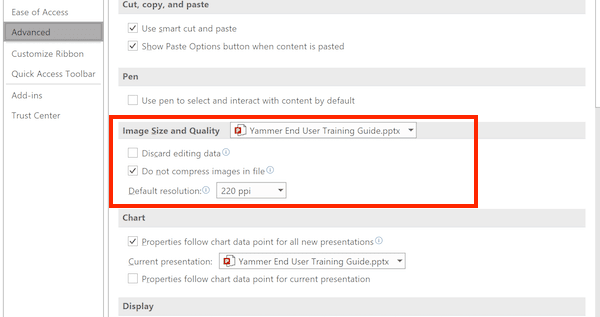 Once you make this selection, no images will be compressed for the file. It is useful when you need to edit the same file often.
3) Registry Hack: Disable Image Compression Permanently in PowerPoint
Adding a small item can make this feature disabled for all. So if you want to compress, you need to enable it manually.
Type regedit in the Run box ( Win Key + R )
Follow this path HKEY_CURRENT_USER\Software\Microsoft\Office\16.0\PowerPoint\Options
Now on the right pane, right-click and add a Dword with name as AutomaticPicturesCompressionDefault
For this Dword, if you set the value 0, the image compression feature will be unchecked, and if you put the value like 1 it will be selected.
That's it. Now you will never have to worry about the quality of your images, which is reduced due to this default option. It will be helpful for people like photographers who make a presentation of the fantastic pictures they take.