By default any image included in slideshow created using Microsoft Office PowerPoint is compressed, resulting in loss of quality i.e. High quality images are reduced to low quality. Though for most of the cases this is ok as it saves time,specially when you want to run it on a website but if you are preparing a slideshow where quality of images matter and putting a high quality image is necessity, it becomes a problem
Good news is that there are two ways one is which allows you to permanently disable the compression feature and the other is making a choice every time when you save it. We will see how to work with both.
Disable image compression while saving presentations
When you do save as, you will be greeted by a big box to enter the name of the file. Now just at the bottom left of the box there is a button which reads "Tools". Clicking on it you will see options like save options, general options, web options and compress pictures.
Select the compress pictures option.
This will open up a small box which will have options again.
Click on it and you get few check boxes. One of the check box will say Automatically Perform basic compression when save.
Uncheck it and click ok.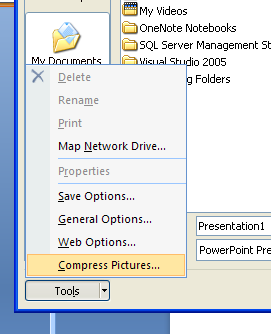 This way your images will not be compressed and you dont loose the quality of high resolution images. Easy isn't it. But these steps you need to perform every time you make a new presentation. I will give you another way of disabling the feature but only if you are comfortable with registry go ahead with it.
Disable Image Compression Permanently in PowerPoint
Adding a small item can make this feature disabled for all. So if you want to compress you need to enable it manually.
Type regedit in the run box ( Win Key + R )
Follow this path HKEY_CURRENT_USER\Software\Microsoft\Office\12.0\PowerPoint\Options
For Office 2010, change 12.0 to 14.0
Now on the right pane, right click and add a Dword with name as AutomaticPicturesCompressionDefault
For this Dword, if you set the value 0 the image compression feature will be unchecked and if you put value 1 it will be selected.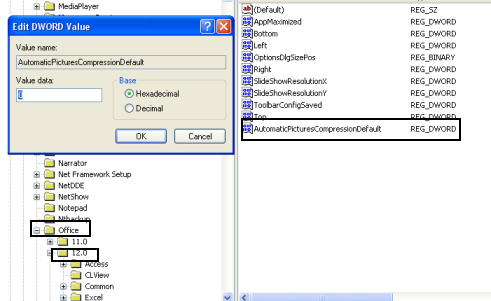 That's it. Now you will never have to worry about the quality of your images which is reduced due to this default option. This will be really helpful for people like photographers who make presentation of the amazing pictures they take.